As Australia edges closer to election day and after the second Leader's debate, Prime Minister Scott Morrison spoke to The Greek Herald and spoke about the lessons he learned as a politician while leading the country through crises and their aftermath, how the Coalition plans to assist multicultural communities if re-elected and his ties with Greek Prime Minister Kyriakos Mitsotakis.
'Here we are. Not perfect, but still standing strong'
In a recent address to the National Press Club, the Prime Minister admitted there have been some pandemic errors from the government and conceded to say that he will take his "fair share of the criticism and the blame. It goes with the job."
"In these times we have experienced, there has been no guidebook and you have to make decisions in real time," Mr Morrison told The Greek Herald and explained that during challenging times "view does change and lessons are learned".
The Prime Minister said that despite the challenges and setbacks "you must keep moving forward".
"So here we are. Not perfect, but still standing strong, enduring and looking positively to the future, as earlier generations did when they faced their time of great generational trial and challenge," he said.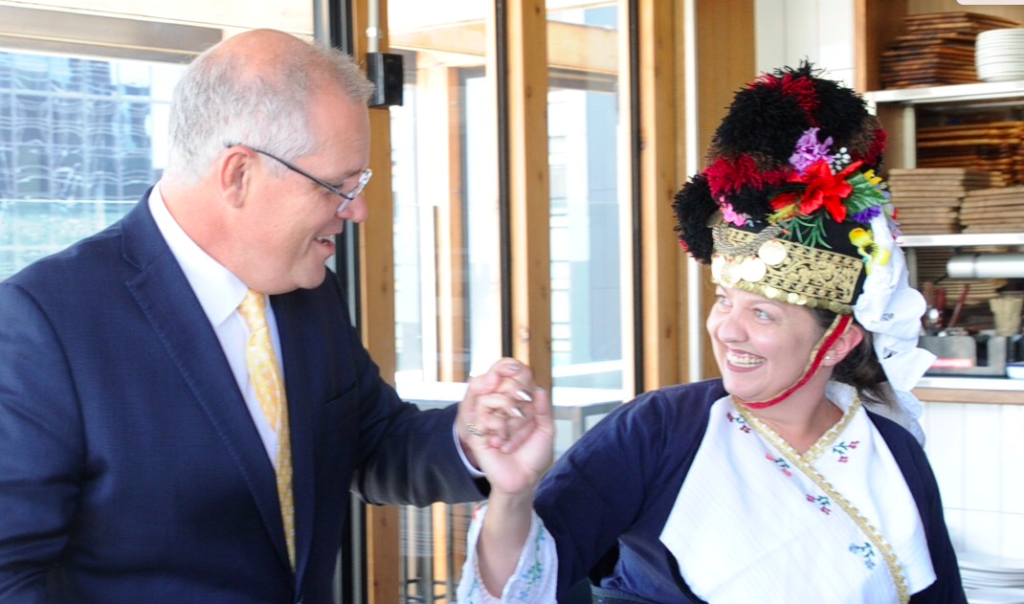 Focus on the creation of small businesses
When asked about his government's five-element economic plan Scott Morrison reiterated that "a strong economy means a stronger future, and this cannot be taken for granted."
The Coalition pledge is to keep taxes low, invest in infrastructure and grow the workforce, boost regional economies while reducing emissions to net zero by 2050 and turn Australia into a top ten data and digital economy by 2030.
"This plan, I want to stress, has another overarching objective and that is about ensuring we grow together and not apart. In our cities and suburbs, as well as in our regions, towns and remote communities. We must grow together," Morrison said.
On this, the coalition has committed to support the creation of 400,000 new small and family businesses over the next five years.
"When we create small businesses, we create jobs," Morrison said in a statement.
Data from the Australian Bureau of Statistics showed there was a net increase of 87,800 new businesses in 2020-2021 – nearly 365,000 new companies were launched, but 277,700 closed that year.
Over the four years from 2017-18 to 2020-21, a net 264,500 businesses were created. The data includes businesses with more than 200 employees, but the majority of businesses included in the data had a turnover of less than $2 million.
Cost-of-living crisis in multicultural communities and pensioners
On the question how the Coalition plans to relieve the financial pressure from multicultural communities and older Australians, the Prime Minister mentioned the Government's tax offsets for low and middle income earners that were introduced in this year's federal budget, the fuel excise that is due to end in September as well as the concessions for pensioners and concession card holders.
Following the RBA's decision to raise the record low 0.1 per cent emergency-level cash rate last Tuesday, all four major banks were quick to pass on the full 0.25 percentage point increase to variable rate mortgage holders.
"Self-funded retirees have been doing things tough. They've been pushing through this pandemic like so many others have, and my message to the banks is, give them a fair go," Mr Morrison said.
Campaigning at a retirement village in the South Australian seat of Boothby last week, Mr Morrison pledged to lock in for two more years cuts to the pensioner deeming rate made during the pandemic, which came days after the government expanded eligibility for the Commonwealth seniors health card to an additional 50,000 people.
"All of this has been designed to shield Australians from the significant pressure that is coming on inflation and on interest rates all around the world," Mr Morrison said.
Australian Bureau of Statistics data released last Wednesday revealed aged pensioners were hit with the largest increases in cost of living over the past year, rising 4.9 per cent – the highest rate of growth since September 2006.
Investing in social cohesion and ties with Greece
Asked what policies will the Coalition implement to enhance multiculturalism if re-elected, Mr Morrison says that his government "will continue to, invest significantly in protecting, and further strengthening this cohesion including through fostering stronger communities".
The Coalition has committed to support ethnic communities with a series of initiatives including local community-driven projects, funding for small capital projects for local communities, mental health support, support for women and girls in CALD communities and funding for increased community participation in sport.
Speaking about his strong bilateral ties with Greece, the Prime Minister said he was pleased
to meet Minister for Greek Culture and Sport Dr Lina Mendoni, during her visit to Australia where they both attended the midnight Easter Saturday service at Kogarah.
Mr Morrison also said he looks forward to welcoming Greek Prime Minister Kyriakos Mitsotakis to Australia, after the election.
"Australia and Greece share the same liberal values and a closeness and strong bond that is supported by the generations of the Greek Australian community who maintain close connections with family and friends in Greece."
Pre-poll voting started on May 9. You can vote early, either in person or by post for a range of reasons, including if you will be out of your electorate on voting day, are further than 8 kilometres from a voting booth or you are in hospital. The last day to register for postal voting is the Wednesday before voting day, May 18.
For translated information in Greek visit the Australian Electoral Commission's Translated Information Page or ring 1300 720 137 to access the Telephone Interpreter Service.