On Wednesday morning, less than 24 hours after the Treasurer delivered the 2021 Federal Budget, Australian Prime Minister Scott Morrison met with multicultural media representatives, took their questions and reiterated the fact that "migrant communities have done an extraordinary job" in keeping the country safe.
Earlier the same day, speaking on Today, the PM rejected accusations the 2021 big-spending budget was devised to win re-election and insisted international borders would likely remain shut until mid-2022 for "lives and livelihoods" to be saved, a statement he repeated during the multicultural media brief.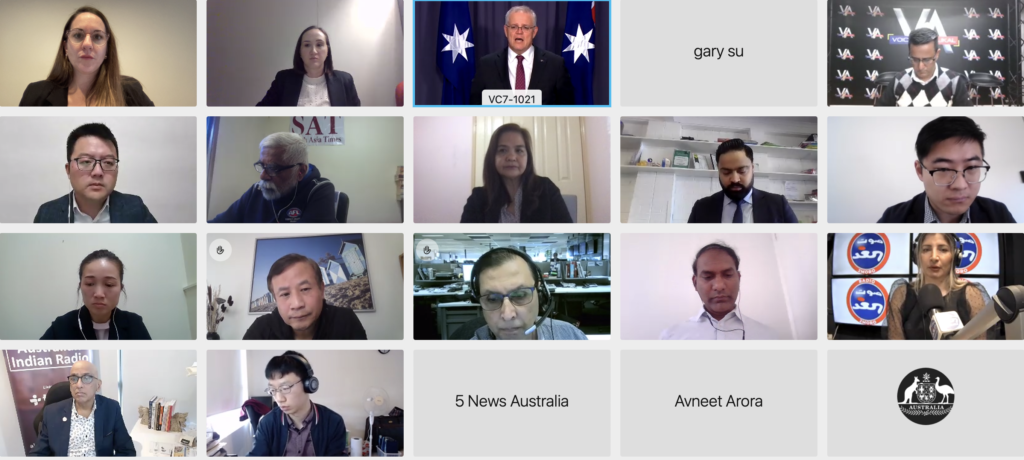 "We are conscious of how we accommodate and mitigate the impacts of being unable to bring more people into the country and not allowing Australians to leave," said Morrison, stressing that the government's priority is to supress the virus and not the opening of the international borders.
"I can understand the difficulty there is in not being able to see parents and family who are overseas, particularly if you have young children. We all understand that. But the reality is we are living in the worst pandemic of the century," said the Prime Minister and stated that the borders will stay closed for as long as needed "to keep Australia safe and the economy moving forward."
Morrison: Migrant communities to play an increasing role in the care sector
Answering to the Greek Herald's question on how the budget specifically supports women from migrant backgrounds, the Prime Minister said that it does so through the measures for small businesses as well as through the care sector reforms.
"All the measures for small business in particular, they go to the heart of the opportunity for women," Morrison said, explaining the importance of having adequately trained and linguistically diverse labour force in the aged care and NDIS sectors.
"A very significant portion of our labour force that goes to support those sectors actually come through migrant communities and particularly from women. We have additional support to ensure that we can meet the big challenges we have both with the aged care reforms as well as supporting the needs that we know are present in the National Disability Insurance Scheme (NDIS)."
Mr Morrison said that the government's aged care reforms "are about getting the right workforce for the right places" and highlighted that migrant communities are going to play an increasing role in this respect.
Tuesday's budget revealed the aged care sector will receive $17.7 billion over five years, after the Royal Commission into Aged Care Quality and Safety estimated one-in-three people living in aged care in Australia experience neglect and physical or emotional abuse.
READ MORE: Federal Budget 2021: What's in it for you?