Harry Maguire was found guilty of aggravated assault, resisting arrest and repeated attempts of bribery in August last year following a brawl with police in Mykonos. While it was believed he would be called before the summer for an appeals court hearing on Syros, this is no longer the case.
A judicial official told the Guardian on Friday that it is unlikely Maguire will have a hearing this year due to the tribunal's case load having piled up because of the pandemic.
READ MORE: Manchester United captain faces trial for bribe and assault charges in Mykonos
"Only emergency cases are being held," the official said. "We have a backlog dating back several years and every week there are adjournments. Very probably this case will not be heard for all of 2021." United did not want to comment on the latest developments on Friday.
The Manchester United captain was arrested along with his brother Joe and pal Chris Sharman after a fight erupted in the street.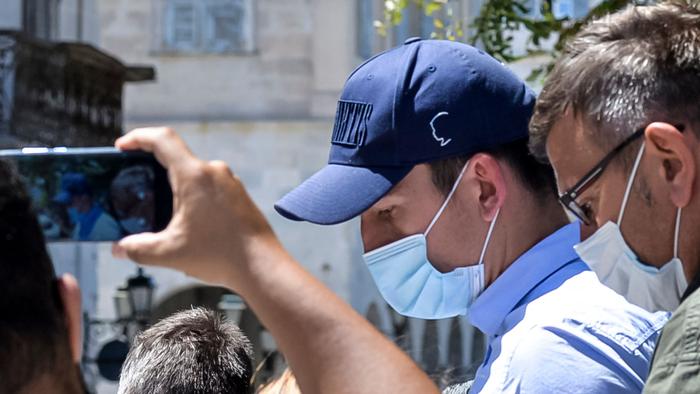 Maguire's top human rights lawyer Alexis Anagnostakis told the trial in Syros that the fight was allegedly started after an "Albanian group" attacked Maguire's younger sister, Daisy. Daisy was stabbed in the arm, causing her to pass out.
Maguire and his group asked to be taken to hospital after the incident, but were driven to a police station instead, where officers allegedly kicked Maguire on the leg and told him: "Your career is over".
The court heard how once at the police station, Maguire said: "Do you know who I am? I am the captain of Manchester United, I am very rich, I can give you money, I can pay you, please let us go."
After being handed a 21-month prison sentence, suspended for three years, the defender immediately appealed against the verdict. His two co-defendants, who were given 13-month suspended sentences, also appealed. All three were allowed to walk free after the court acknowledged their clear criminal records.
Under Greek law an appeal amounts to a retrial with the higher tribunal having up to eight years to hear the case. When it does take place Maguire will face a three-member panel of appeals court judges, also on Syros.