Yesterday's Anzac Day March came 106 years to the day since Australian and New Zealand troops landed at Gallipoli to start the campaign that is credited with having contributed so much to Australia's national character and spirit.
Participating in the march were members of the Greek RSL sub-branch and the Cretan Association of Sydney and NSW, who represented the great friendship forged between Greeks and Australians on the battlefield during WWII.
"We represent the Greek flag, we represent the Greek army, which is our ancestors who fought," Bill Iliopoulos, treasurer of the Greek RSL, said to The Greek Herald.
"We are proud and we have to show ourselves in here, in the Australian community."
Members who walked proudly under the Greek flag included include John Boutsikakis, John Theodoropoulos, George Chiotis, Peter Tsigounis, Bill Iliopoulos, Julie Tsigounis, Andreas Kitsos, George Karountzos, Peter Kokkalakis, Jim Souvaliotis, Kostas Lianos, George Lianos, John Kiriakidis, Emmanuel Comino, Maria Anthony, George Taxidis. Stelios Kiriakidis, Con Roussis, George Ligakis, Dylan Giannoulis, Konstandina Siganakis, Christopher Townsend, Joanne Rakis, Liliana Kougias and Terry Saviolaks.
"We're very proud and we like to participate every year," George Chiotis, Secretary of the Greek RSL, said to The Greek Herald.
"We ask any part of the families, descendants or grandchildren, if they would like to get in contact with us and participate in this."
Vice President of the Greek RSL, Peter Tsigounis, led the group from the front, while Greek Returned Servicemen League of NSW members carried the blue banner. During the march, a Greek flag was seen flying high next to an Australian flag, representing all Greeks and Australians fighting under the same flags, for the same causes.
Vice President of the Greek RSL, George Karountzos, served as sub-lieutenant in the army between 1960 and 1962 and was deployed in Crete for 26 months.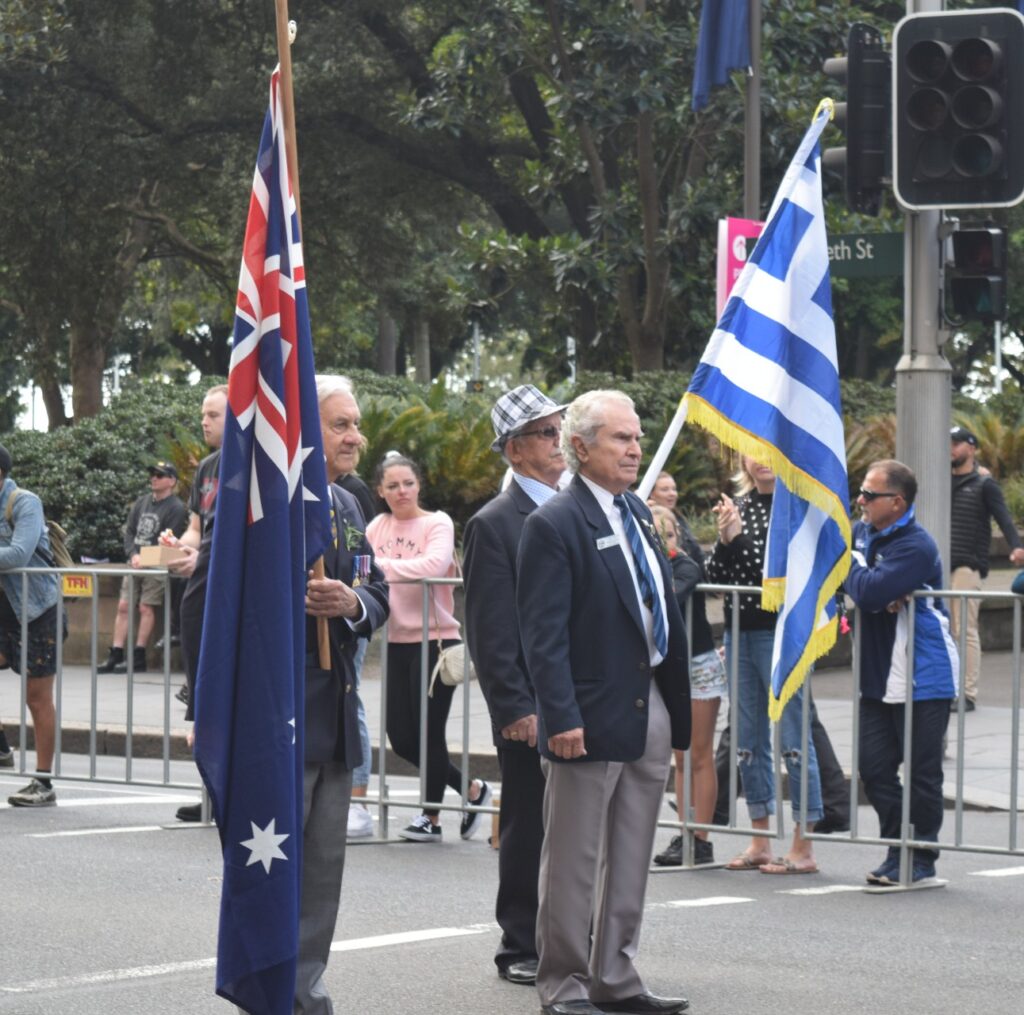 "We are proud to be Greek Australians and today is one of the memories for everyone, remembering the sacrifices they made in the older days," Karountzos said.
The march was led this year by Her Excellency the Honourable Margaret Beazley AC QC, Governor of New South Wales, up to 10,000 serving and ex-service personnel took part in the parade.
Military veterans were joined by representative groups from British, Commonwealth and Allied Countries who served with Australians in the many conflicts in which we have taken part since 1914. They consisted of personnel from the United States, France, Greece, Serbia, Poland, The Netherlands, Estonia, South Korea, Philippines, Russia, South Vietnam, Turkey and Ireland.