According to a report by the ABC, the Greek language is the second fastest disappearing language in Australia, behind Italian.
According to census data, in 2001 a total of 263,487 people spoke Greek as a second language in their homes. As of 2016, this number dropped to 237,583, which is almost a 26,000 person drop. Judging by statistics, this gap is only set to widen.
Antonia Rubino, a senior lecturer in Italian Studies at the University of Sydney says, "there are some factors that have helped the Greeks maintain their language more [than the Italians]." Italian has become a drastically disappearing language with the number of people speaking Italian in their homes dropping over 81,000 in 15 years.
Dr Rubino says these factors include, "the lack of this distinction between dialect and standard Italian."
"Many post-war Italian migrants spoke dialect as their first language, and often did not pass on Italian to the second generation," says Dr Rubino.
"The Greeks also had the church," she says.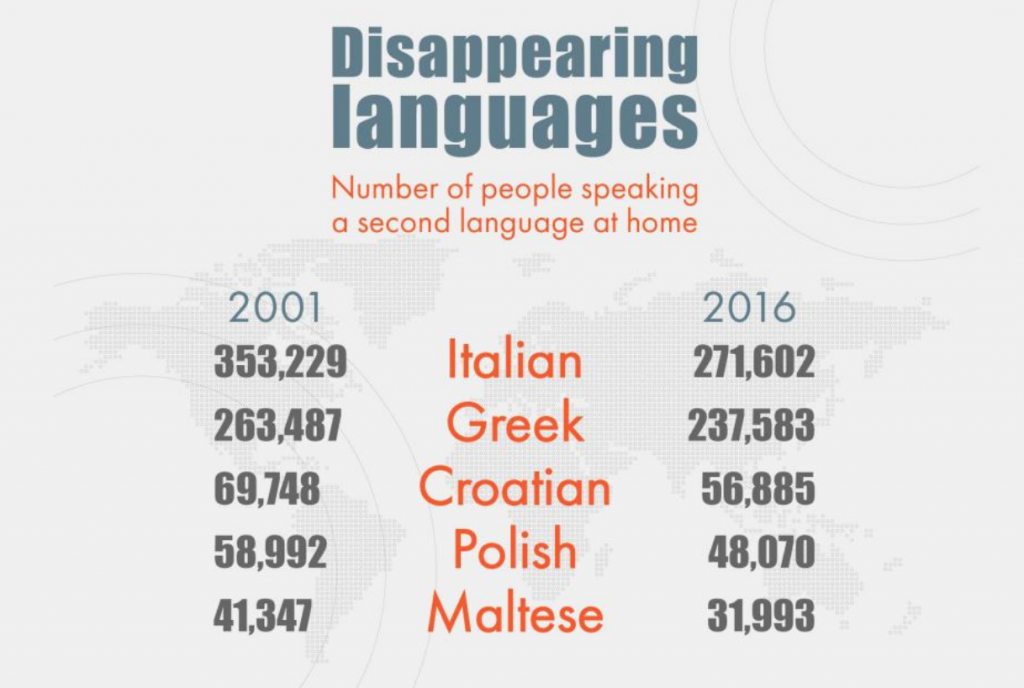 The Greek Orthodox church is central to the family and has played a major role in the transmission of culture and language, whereas "Italians very often attended the local Catholic church which was mainly in English," she says.
Though, Greeks are not too far behind Italians when it comes to language loss.
Statistically, it only takes three generations for migrant families to lose the language they came with, according to the ABC's report.
"Australia is in many ways a graveyard of languages," says Ingrid Piller, professor of applied linguistics at Macquarie University.
"Like the US, we're an English dominant country where language diversity is not valued", according to Dr Piller.
"Australia is one of the most multilingual countries in the world," says Ken Cruickshank of the University of Sydney.
Yet, language education is not seen as a high priority and "languages are not part of the core curriculum in any state apart from Victoria in the primary schools," he says.
In fact, he says, "we come lowest of all OECD countries in the provision and uptake of languages".
"The result is that a bilingual child has a five in six chance of losing their heritage language by the time they finish high school", according to Dr Cruickshank.
This statistic suggests that multilingual children often become monolingual throughout the education in Australia, as the education system does not encourage language learning.
According to the ABC report, there are two ways people can lose the languages they speak.
Firstly, linguistic colonisation, which happened to many Indigenous and minority languages that have been forgotten throughout history.
Secondly, via linguistic assimilation, where migrants lose their native languages as they are predominantly influenced by the dominant language in the country they live in.