Christina Koutra Dendrinou was born in Sydney, Australia and grew up in Greece until she had to return to Australia at 21-years-old due to a health condition.
Devastated to leave Greece and worried about her health, she visited Agios Dimitrios church in Longos, near Aigio, and prayed to the saint to keep her safe.
"I had to learn to live away from the country I grew up in and always loved. So I prayed to the Saint to help me with my health, but also to have him close to me, to be able to have a good life," Dendrinou told Protothema.
Dendrinou overcame her health complications and, in 1997, was married in Melbourne, Victoria. She had two children with her husband but was always homesick.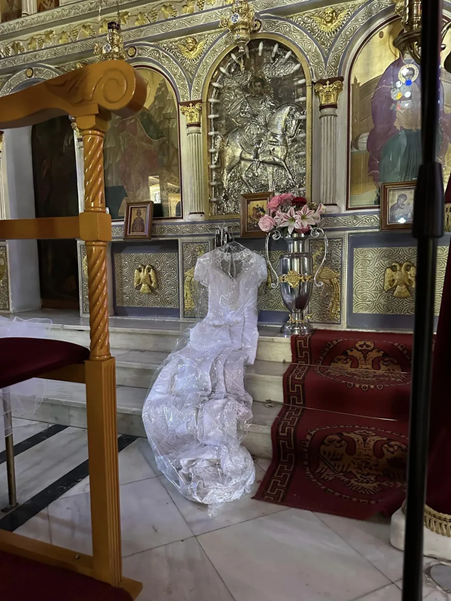 This year, 26 years after her wedding, she returned to Greece alone and decided to bring her wedding dress with her and leave it in front of Agios Dimitrios' icon at the same church she prayed at when she was 21 years old.
She wanted to dedicate her dress to the saint who helped her so many years ago.
Dendrinou's wish is for any girl who is not able to buy her own wedding dress to request to wear her vintage dress.
Source: Protothema.