A wildfire erupted on Sunday near the ruins of the Bronze Age site of Mycenae in Greece, prompting the evacuation of visitors to the archaeological site.
According to local media, the fire started near the tomb of Agamemnon, the king of Mycenae who was killed during the Trojan war.
The flames licked the ruins but the fire department insisted there was no danger to the museum on the site in Greece's Peloponnese region.
The blaze went through "a section of the archaeological site and burnt some dry grass without menacing the museum," the commander of the southern Peloponnese region's fire brigade, Thanassis Koliviras, told Athens News Agency.
In an announcement, the Ministry of Culture also attempted to downplay the damage caused to the ancient site.
"The fire did not cause damage to the antiquities, as far as it can be assessed at this time," it says.
However, the same announcement acknowledges that certain areas within the archaeological site were affected.
Specifically, the East Wing of the Palace, the Northern Warehouses, the area of ​​the archaic temple at the top of the hill, the upper western slope of the Acropolis, the south-west District and the area of ​​the Religious Center of Mycenae.
A force of 27 firefighters, a ground team and eight fire brigades, assisted by two aircraft and a helicopter, are currently working to put out the blaze.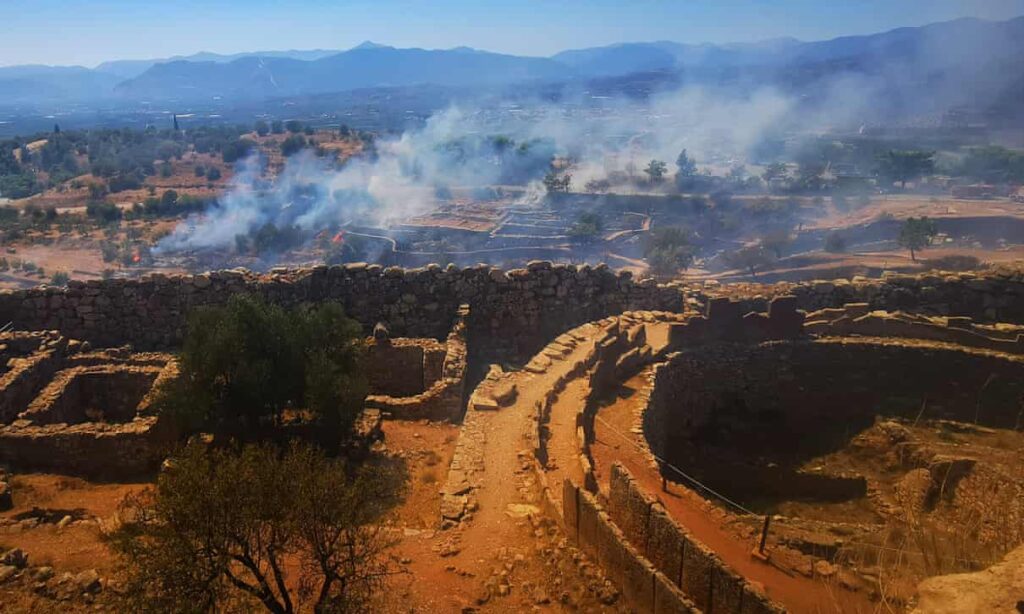 Greece grapples with wildfires every year during the dry summer season, with strong winds and temperatures frequently exceeding 30 degrees.
Two years ago, 102 people died in the coastal resort of Mati near Athens in Greece's worst fire disaster.
READ MORE: Mycenae Excavations: Cambridge Digital Library opens archives.