There are few moments in a nation's history when one decision can heal the wrongs of the past.
But in Greece, there is mounting hope that a panel of three judges will do just that when at 11am on Wednesday they deliver judgment on Golden Dawn, the neo-fascist party that took Europe by storm at the height of the country's economic crisis.
"It will be good for the mental health of Greece," said the leftwing reporter, Dimitris Psarras, whose investigations into the ultra-nationalist force helped expose its sinister ideology and embrace of violence.
"We're all looking towards three people to do what is right to protect democracy."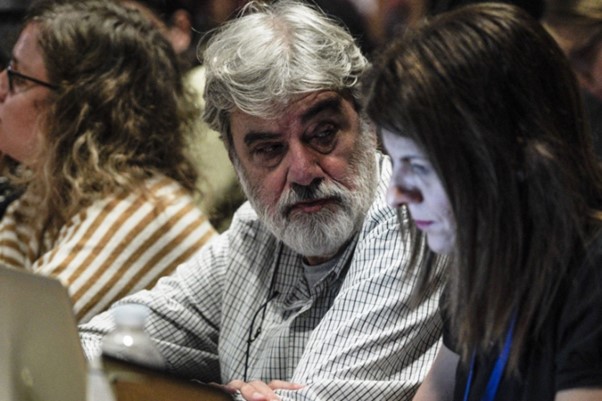 Few verdicts have been as eagerly awaited. Even fewer have been as long in the making. The trial, the largest court hearing of Nazis since Nuremberg, began on 20 April 2015.
During proceedings, 68 people, including the party's entire leadership, have faced charges of operating a criminal organisation while at the same time posing as a political group. Police officers who allegedly supported the far-right party are among those on trial.
The accusations have been vigorously denied. Only Giorgos Roupakias, a Golden Dawn operative, has confessed to the stabbing of Pavlos Fyssas, a popular anti-fascist rapper whose death triggered the group's unravelling.
MPs who represented the xenophobic bloc until its electoral defeat in July 2019 are also accused of attempted murder, possession of weapons and employing violence to eradicate perceived enemies.
Like Nikolaos Michaloliakos, a Holocaust denier who founded the neo-Nazi movement in the early 80s, they claim to be victims of political persecution.
Yet nearly five and a half years after the trial began, Athens' normally divided political class is united in the belief that this week's decision will be as cathartic as it is decisive. Writing in Saturday's Syntakton newspaper, leaders from across the spectrum rejoiced in "the end of Golden Dawn."
"Greece suffered as few countries from Nazism," wrote Greece's Prime Minister, Kyriakos Mitsotakis.
"It mourned victims, it experienced tragedies, it endured destruction. That is why it fought Nazism. There is no place in our country for [its] mimics and followers."
Main opposition SYRIZA-Progressive Alliance leader, Alexis Tsipras, added in an interview with the same newspaper that only a guilty verdict for Golden Dawn on October 7 will serve as vindication.
"The trial's conclusion is a historic milestone for Greek democracy. Golden Dawn are no longer in parliament and after the conclusion of the trial, the members of this criminal gang must go to prison," Mr Tsipras said.
The verdict is expected to be the denouement of Golden Dawn's terminal decline.
Fueled by feuds, defections and factional infighting, the group has all but collapsed since narrowly failing to cross the 3 percent threshold into parliament in 2019.
Yet no country in modern Europe has come as close to an overtly Nazi group strutting the national stage.
Source: The Guardian.