Foreign Minister Giorgos Gerapetritis and his Turkish counterpart, Hakan Fidan, have reached an agreement to rekindle high-level communications between their respective nations and seek innovative strategies to address longstanding disputes.
This initiative is part of their joint efforts to mend relations between the two NATO allies, who have been entangled in a series of enduring disagreements.
The discussions between Gerapetritis and Fidan took place in an atmosphere of increased cordiality, catalyzed by Greece's provision of assistance to Turkey following a devastating earthquake earlier this year, and Turkey's expression of condolences after a tragic train accident in Tempe.
Gerapetritis, speaking to the press following the two-hour meeting in Ankara, emphasized the need "to build on what unites us and to gain a better understanding of what separates us."
Fidan echoed this sentiment, stating, "We have entered a new and positive phase in our relations with Greece. We reaffirmed our belief that our challenges can be resolved through constructive dialogue between our two neighboring and allied nations."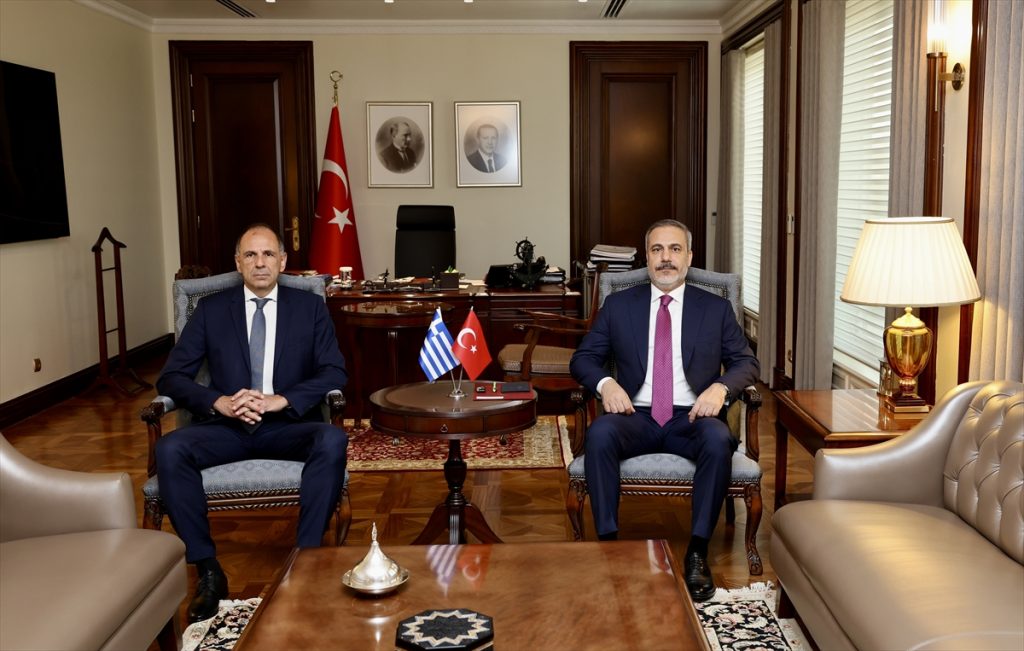 This meeting comes at a time when Ankara, grappling with economic challenges, is actively seeking to reset its historically complex relations with Western nations. It follows a rare encounter between President Recep Tayyip Erdogan and Greek Prime Minister Kyriakos Mitsotakis on the sidelines of a NATO summit in Vilnius in July.
In line with a "roadmap" unveiled by the two ministers, Mitsotakis and Erdogan are scheduled to meet again on the sidelines of the United Nations General Assembly in New York on September 18. This will be followed by a gathering of high-level officials in October, discussions on confidence-building measures, and a revival of a previously stalled high-level cooperation council meeting.
Greece and Turkey have been at odds over a range of issues, including territorial claims in the Aegean Sea, rights for energy exploration in the eastern Mediterranean, and the ethnically divided Cyprus.
Tensions escalated in 2020 over disputes related to exploratory drilling rights in Mediterranean regions claimed by both Greece and Cyprus as their exclusive economic zones, leading to naval confrontations.
Fidan stated, "We conducted a comprehensive assessment of our issues concerning the Aegean and the eastern Mediterranean. We have reached an agreement to introduce novel approaches to address these challenges."
The friendly atmosphere of Tuesday's meeting marked a stark contrast to a gathering two years ago when the former Greek and Turkish foreign ministers exchanged accusations during a joint news conference in Ankara.
In recent years, Turkey has accused Greece of deploying troops on Aegean islands near the Turkish coast, which it views as a violation of treaties. Greece, on the other hand, contends that it needs to safeguard these islands against potential aggression from Turkey, citing Turkey's substantial military presence on the western Turkish coast.
Turkish officials have warned that the continued militarization of the islands could prompt Turkey to question their ownership, with Erdogan even alluding to the possibility of sending missiles to Athens.
Last year, Erdogan had pledged never to engage in talks with Mitsotakis, expressing anger at the Greek leader's call to the United States not to sell F-16 fighter jets to Turkey during a visit to Washington.

Source: Ekathimerini