By Ilektra Takuridu
Ancient Greek Culture has influenced modern fashion for many centuries. More and more famous designers worldwide use Ancient Greek artwork on their clothing brands. Archaeological findings showed that the Ancient Greeks had functional and colourful clothing. Even though no clothes have remained from the Ancient Greek era, we can still find depictions on walls, vases and statues how the clothes looked like.
Greek dresses were usually made from linen and cotton due to the hot climate, or wool when the weather was cold, much like today. As seen in many art works the dresses showed simplicity combined with harmony; today designers still use this style for summer fashion. Linen clothes from ancient times made dresses look wet like drapery with a soft fold which gave the look of a Goddess like image, a look that is becoming more popular, especially now with the body positivity movements.
The renowned fashion brand Chanel made a beautiful collection inspired by ancient Greek art called Chanel Resort 2018; dresses were made in a breezy fresh style to show the women as God-like figures from ancient statues. The designer of the collection was the famous Karl Lagerfeld. He comments on his collection, "the criteria of beauty in ancient, then classical, Greece still hold true. There have never been more beautiful representations of women".
The use of white and nude colours in his collection are inspired by Greek artifacts he saw in museums. His dresses were resembling the ancient chiton (undergarment), peplos (upper garment) and himation (cloak) that people in Ancient Greece were wearing.
We can't forget the London-based Greek fashion designer Mary Katrantzou who also keeps ancient Greek art alive with her collections. These collections are full of Ancient Greek prints from vases, and she often uses Minoan priestesses or goddesses on her clothes.
One of the most significant motifs that we still use in modern-era fashion is the Meander, also called the Greek fret or key design. It is a prevalent geometrical decorative detail that Ancient Greeks used on their jewellery, clothes, and walls. The Meander symbolizes many things, but mostly the eternal flow of things and infinity. Sometimes it is given as a wedding gift because it represents the love that never ends.
Possibly the most recognizable logos that use a Greek Ancient motif is the brand Versace. The logo of Versace is the head of a Greek mythological creature called Medousa. Gianni Versace chose her because of her alluring appeal but also his love for Greek artwork. His fashion collections are full of Gold bold meanders.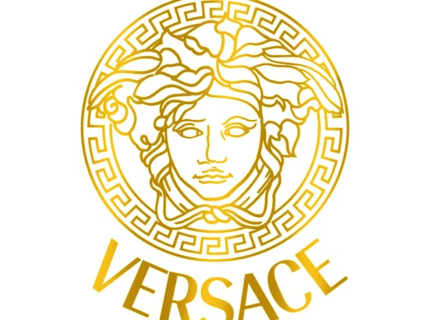 Once you explore and understand Ancient Greek art, you can find resemblances and its influence everywhere in modern fashion.