The City of Randwick in Sydney will kick off its celebrations for the bicentenary of the Greek Revolution this year by displaying special banners across the community from March 21.
The four metre banner, which is covered in the Greek flag, the words '200th anniversary of the Greek Revolution' and the council logo, will be flying proudly for two weeks.
This exciting decision comes after proud Greek Australian and Randwick City Councillor, Alexandra Luxford, passed a motion at a council meeting on February 23, 2021.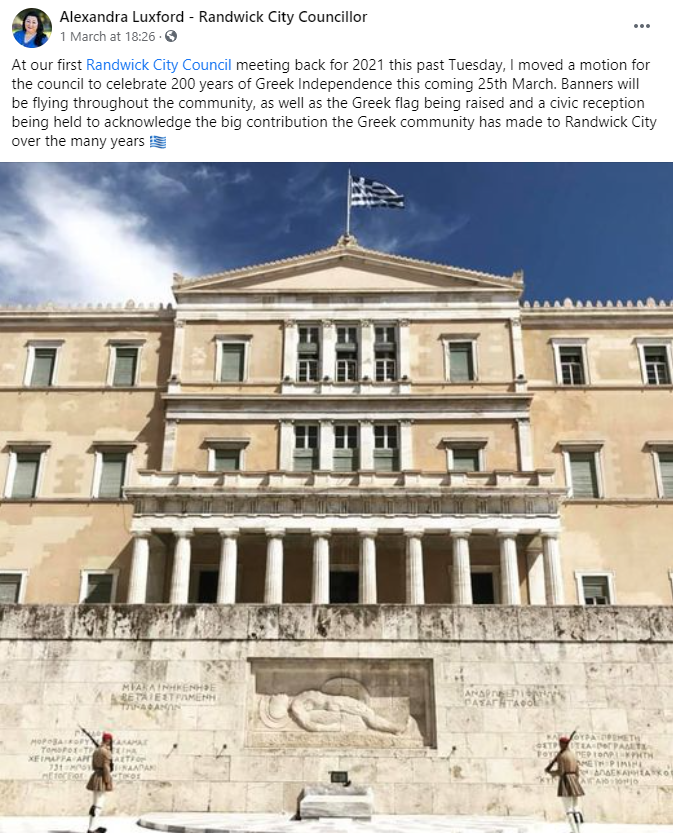 "We wanted to do this to recognise the big contribution the Greek community has made to Randwick City Council over the years," Ms Luxford tells The Greek Herald.
"It's something we should be proud of as Greek Australians."
READ MORE: Melbourne, Sydney to mark Greek Independence Day with blue lit landmarks and Greek flags.
The Councillor goes on to say that the public's response to the banners has so far been 'extremely positive.'
"More people are getting to know about it now and everyone is chuffed. They're excited the banners will be flying around the city for a few weeks," she says.
As part of Ms Luxford's motion, Randwick City Council will also raise the Greek flag and hold a civic reception to mark the bicentenary.
If you would like to attend the flag raising ceremony, it will be held on March 25 at the Randwick Town Hall from 10am.