Rizogalo is a traditional Greek style rice pudding flavored with vanilla beans and cinnamon. Rizogalo simply translates to "rice milk"; rizo means "rice" and galo is "milk" in Greek.
Apart from a great dessert, rizogalo is a comfort food and it can be served warm in winter and chilled in summer.
HOW TO MAKE RIZOGALO
The variety of rice used in making a rice pudding is very crucial. Even though its preparation and flavor hugely vary, the end product is always the same – rich and creamy. In order to get this consistency and texture, short-grained white rice is used.
Rizogalo is traditionally prepared using a Greek short-grain rice variety called glacé. The grains of this rice become soft and tender when cooked. They also stick to each other during cooking making the rizogalo thicker and creamier. This type of rice is also suitable for soups. The next best substitute is the Arborio rice, which has similar properties.
Key to making a decadent rizogalo is to stir it constantly to get the creamier texture. Slow cooked rice absorbs more starch and makes the pudding more luscious.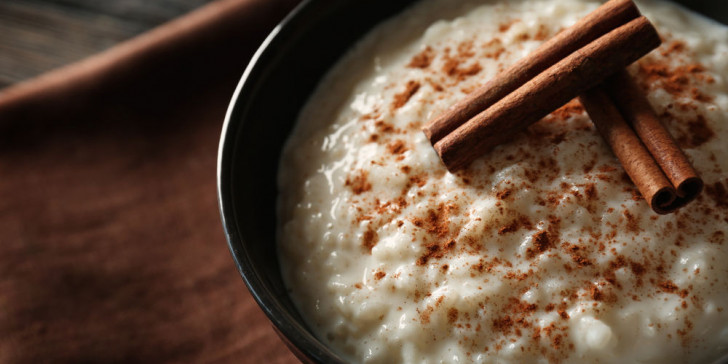 INGREDIENTS (Serves 4)
½ cup round rice
2 cups water
2 cups milk
½ cup caster sugar
1 tablespoon cornflour
1 vanilla pod
½ teaspoon ground cinnamon
INSTRUCTIONS
In a non-stick pot, bring the rice and water to a boil and cook on low heat until the rice is cooked through (about 25 minutes)
At this stage, only very little water remains, and the result is like a kind of porridge. Mix everything.
Reserve a little milk and dilute the sugar and cornflour with a whisk.
Pour the rest of the milk into the rice and add the vanilla pod.
Heat slightly over medium-low heat while stirring, then pour the mixture of milk, sugar and cornflour.
Bring to a boil over low heat, stirring constantly.
Pour into cups and sprinkle with cinnamon.
Enjoy hot or cold.
Kali Oreksi!