By Victoria Loutas.
As Covid restrictions begin to ease, we can't help but dream about all the possible travel destinations we may soon be able to visit. Of course, Greece is at the top of our list! Here is a list of the best Greek travel destinations that everyone should visit:
1. Thessaloniki
Thessaloniki is Greece's second largest city and is a cultural capital in Greece. Located just six hours away from Athens, Thessaloniki has a buzzing nightlife and lively festivals and social scenes. The city consists of new and old attractions, from the renowned White Tower to colourful food markets and contemporary art galleries. Thessaloniki is also regarded as a culinary centre within Greece, being home to some of the most innovative and renowned food halls.
2. Santorini
Santorini is a popular holiday destination in Greece that is celebrated for its picturesque cliff top views. Santorini is one of the Cyclades islands in the Aegean Sea. It was devastated by a volcanic eruption in the 16th century BC, forever shaping its rugged landscape. The black sand beaches make this island even that more unique. It is arguably one of the most scenic islands in Greece and is an amazing backdrop for that perfect Instagram picture.
3. Athens
Athens is the capital city of Greece and was the heart of Ancient Greek civilisation. The city is full of 5th century BC landmarks, historical landmarks and a lively social and food scene. The most outstanding landmark is of course the Acropolis, which sits on the highest point of the city and can be spotted from almost anywhere in the town. Athens is the perfect first stop off to kick off a trip to Greece!
4. Paros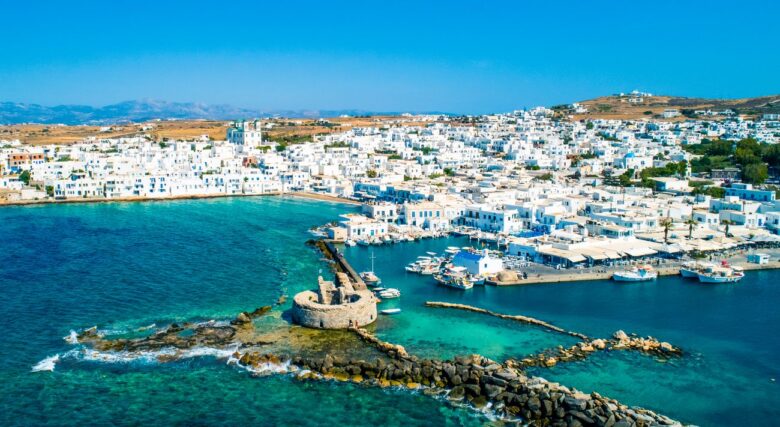 Idyllic beaches, breathtaking views and traditional villages. We're talking about none other than Paros, a Greek island located in the Aegean sea. The island is surrounded by crystal clear blue water, perfect for a relaxing, summer holiday. It's also home to the Panagia Ekatontapiliani, a landmark Byzantine church from the 4th century AD. This island provides the small village charm with all the amazing scenery you wish to see in Greece!
5. Crete 
Crete, Greece's largest island, is known for its diverse terrain, from beautiful beaches to White Mountains. Travelling to Crete provides the perfect balance between historical tourism and holiday relaxation. Spend a day enjoying the beaches at Elafonisi or the famous Seitan Limani and take in the cultural nightlife in the city of Chania at night. You can also take the time to venture out to some of the world's most renowned historical landmarks on the Island, including the Monastery of Arkadi or Mount Ida.