Walking into Perama 2.0 restaurant in Petersham, Sydney, I'm instantly struck by the amazing transformation the space has undergone since my last visit pre-lockdown in July.
To my right is a trendy bar containing dozens of iconic Greek wines, while on my left are mirrored walls covered with the outlines of Greek gods and rows of dining tables waiting to be filled with customers when the restaurant opened for service.
Taking a few more steps into the space and if you're lucky, you'll also bump into Michelle – the friendly staffer who answers the constantly ringing phone and manages the bookings and events.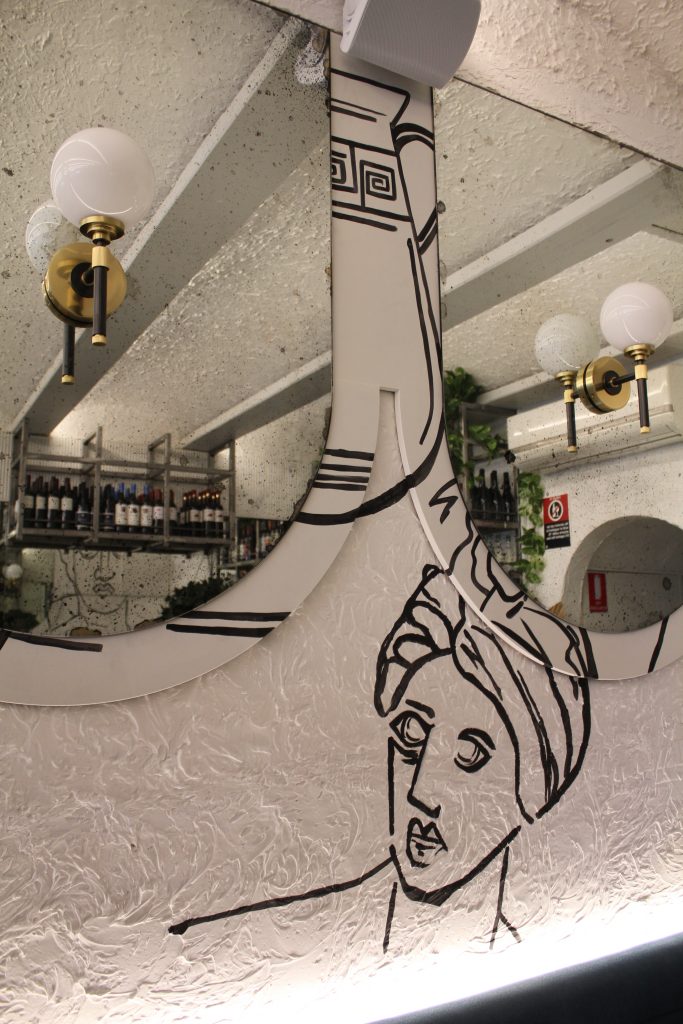 She was more than happy to share what it's been like ever since chef, David Tsirekas, decided to bring back the iconic Perama restaurant as Perama 2.0 after 10 years.
"It's been an overwhelming response. It's unbelievable how many people are excited that the restaurant is back and that David is back at the helm of the restaurant," Michelle tells The Greek Herald exclusively.
READ MORE: Chef, David Tsirekas, rises from the ashes with a new restaurant and outlook on life.
'A new generation of hospitality people':
Speaking of David, I set off on a walk through the restaurant to find him and of course, he's exactly where you'd expect him to be – rushing around in his industrial kitchen.
He's all alone and prepping his signature quirky dishes, such as kalitsounia and passionfruit bougatsa, in anticipation for the Wednesday night dinner rush. Only minutes later, I see him grabbing a bucket and mop as he starts to clean the restaurant as well.
When I ask him why he seems to be both a chef and a cleaner, his answer doesn't surprise me as it reflects the current issues facing the hospitality industry due to the COVID-19 pandemic and recent lockdowns in New South Wales.
"There's no staff around. The people who are here [in Australia] don't want to do this job anymore because of the constant lockdowns and hospitality has always been the one to cop it first," David tells The Greek Herald.
"Then you've got the added thing of the desperation for staff and people offering big bucks [which is hard to compete with]."
The popular chef does acknowledge however, that it's "not all doom and gloom."
"The staff are doing an amazing job, let me tell you. I couldn't be prouder of these young kids and their enthusiasm and their filotimo. They're giving their humility in service which is good," David says.
"One of the positives of having these young guys is being able to mould them into a new generation of hospitality people through your own philosophy, your own vision, your own lens."
David also says that despite things being "different to what they used to be," he's still happy to be back and sharing his vision not only with his staff, but with long-time and new customers as well.
"It's so good to be doing this food again. I have creative freedom that reflects the space that Elvis [David's business partner] built. It's important for the food to fit in with the personality of the restaurant otherwise it doesn't make sense," he concludes.
READ MORE: Celebrated Greek restaurant, Perama, to reopen in Petersham 10 years after closing.
"It is a marathon. We just have to make sure that we deliver quality consistently, be humble in our mistakes and we're going to make them because of this difficult time. We hope the public is patient with us and with all restaurants.
"But it is good to be back. It's home really."
A welcoming home which is open to all who want to enjoy a slice of David's iconic and quirky dishes.