Bakaliaros (Cod) skordalia is a Greek traditional dish that has become synonymous with the celebration of Greek Independence Day on March 25, which is also the Annunciation of the Virgin Mary.
In the lead up to the special day this Thursday, The Greek Herald takes a look back at how this tradition started and of course, we share our secret recipe.
How did this tradition start?
The celebration of March 25 always occurs during the Great Lent, a period when many Greeks fast for nearly fifty days – abstaining from meat, fish and dairy from Kathara Deftera up until Easter. During Lent, however, there are two exceptions: one on March 25 and the other on Palm Sunday when fish is traditionally consumed.
In the old days, people living near the shores ate fresh fish on both occasions but people in remote mountain villages could not, as there were no refrigeration trucks to transport fish. Consequently, salted cod substituted fresh fish, during lent and other occasions, as it was cheap and could be preserved for a long time.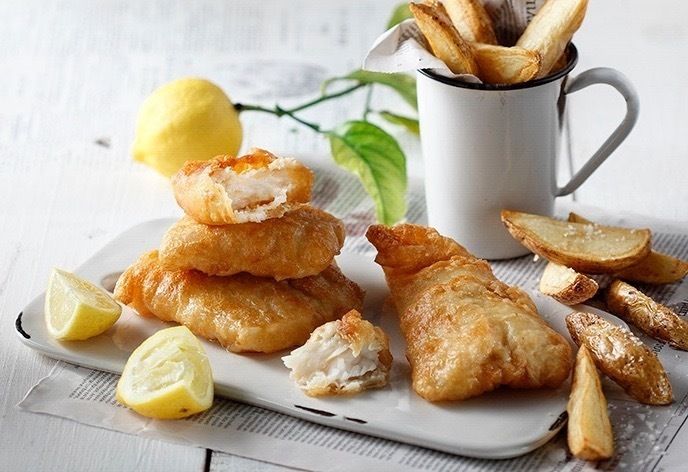 Bakaliaros Skordalia Recipe:
Serves: 4
Time: 45 minutes (24 hours soaking the fish in water).
Ingredients for the Bakaliaros:
1 kg salted cod fillet
Olive oil for frying

For the batter:
1 tbsp lemon juice
(75 grams (about 1 1/2) egg whites (or replace with 1 tbsp baking powder)
1 ½ cups all-purpose flour
½ cup corn flour (corn starch)
250 ml beer (or 165 m beer an 85 ml water)
½ tsp salt
A pinch of white pepper
2 tbsp olive oil
2 tbsp fennel fronds finely chopped (optional)
Directions:
Cut the cod into portions, remove skin, rinse to remove salt and place in a bowl and cover with water. If cod is not a fillet make sure to remove all the bones. Drain and change the water every 3 – 4 hours for at least 24 hours before preparing.
Beat one egg white into meringue. In a bowl add the flour, corn flour, (baking powder instead of egg white), salt and pepper, fennel fronds, the beer, the olive oil and lemon juice and start mixing adding the water gradually, until you have a thick batter. Do not add all the water as you may not need all of it. Mix in the egg white and place the batter in the refrigerator for an hour.
Dip the cod into the batter and fry on both sides in hot olive oil. Serve with delicious garlic dip (skordalia).
Ingredients for the Skordalia:
3 medium potatoes, boiled
2 – 3 cloves garlic, depending how strong you want it
½ tsp sea salt
Freshly grated black pepper
1/3 cup extra virgin olive oil, divided
1/4 cup red wine vinegar or lemon juice
Finely chopped parsley or spring onion, for decoration
Directions:
In a food processor or a blender, puree garlic with 1/3rd of the olive oil or use a pestle and mortar and puree the garlic with the salt (without the olive oil).
Boil the potatoes until soft.
Transfer them to a bowl and mash them with a fork or a potato masher. They do not need to be completely pureed.
Add the olive oil while the potatoes are still warm, the garlic puree and salt, if using the first method, or garlic paste, pepper and mix well. Add vinegar or lemon juice gradually, taste and adjust.
Set aside to cool.
Serve at room temperature.
Source: xpatathens.