By Ilias Karagiannis
Stereotypes haunt us, stimulate our every thought to think of people on the street as gray figures, twisting around the light, like living ghosts, who were at fault for something and found themselves there.
In recent years, after an overwhelming economic recession that has hit Greece, our fellow human beings living on the streets have increased significantly, creating a suffocating situation for them.
Despair is visible if you take a walk in the centre of Athens. This hopeless tour in a dystopia touches the last blood drop in your body, which a few years ago seemed out of place for our country.
But where despair grows, a little hope "blooms", with… "Emfasis" in the human being. Maria Karra, with a multifaceted work abroad, decided in 2013 together with her collaborators, to establish the non-governmental organization "Emfasis", which gives an unequal battle every day in the streets to ensure humane conditions for all those who need it.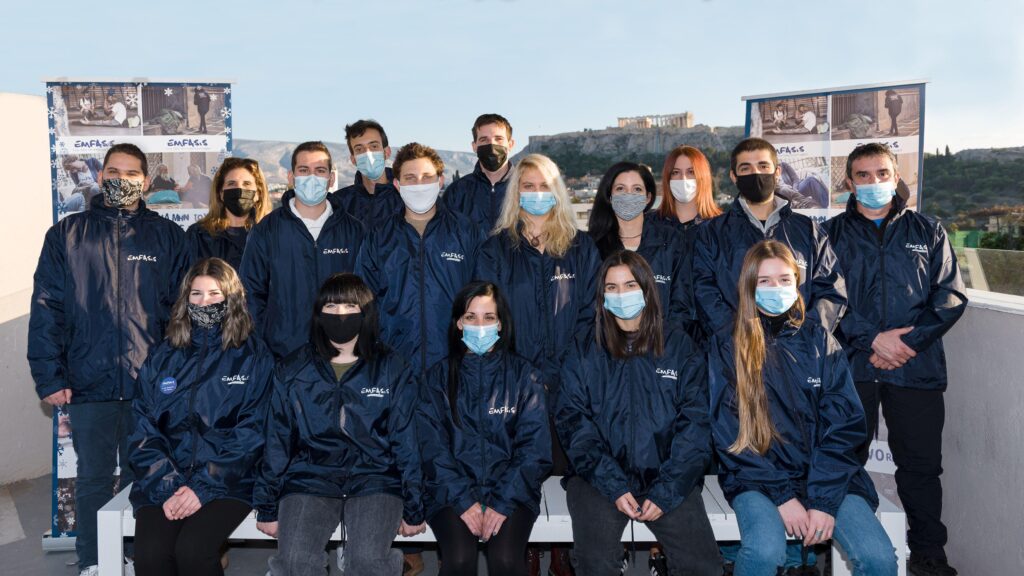 This effort is assisted, as we have emphasized many times in the "Greek Herald" by "THI Australia", which helps with donations to mitigate the effects that people face in the streets, to relieve them but most importantly to empower them and lead them to self-sufficiency.
"Emfasis" started operating 8 years ago, when Maria Karra, who lived abroad, received unpleasant messages about the situation that prevailed in Greece.
"At the height of the financial crisis, the alarm bell sounded from Greece that things were not going well. You cannot imagine how out of place this sounded to me because I was abroad and often had to deal with difficult situations with minorities in Vietnam, Cambodia or missions to Africa.
"Suddenly, I heard that my homeland, Greece, was in need of humanitarian assistance. I was so surprised that I started coming to Greece as a volunteer to form a personal opinion and not to rely on the opinions of others.
"At the same time, I started sending financial aid, both to myself and to the network that I had personally developed, in order to contribute to the improvement of hospital care.
"So we came to a point where we had to put a framework in this aid for reasons of transparency. I received legal advice from acquaintances in Greece and we started saying that we would make a small civil, non-profit organization, so that we could channel donations transparently.
"I could never have imagined that after 8 years we would have this discussion. That our effort will have become an "octopus" of humanitarian support and empowerment" says Maria Karra to the "Greek Herald".
The multiple forms of homelessness and deterioration
Today, after 8 years of operation, Maria Karra explains, the situation has not improved.
"I cannot express in exact words what is happening out there. The first thing I would like to explain to the readers of the "Greek Herald" is that the concept of homelessness has now taken multiple forms.
"It is not the stereotypical image of the grandfather with the beard, in a cardboard box, with a piece of paper that says I am homeless. We have always had this perception that the man on the street has nothing in common with us.

"People on the street are all these people, who for their own reasons, do not live in a safe situation.
"The numbers of homeless people are of concern and remain dangerously high and sometimes we have some terrible outbursts that worry us.
"These outbreaks mainly affect the elderly, something we have been pointing out for a long time. During this period of crisis, they have preferred to expose themselves to the danger of homelessness, having given their home to their son, daughter, grandchildren", says Mrs. Karra, undressing the problem that currently exists in Greece.
Recently a very bad storm, named "Medea", hit Greece and put the team of "Emfasis" on "red alert". "For the" Emfasis" team, the bad weather gave a different dimension to the problem, as we deal with people on the road.
"It causes us a sense of concern for people who are exposed, who are unable to live in a state of security. They have the instinct of survival. They are overwhelmed by such insecurity, that they can not have the same feelings as us", says Mrs. Karra, who describes exactly what her team does to relieve and empower people in need.
"In the last 1.5 years we have distributed used mobile phones to people who are completely abandoned and have nobody to take care of them. Without communication today you are essentially doomed to isolation.
"Now, when the weather is bad, the whole "Emfasis" team is on standby. We make sure we have the necessary survival items, which can be canned food, packages with masks, blankets, sleeping bags, toiletries and antiseptic wipes.
"We save lives every day thanks to the help of THI Australia"
Maria Karra believes that respect, is the beginning of improving the situation. "I am optimistic. Positive steps have been taken by both government and citizens during this time," said the founder of "Emfasis" underlining the catalytic role of "The Hellenic Initiative Australia".
"They are pillars of "Emfasis". They have also moved us as a team with their contribution.
Seeing the difficulties we are facing during the pandemic, THI Australia contributed with the so-called "Winter Appeal", which gave us the additional financial opportunity to be able to place people in great need in a temporary accommodation.
"We can also immediately cover their nutritional needs in supermarkets, with gift vouchers so that they can get out of their isolation and shame, and socialize again.
"Also, if someone needs immediate blood or dermatological tests with this THI sponsorship I can meet that need right away without having to wait weeks or months. We also immediately cover their transportation costs.
"So you see how important THI's last financial injection was. Indeed, we save lives every day."
The passionate Maria Karra, who has offered so much with her tireless diligence, also addresses an appeal to the Greeks of Australia. "I want to remind all of us that we can not do something in the best possible way if we are not in good psychological state.
"What I want to stress to the expatriates in Australia is that every financial aid we receive is aimed at empowerment. We do not want in any way to maintain or institutionalize people but to push them to take the necessary steps to be able to stand on their own two feet ", says the Founder of "Emfasis".
Stergitsa Zamagia-Hill: "THI Australia will continue to help Greece for as long as it is needed"
The "Greek Herald" also contacted "The Hellenic Initiative Australia" to record its own point of view in this collaboration. The CEO, Stergitsa Zamagia-Hill accepted with great pleasure to talk to us:
"Emfasis stood out as a small charity in Greece that was making a real difference through its street work concept. First brought to our attention by a young THI Australia intern who had volunteered with "Emfasis", and then followed by conversations between Maria Karra and THI Australia Directors, Nick Pappas and Peter Abraam, culminated in the first grant of $35,000 in 2018. "
"Having volunteered with the "Emfasis" street work team on several occasions, the professionalism and empathy of the amazing staff, social workers, psychologists and volunteers, who listen and work hard to build trust with the vulnerable people they strive to support, has been inspiring."
"We are delighted that our partnership has continued until today and more than 3,800 individuals have benefitted from our support," said Stergitsa
"We congratulate the "Emfasis" Foundation for their stellar contribution in improving the lives of so many vulnerable people since the beginning of the financial crisis in Greece."
"THI Australia will stand by Greece and its people as long as the need remains."