By Ilektra Takuridu
Yiannis Ritsos was a Greek poet and member of the Greek Resistance during World War II. Although he hated being named as a political poet, he has been referred to as "the great poet of the Greek left" due to the fact he was proud Communist.
Early Life:
He was born May 1st 1909, to a wealthy landowning family in Monemvasia, Laconia. Yiannis had three οlder brothers and one sister. Despite being born into a wealthy family, his childhood was tragic. The families wealth deteriorated in the 1920's they were completely financially ruined. As a result of their economic problems, Yiannis' father begun gambling and eventually became insane. In 1921 Yiannis' Mother and brother Mimis died from tuberculosis when he was just 12 years old. Yiannis himself was also hospitalised for tuberculosis from 1927 till 1931. All of these tragic events affected the life of a young Yiannis, and he expressed this pain through his poetry.
Poetry:
Yiannis started poetry at a young age, in 1924 (at age 15) the magazine "Edification of Children" published his first poems. In 1934 he joined the KKE (Communist party of Greece) and published collections of poems called 'Tractor'. These poems were the first glimpse of his communist ideology expressed through words. Following Tractor, another collection inspired by the Communist movent was publish by Yiannis, called "Pyramids". Both collections were an insight into his own personal life and suffering, integrated with socialist philosophies.
An important moment for Ritsos poetry was the tobacco workers strike on May 9, 1936. The workers' strikes were in Thessaloniki and escalated into violent protests. The next day, Ritsos saw a photograph in Rizospastis (a Greek communist newspaper) of a woman sobbing over her dead son (a tobacco factory worker), who had been killed by police during the strike. The events of the protest inspired one of his most famous poem, Epitaphios. The poem expressed a message of solidarity for all people, a strong theme in Communism. It's success and popularity was in part due to it being written in plain and simple language that could be understood by all. The poem was his most popular and had a print run of 10,000 copies.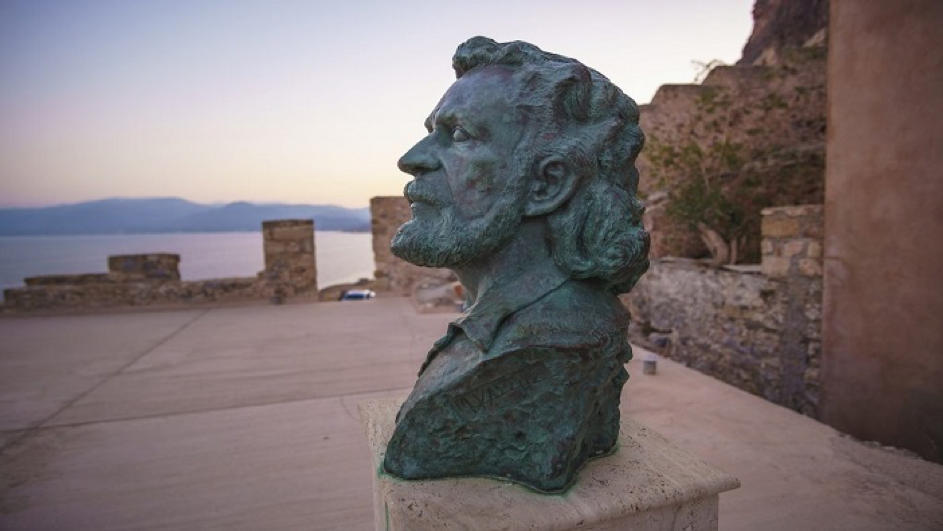 The Axis occupation, Civil Greek War and the Junta:
During Greece's Axis occupation (1941–1945), Ritsos joined the EAM (National Liberation Front) and wrote many poems for the Greek Resistance. Ritsos also supported the Left during the Greek Civil War (1946-1949); in 1948, he was jailed and imprisoned for four years for his involvement with the Communist movement. His poem Epitaphios was set to music by famous music composer Mikis Theodorakis which immediately became the Greek Left's anthem in the 1950s. The Papadopoulos regime imprisoned him in 1967 and sent him to a prison camp in Gyaros, then to Samos and Lemnos.
Death and Legacy:
Yiannis Ritsos died in November 1990 in Athens, and his body was buried in his birthplace. He left behind fifty unpublished collections. Ritsos has been recognised as one of the greatest Greek writers of the twentieth century's. He was also twice nominated for the Nobel Prize awards.