Nikos Magitsis' '7 summits' journey is an accomplishment unthinkable to people with little knowledge of mountaineering. A tale of courage and persistence, Magitsis was the first Greek to climb to the highest peak in each of the planet's continents, including Mt Everest at 8,848 meters on 17 May 2004.
The achievement by Magitsis, however, comes one year after he broke another world record: The first Greek to reach both the South and the North Poles on January 19, 2003.
Magitsis was born in Volos, in 1968, and became a professor of Sports Science and Physical Education. He first started climbing with his PE Professor when he was a child in Agria, later developing his love for climbing and mountaineering by joining the Greek Mountaineering Club of Volos as a coach.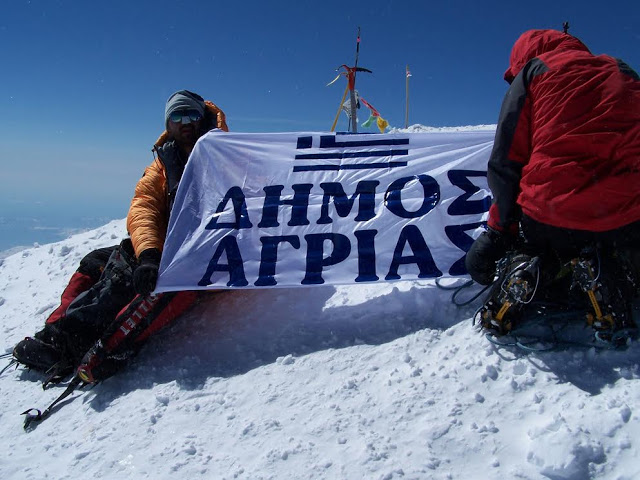 The idea of conquering the '7 Summits' was not Magitsis'. It was first suggested, in 1980, by Richard Bass, and the Greek alpinist found out about it in 2003 at the Antarctic, from Conrad Anker. Together, with Anker and one other American, the three covered a distance of 250 kilometres in the South Pole, with temperatures reaching -50 degrees Celsius.
Together, they raised the flags of Greece and the Olympic Games in the southernmost part of the world, atop the icy mountain of Vinson.
Magitsis had already climbed three other summits before this journey, including Mount Pelion in southeastern Thessaly. "I like Pelion so much; it inspires me to work out and strengthen my soul and spirit!" the alpinist says in an interview.
After climbing Mount Kilimanjaro, in Tanzania, the next step was to climb the Akounkagkoua peak, in the Andes, and the mountain of all mountains; Mount Everest.
As a member of an international mountaineering mission, he stayed at Mount Everest for 64 days with a temperature of -25° C and, reached the highest peak after nearly nine hours of ascent, on May 17, 2004, at 5:45 am.
Then climbing the mountain Mak Kinley, in Alaska, the only top that was left was the Carstensz Pyramid, a mountain in tropical Papua (4884 m.), in Oceania.
The Greek climber and his team, the Swiss Rupert Haider and the Belgian Robert Hugo, on March 17, 2008, arrived by helicopter at the base of the mountain.
"I spent 30 hours hanging on the ropes at a height of 800 meters, during a blizzard. By the time I was on top, I got my satellite phone out and called my family crying. We all cry once" he admits.
His experience, excellent training, careful preparation and integrity has inspired associations and dozens of parents to entrust their children's care in his hands.
"Since 1994 I have organised and conducted 50 mountaineering expeditions as well as sporting survival missions all over the world," Magitsis said.