Ox King is a Sydney-based, Manchester-born artist who has painted over 5,000 murals across Sydney.
His latest is called 'Hestia' and was commissioned by the Inner West Council to honour Marrickville's Greek history and community.
Ox King spoke exclusively with The Greek Herald about the mural.
Q. When did you move to Sydney? How did you get into street art?
"I was born in Manchester, and I immigrated here when I was about 11 (in 1997) and grew up here. I moved to Marrickville when I was around 20. In my mid-20's I lived in Marrickville for about four years. I'm in Wolli Creek now."
"I studied [at the Sydney College of Arts] straight out of high school. I ended up studying film and animation. I studied that for about four years and got a Bachelor with Honours in Film and Animation but then immediately abandoned that once I finished. I started picking up illustration and painting walls with friends and became self-taught over the last 10 years."
"[Street art] is just so immediate."
"I always wanted to present my work for everybody to enjoy."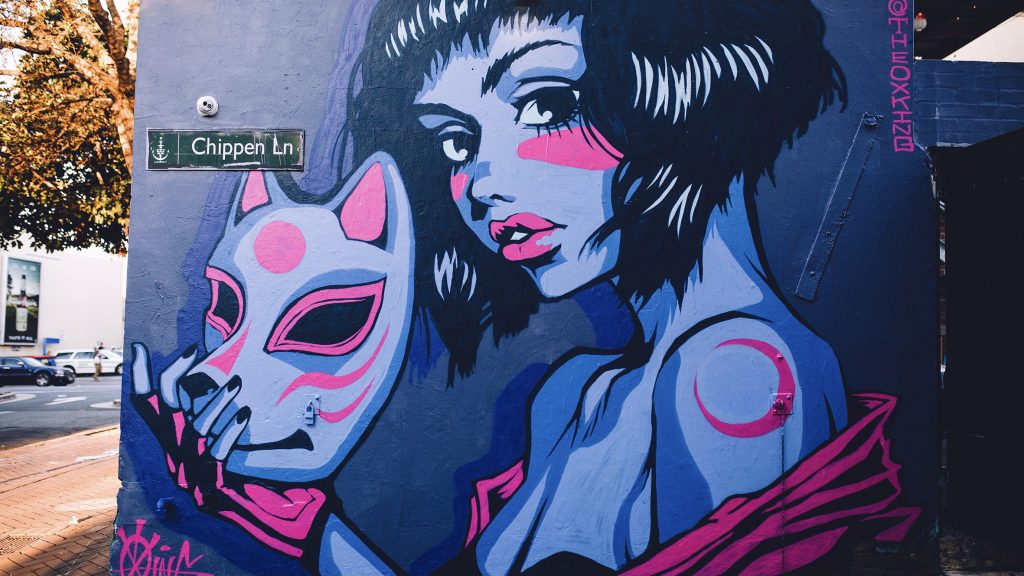 Q. 'Hestia' was commissioned by the Inner West Council. How did they reach out?
"I've worked with the Inner West Council for quite a long time now. Four or five years. I first worked with them when they commissioned the mural in the Newtown IGA carpark. [The council] runs a program called Perfect Match and people in the Inner West who have a wall, who have a property, who are interested in getting a mural submit, and then artists submit to paint murals, and then the Council funds everything and matches artists with locations that they think will work the best."
"It's a really great experience because they place creative freedom first and, as such, I don't really work to a solid brief. That creates the best work."
"For ['Hestia'] specifically, it was a rough brief for doing something for the Greek community but beyond meeting with the people and talking with them, my interpretation of that story was fairly free, which I thought was really successful."
Q. Where did you draw your inspiration for 'Hestia'?
"I met with the council and the building owners … After that, I set up a meeting with representatives from the Greek community in the area. We all sat in a cafe near the mural and they all talked to me about stories, what Marrickville means to them, what it was like growing up, different icons, which I took notes on.
"I landed on a blend of art nouveau and Greek pottery. So, trying to blend the classic Greek pottery depictions with the green and gold colour scheme. Depicted all around, obviously the top 'freedom or death' it's the 200 anniversary and that we're celebrating this year of Greek independence."
"Then to the top left is a depiction of Saint Nicholas, who is a patron saint and is the name of the church that the original immigrants built in the 1960s that is … on Illawarra Road."
"Then to the top right is a depiction of a ship with the word Patris underneath… [which brought] a huge majority of the Australian Greek immigrant population, over about 50 years going from Athens to Melbourne back and forth, so there's a lot of history and emotions behind that ship."
"Below that, I've got the Australian gum leaves to represent the new land to represent this natural beauty and Marrickville as a new settling ground."
"Over to the left, I've got depictions of a jar of oil, fish, and olive branch to represent Greek food. From what I've read and the stories that I've told, the real reason why Marrickville has become such a center is because of Greek delis and Greek food."
"Under that is the word 'Lamia', which is the name of a deli that's been on Marrickville road since the '60s."
"Below that is the olive branch growing words into the soil to represent the next generation of Greek children that were born here in Marrickville that are growing their roots in the Australian soil."
"Surrounding Hestia is the word 'Filotimo', which … [is] such a powerful, all-encompassing word that … represents family and honour and taking someone into your home and showing respect without asking for anything back, which I think is a really beautiful sentiment."
Q. How long did it take to make 'Hestia'?
"['Hestia'] took about three weeks. I'd prefer heat to rain; rain or wind is really terrible. … Overall, I'd say probably about two weeks, 10 days to paint the whole thing."
Q. What has the response been from the community?
"It's all been really overwhelmingly positive. I think because it is so closely tied to personal history, this is probably one of my most researched pieces ever. I've just been getting a lot of really positive feedback when I was painting it and then when I've been posting online."
"I got some really beautiful comments. I got a comment from a lady that said her entire family came over on the Patris and she showed a picture of the mural to her mother, and it made her cry, which I thought was really touching."
Q. What is the proudest moment of your career?
"['Hestia'] is definitely up there. Hestia is definitely one of my favourite pieces. The level of research and community involvement is really rewarding on this one. This is definitely one of my favourites."