Kurnell, Bundeena, Neilson Park, Brighton. If those locations don't ring a bell for Greeks in Sydney, then they're forgetting one of the monumental traditions for Greeks in the late 1900's; the famous Sydney Greek Picnics.
Greek picnics in NSW date back to as early as 1916, with rare photos of Greeks gathering together in Lismore. These heartfelt traditions carried on for the next 50 years across regional and suburban NSW, with groups of Kytherians gathering in Bega in the 1950s.
While some Greeks may not remember, members of the second generation were actually quite resentful at being forced to attend picnics in the 1940s. Now, they look back with nothing but praise and admiration of this unique tradition.
The picnics that Sydney Greeks most fondly reminisce took place in the heart of Australian history; the Royal National Park in Sydney's South. Babies, children, parents and grandparents – all generations of the Greek-Australian community in Sydney used to enjoy the annual celebrations and outings in the royal bushland.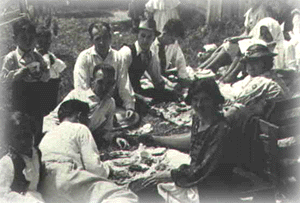 The earliest photographic record of these picnics in Sydney date back to 1938, yet the tradition properly came into fruition in the 1960s. Major events such as Australia Day and New Year's Day drew thousands of people yearly. For many, these picnics were an opportunity to meet up with other Greeks in Sydney and establish bonds that would carry on through their children.
From Bundeena and the Royal National Park, the picnics expanded to the other popular beach locations and Greek populated areas. As the 80s rolled by, Greeks would be found gathering in Kurnell, Brighton and Neilson Park, to name a few. At this point, hundreds of Greeks would be assembled together, travelling hours from across Sydney to join in the picnic.
Beach, parea, ikoyenia…. but what kind of Greek picnic would it be without food! Greeks would carry everything but the kitchen sink, quite literally. Boiled eggs, souvlaki, tiropides, kapouzi, you name it, it was all there. Small charcoal barbecues would be scattered across the picnic area where 20 chequered blankets would be cover the grassy terrain.
More often than not, these 'picnics' turned into full day trips, with people arriving just before lunch and taking off as the sun sets behind the night sky. People just loved spending time with their extended family and friends! The picnics were an opportunity for people to gossip, tell stories about their journeys to Australia, and just enjoy the company of other Greeks.
There was something unique about these picnics. Something that is more or less lacking in the modern Greek community in Sydney, in what can be described only as a 'united Greek front'. As the early 2000's appeared, the 50 year old tradition slowly faltered off. Less and less Greeks would show up to events held in Brighton and Neilson Park. Groups of hundreds turned into crowds of 50.
The picnics represented more than just a communal gathering of people. It represented a community. Everyone celebrated together, not separately. Strangers that you didn't know were greeted with open arms, not with silent whispers. The Sydney Greek picnics contain memories to be cherished for the rest of peoples lives and it's a shame our children don't get to experience the same feeling.