Remembered as the deadliest aviation accident in Greek history, Helios Airways Flight 522 crashed near Grammatiko, Greece, on August 14, 2005, killing 121 passengers and crew.
The plane was scheduled to fly from Larnaca, Cyprus to Prague, Czech Republic, with a stopover at Athens International Airport.
According to an Aircraft Accident Report published in 2006, a ground engineer was sent to the plane prior to the flight to perform a pressurisation leak check. In order to carry out this check without requiring the aircraft's engines, the pressurisation system was set to "manual". However, the engineer failed to reset to "auto" on completion of the test.
Before every flight, the pressurisation system is checked on three separate occasions: during the pre-flight procedure, the after-start check, and the after take-off check. All three times, the flight crew overlooked the system, not noticing the incorrect setting.
As the aircraft climbed, the pressure inside the cabin gradually decreased. As it passed through an altitude of 12,040 feet, the cabin altitude warning horn sounded.
This alert sound, which indicated a pressure loss, was identical to the take-off configuration warning, which the pilots assumed to be the cause. The plane continued to rise, and as it reached an altitude of approximately 18,000 feet, the oxygen masks in the passenger cabin automatically deployed.
The captain proceeded to radio the Helios operations centre and reported "the take-off configuration warning on" and "cooling equipment normal and alternate off line". He then spoke to the ground engineer, who had checked the pressurisation before take off, and asked "Can you confirm that the pressurisation panel is set to AUTO?"
The engineers question was 60 seconds too late, as the captain was already experiencing hypoxia's initial symptoms. The captain disregarded the question and instead asked in reply, "Where are my equipment cooling circuit breakers?".
This was the last communication with the aircraft.
The aircraft continued to climb until it levelled off at approximately 34,000 feet. After repeated failed attempts at contact, two F-16 fighter aircraft were scrambled to establish visual contact.Intercepting the passenger jet at 11:24, the fighter pilots and observed the first officer face down on the control board and an empty captain seat.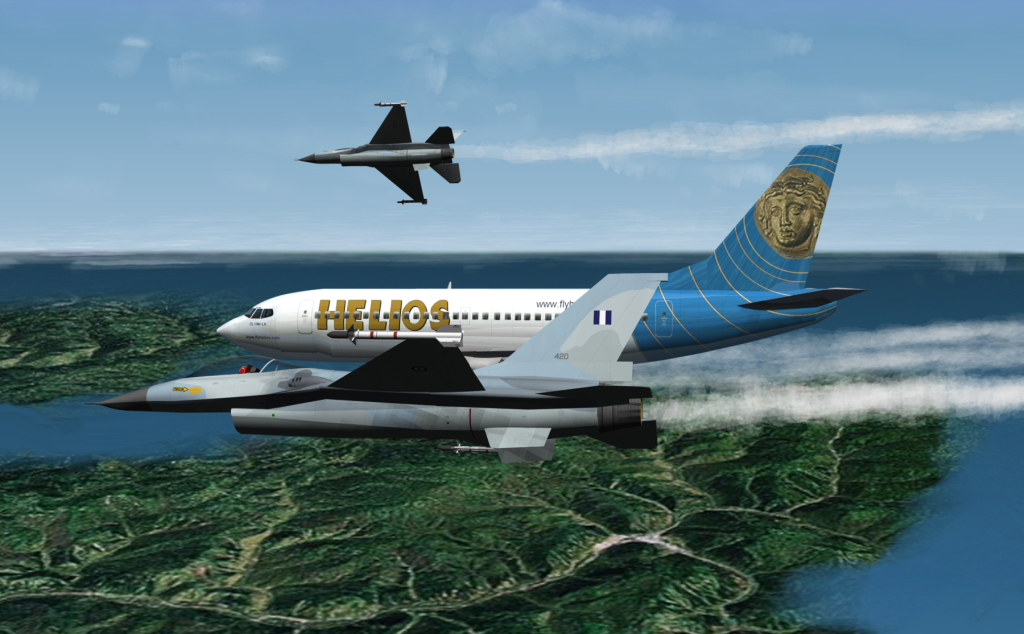 20 minutes later, flight attendant Andreas Prodromou entered the cockpit and sat down in the captain's seat, having remained conscious by using a portable oxygen supply. The flight attendant held a UK Commercial Pilot Licence, but was inexperienced in flying a Boeing 737. Crash investigators concluded that Prodromou's experience was insufficient for him to be able to gain control of the aircraft under the circumstances.
The left engine proceeded to flame out due to fuel exhaustion, followed by right engine.Just before 12:04, the aircraft crashed into hills near Grammatiko, killing all 121 passengers and crew on board.
The passenger list included 93 adults and 22 children, comprising of 103 Cypriot nationals and 12 Greek nationals.