Barbara Arrowsmith-Young, also known as "the woman who changed her brain", is the founder of the 'Arrowsmith Program', which is being integrated into schools to assist children with learning difficulties.
Melbourne's Oakleigh Grammar, in the predominantly 'Greek area' of Oakleigh, is one of the schools that has implemented the program.
Entering its 7th year of operation, the school has seen students travel from all over Melbourne and inter-state to participate in the program, and had students recall the program as "life changing".
Ms Arrowsmith-Young spoke exclusively to The Greek Herald ahead of her new book-launch and tour around Australia, visiting the schools that have successfully implemented her program.
What is the Arrowsmith Program?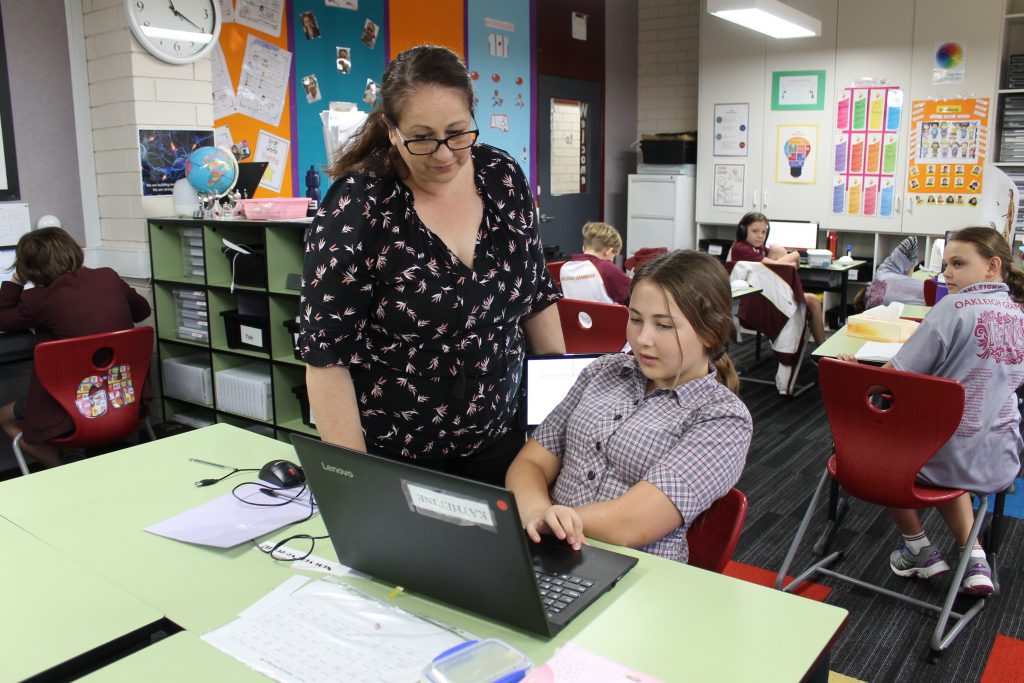 The Arrowsmith Program is based on the application of neuroscientific research, and for 40 years has worked to help students strengthen the weak cognitive capacities underlying a range of learning difficulties. The goal is to help students become effective, confident, and self-directed learners.
It was founded by Barbara Arrowsmith Youth, in 1978, who herself was born with learning difficulties.
In 2019, research findings were assessed by a number of scientists who determined "the results demonstrated significant positive changes in cognitive domains such as long-term memory, visual working memory, efficiency and speed of cognitive processing". In addition, skills in reading fluency, word reading, spelling, math fluency and computation were all extracted from the results of the program.
There are 19 cognitive functions that the program targets, and each student is assessed to understand which specific area they are below average in. This allows them to individually complete certain cognitive tasks that will strengthen these specific areas.
"It creates an individual learning profile. It will say for this student, these 6 areas out of 19 are the critical areas that are impacting leaning, and here's the programs that student needs to address those difficulties. Every student is on their own individualised program…at the end of the year they do a reassessment and if something has now come up average, and it's no longer a problem, we drop that out of the program," said Ms Arrowsmith-Young.
"The idea is we're building strength in these cognitive functions to get them up to a level where they can learn like every other student."
There is one teacher to every ten students, and each class has an Arrowsmith educational aide. Teachers undergo Arrowsmith Training in Brisbane, once a year. Teachers across the globe also have the opportunity to come to Canada to train with Ms Arrowsmith-Young. Teachers are constantly supported through an online database, which tracks the progress of each individual student and offers guidance for teachers on how to meet the needs of each student.
The role of the teacher is not to teach one single lesson to a group of students, it is to support, encourage and monitor the learning of each individual student.
"The student has to do the work. The teacher can't do it for them…the teacher is more of a facilitator, a coach and they have to ensure that the student is doing the exercise correctly," said Ms Arrowsmith-Young.
Students jump between computer tasks, written tasks, auditory activities, or whatever area they specifically struggle with.
Impact of Arrowsmith Program at Oakleigh Grammar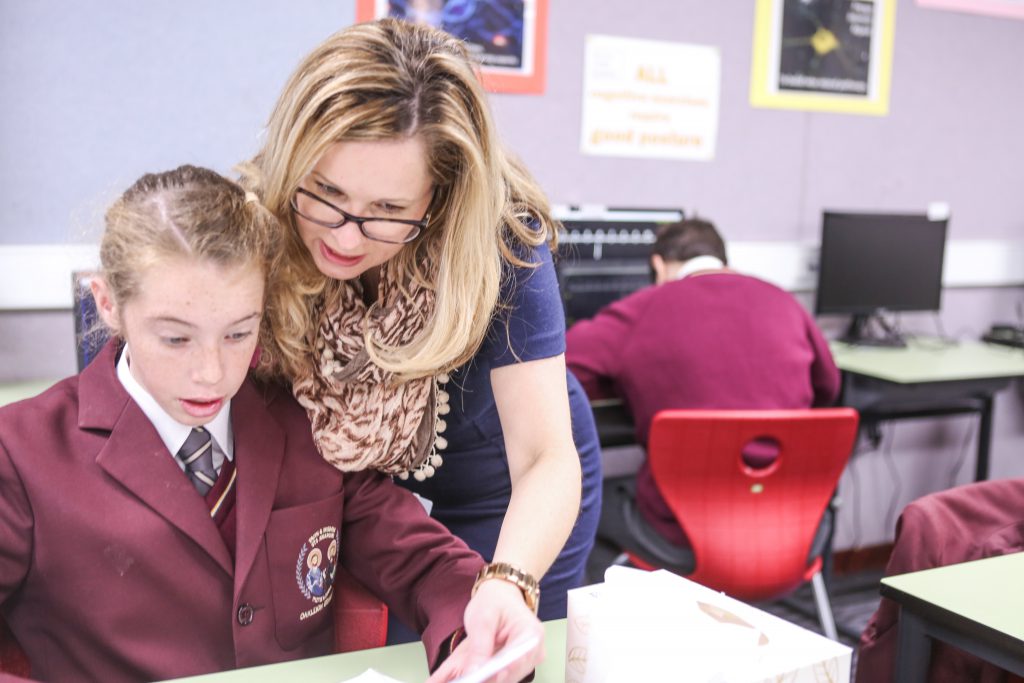 Oakleigh Grammar is achieving "excellent results" in the Arrowsmith Program, according to Ms Arrowsmith-Young, which constituted her visit.
"All the schools that come to this program with integrity…with a desire to make a difference in the lives of students with learning difficulties, and Oakleigh absolutely is committed to doing that. They have excellent teachers, the administration…it's really a great home for the work and they're getting excellent results," said Ms Arrowsmith-Young.
Oakleigh have 109 students enrolled in the Arrowsmith Program. The students certainly must commit and work very hard, according to Head of the Arrowsmith Program at Oakleigh Grammar, Mr Wayne Stagg.
"Our students work incredibly hard. For change to occur, they have to. Active engagement in each cognitive exercise is critical to success. We expect 30-45 minutes of concentration four times a day (more for adult students), plus homework five nights a week, and weekend work," said Mr Stagg.
"For our students, this provides comfort, security and peace of mind knowing that they are in a classroom where teachers and other students understand their learning needs. It also creates a happy, calm, but hard-working learning environment."
At Oakleigh Grammar, students complete 40 cognitive lessons over a 2-week cycle. This is considered a full-time load for the Arrowsmith Program, as students are also combined into mainstream classes.
"I love stepping into these classrooms because there's hard work going on, but it's such a positive atmosphere," said Ms Arrowsmith-Young.
"As they start to master things, they start to feel good about themselves in the learning environment. And then, usually 2 months into the program, they start to experience cognitive change."
Ms Arrowsmith-Young also engages in research on the positive mental wellbeing impacts on its students. Depression, anxiety and other mental impacts associated with learning difficulties stem off a lack of confidence of students with learning difficulties, which Ms Arrowsmith-Young believes can only truly be combatted through the student truly overcoming the obstacles they face.
"You change the cognitive functioning and then the person has the experience that allows them to feel confident. Its confidence based on competence. They are competent and they can do things effectively in the world, which leads to confidence," said Ms Arrowsmith-Young.
"Through this work, we're fundamentally changing the cognitive capacity of the learner, which allows them to learn. That leads to reduction in anxiety, depression, increase in confidence, wellbeing, sense of happiness, which is what the research is showing."
How did the Arrowsmith-Young Program come to be
Barbara Arrowsmith-Young was diagnosed with learning difficulties in Grade 1, in the late 1950s. Her teacher explained to her mother she had a "mental block", as learning difficulties had not been adequately researched at the time.
"My mother was told, 'don't have high expectations for your daughter, her education is going to be a struggle, she's not going to amount to much'. It felt like a life sentence," explains Barbara.
She never considered school a place of joy, and developed issues with anxiety and depression as a result.
Barbara says when students with learning difficulties are put in a "mainstream" learning environment, they develop methods to compensate for their learning difficulties without actually addressing the issue. This is what she learnt to do through memory and repetitiveness, rather than understanding and learning.
"Students with learning difficulties, myself I was one, we learn compensation. We learn ways to make things easier for ourselves, because things are really challenging,"
It wasn't until she read the book, 'The Man That Shattered The World: The History of a Brain Wound', by Alexander Luria, where she deeply resonated with the protagonist explaining the effects of his brain injury.
At this point, she was 26 and still could not tell time. Out of her desperate fear of never being employed, due to her learning disability, she decided to investigate the science behind brain injuries and came across research on neuroplasticity. Put simply, when tested on rats, this research found when brains were put under stimulation they changed functionally and physiologically.
Ms Arrowsmith-Young was the first person to create neuroplasticity exercises for the human brain, which in turn, created the Arrowsmith Program.
She was also the first student of the Arrowsmith Program, and cured her own learning disabilities. Hence the title of her book, 'The Woman Who Changed Her Brain'.
New book
Barbara's new book launch is a continuation of her first book, "The Woman Who Changed Her Brain". This first book was a mix of inspiration and science, where she introduced the Arrowsmith Program to the world, through her scientific research and her personal overcoming's of her learning difficult through the program she invented herself.
Barbara's new book is an extended version of this book, which now includes the scientific research, results and case studies of the Arrowsmith Program in all the schools it has been implemented in.
Her work has been presented at major conferences in North America and Europe, and they now have a hefty amount of evidence.
While Barbara admits there will always be critics who believe neuroplasticity cannot help learning disabilities, and that "learning disabilities are lifelong", she continues to research to prove it, while she herself, stands as a case study.