Sydney Olympic unveiled their new jersey and sponsors, interviewing the head coach and men's and women's players, at their season launch held on Monday February 24 at the Canterbury Leagues Club.
MC of the event Andy Paschalidis and Management CEO John Boulous gave a mention to the ongoing support provided by the Greek media, particularly the Greek Herald, on helping to expand the national reach of the NSW NPL team.
"We would like to thank sports editor Peter Takis for his consistent support in driving Sydney Olympic and communicating that to the masses."
"We would also like to congratulate The Greek Herald on their relaunch event that took place a few weeks ago," John Boulous said.
Speaking about men's pre-season and preparation heading into the new season, head coach Terry Palapanis revealed that the men's team hasn't had desired pre-season results, but are readily prepared for the start of the season this Sunday.
"I said to the boys (players) last week that I just don't like preseason, because you're waiting and waiting for round one, but they (the coaching staff) have got a spring in their step as well as the players…. We'll be ready, the boys will be ready for round one against Wollongong Wolves," Terry Palapanis assured.
With a few new players signed for the first team, Palapanis hopes that they can start the season off well with a victory against last seasons champions Wollongong Wolves.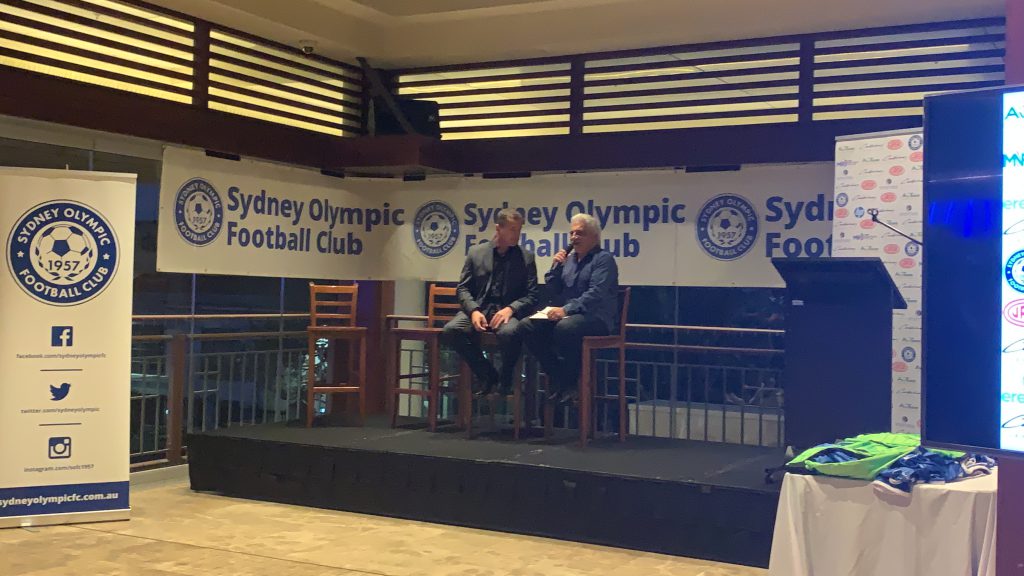 Sydney Olympic director Damon Hanlin spoke of the clubs history in the NSW NPL, hoping to remain a strong masthead for the Australian football community.
"The longer this club survives, the better for everybody… I think that NPL football has a lot to offer the Australian football community and I'm a big advocate for it, so thank the Canterbury Leagues Club and the Board for joining us this season and for hopefully many more.
"My vision for you guys (players) is obviously always to win and win as much as we can. For the men, I'm going to set a hard task, but one that I want. Not just to go past the Round of 32 in the FFA Cup, not just past the Round of 16, but I want to be the first NSW NPL club to win it.
"I think everybody in this room has the capability to do it, so go and do it this year," director Damon Hanlin said.
Andy Paschalidis spoke with women's team captain Teresa Polias about her playing style and taking up a leadership role within the team.
"Everyone has responsibility and I wouldn't say I'm above anyone at all, we all learn from each other. I learn from the others just as much as they learn from me and maybe just the fact I've been around a little longer I might know a couple of extra tricks but I certainly don't see myself as the only leader.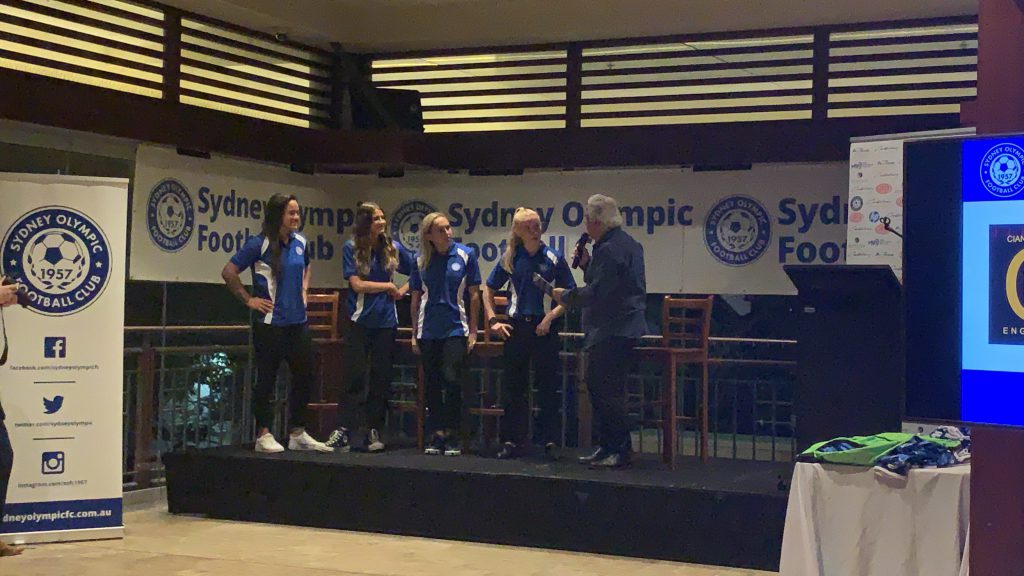 "Something I've learnt over the years is it's not just about the talent in the team, but I think it's what goes on in the dynamics away from the field that really makes us a team."
"They'll (Wollongong Wolves) probably be strong and fit, I've heard they've been training a lot, but I think honestly on our day we will beat them anyway. We also have APIA and then Marconi afterwards, so we have a tough few weeks and the same goes, I think we're strong enough to beat all three of them."
John Boulous thanked returning sponsors from the previous season for their continued support, as well as introduced new partners of the club including the Canterbury Leagues Club, who will act as a sleeve sponsor for the season.
Andy Paschalidis recognised the Canterbury Leagues Club's support in donating $2,500 to Heartbeat of Football, a not-for-profit organisation aimed at promoting healthy hearts in sport via player education, the minimisation of health risks and the installation of defibrillators on all sporting fields around the country.
Sydney Olympic's first match of the season will be against Wollongong Wolves, taking place on Sunday March 1 at Belmore Sports Ground at 4pm.