Photos and words by Mary Sinanidis.
Sophia Panagiotopoulos, a student at Oakleigh Grammar, is one of the 200,000 Victorians that trace their roots back to Greece. She was amongst the Greek Australians who attended the October 28 OXI day tribute held at the Australian Hellenic War Memorial (AHWM) by Victoria's Hellenic RSL.
"My ancestors fought in this war, and it is important for me to be here to represent them," she said. "My grandfather Fotis Fotopoulos was a war hero and a general from Thessaly. He saved our whole town and our region of Kalabaka."
Aphrodite, a teen student at the Greek Orthodox Community Schools of Melbourne and Victoria (GOCMV), said, "Even though we aren't in Greece, it is important for us to honour this day as young diasporans because the sacrifices made by our ancestors is something we still have in our hearts."
Her fellow student Eleana tells The Greek Herald that she came back to Melbourne from Athens this year after having lived in Greece for three years from 2017.
"When I was in Greece, our school always had a celebration and I took part in a parade for all schools. Here, in Australia, we honour the day with the same intensity," she said.
Though Stefania is a third-generation Greek born in Australia, she too feels the tingles when recounting history.
"It is important for me to connect with my Greek identity," she said, before joining her school for the walk from the AHWM to the Shrine of Remembrance for the annual ceremony and more wreath-laying.
At the event, Greek Consul General to Melbourne Emmanuel Kakavelakis read a message by Greece's Deputy Minister of Foreign Affairs for Greeks Abroad Giorgos Kotsiras while Nick Staikos represented Victoria's Premier Jacinta Allen. But more importantly, there were plenty of young people and students representing schools from around Victoria.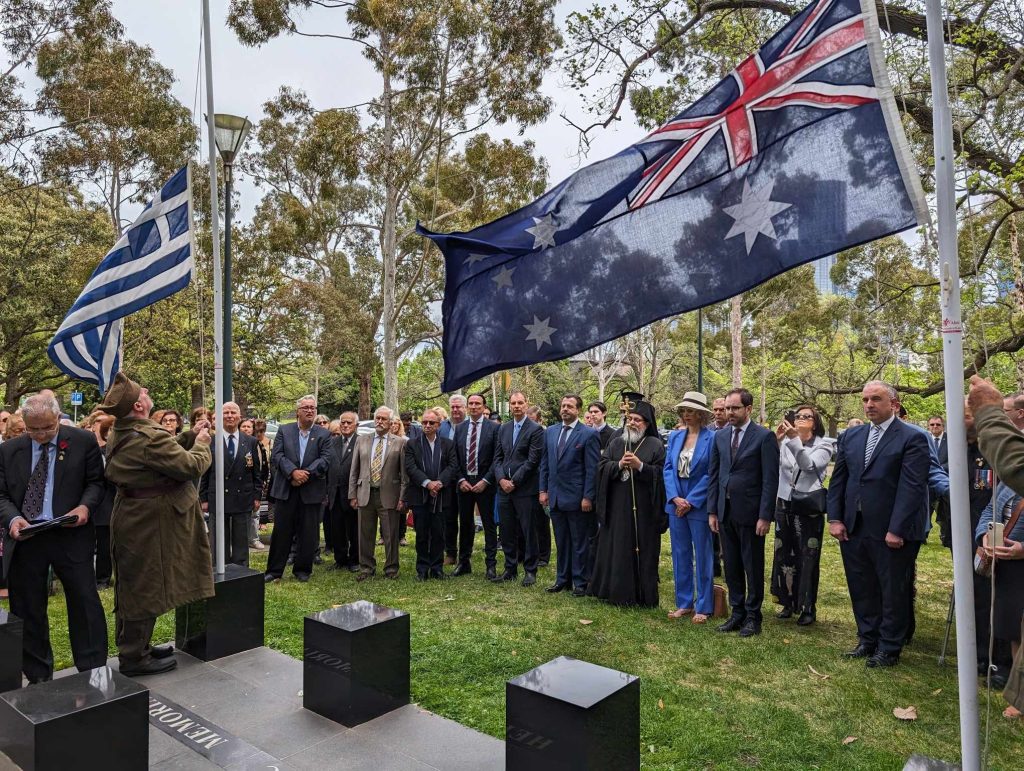 For the Hellenic RSL, ensuring the participation of the younger generation in honouring the fallen is important.
"We want to pass on the baton and are interested in getting more young people involved," author/Vietnam war veteran Steve Kyritsis, President of the AHWM, said.
The week before, prizes were given to students who best captured Greece's involvement in WWII through art projects.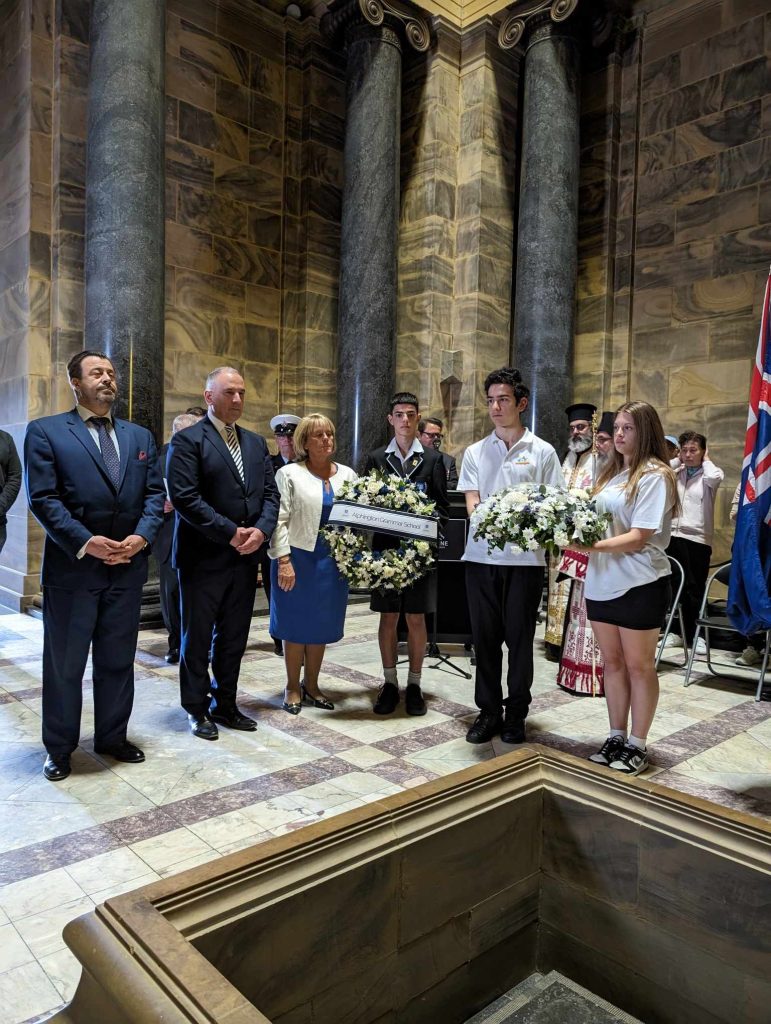 Emanuel Karvelas, President of Victorian Hellenic RSL, told The Greek Herald that the group wants to be intergenerational, but gathers mainly old veterans who visit on Saturday mornings for a game of cards and a yarn about the state of affairs in the world.
Exceptions to this are national holidays. On Saturday, October 28, there were all ages present at a luncheon held after the wreath-laying from a young toddler to octogenarians. War veterans from Afghanistan Ken Tsirigotis and Luke Haitas caught up over lunch, while Stelios Kakavelakis, the 12-year-old Consul General's son, won a bottle of ouzo in the raffle draw which he was advised to share with his father when he turns 18.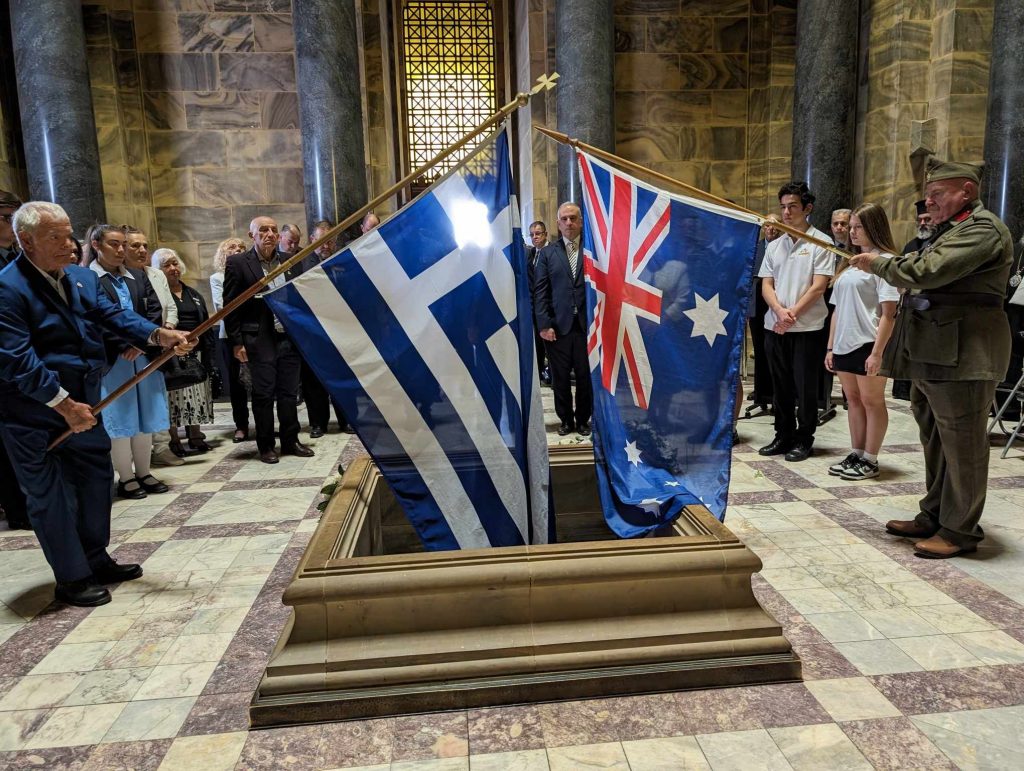 Relevant research
Joviality aside, the Hellenic RSL does much more than giving old soldiers a sanctuary and young people role models to look up to. The group manages to salvage parts of history which would otherwise be lost in time.
For instance, Mr Kyritsis has managed to find descendants of at least 40 ANZACs who fought in Greece and who will be honoured with medals in a special invitation-only ceremony at the Hellenic RSL in November. Finding the identities and whereabouts of the heroes required plenty of research and the help of the National Archives in Canberra.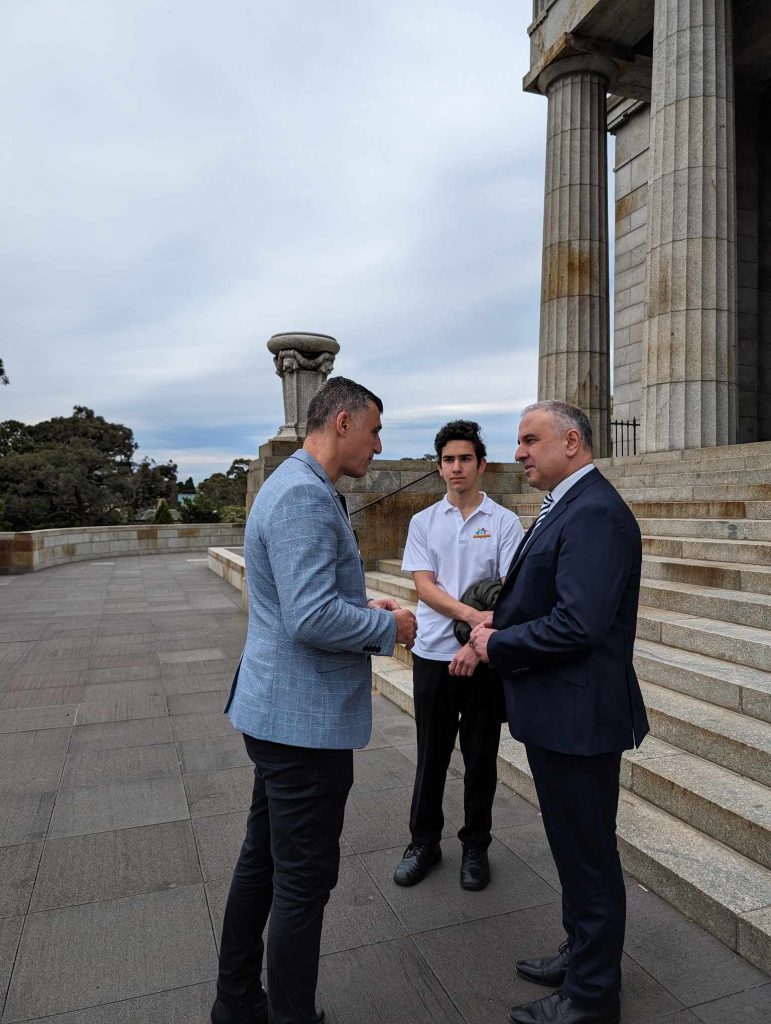 There were some doors which opened more easily than others, and finally, Mr Kyritsis made headway.
Then there's the discovery of the grave of WWI war hero Nikolaos Rodakis, who was decorated with an American distinguished service cross – the highest honour at the time. His story is amongst those covered in Mr Kyritsis' book, "Greek Australians in the Australian Forces: WWI and WWII," and despite his heroic deeds, Mr Rodakis' grave at Fawkner was without a plaque to signify his importance until the Hellenic RSL stepped in.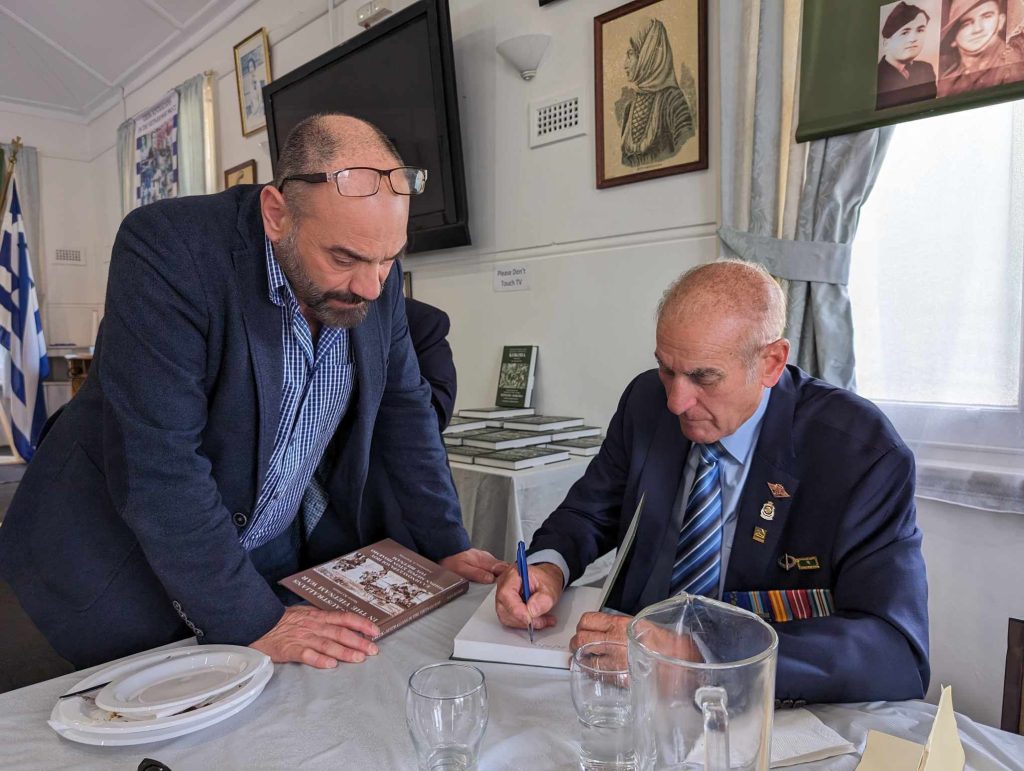 "Very soon, Mr Rodakis will have the grave he deserves," Mr Kyritsis said.
These are important endeavours which the group tirelessly strives to achieve, however it does little in the way of self-promotion online or marketing to draw the younger generation.
"Soldiers rarely talk. They let deeds speak for them," Mr Kyritsis says whenever I ask to tell his tale.
Victoria's Hellenic RSL is at 14A Ferrars Place, South Melbourne. Telephone 03 9699 9844 or email tkanellos@bigpond.com