By Vasilis Vasilas
Throughout Vasili's journey throughout Sydney's Greek business community, one recurring theme is the importance of family in a business' success. And what is amazing is how the support and care in one family's business transcends into the family that takes over this business. The same strong family values and attitudes are passed on and the business continues to grow. One family fosters a warm and loving work environment and the next family continues on with it…
Our lives are full of wonderful moments, whether they are engagements, weddings and baptisms, and they become etched in our family's stories. On these special occasions, we rely on someone to make sure that everything runs smoothly and everyone walks away (at the end) completely happy and satisfied. How many of us have organised or attended one of these special occasions, and have had Pelopidas Catering make sure it was a magical occasion?
Pelopidas Keravnos migrated to Australia in 1970; in Sydney, his first job was in Riverstone abbatoirs; a huge strike prompts his cynicism about its reasons and he finds work at Arthur Roufagalis' milk bar in Bondi Junction and he works here for a number of years.
Marrying Anthoula in 1977, and wanting venture into his own business, Pelopidas and his κουμπάρο, Kostas Christodoulou, established the catering business, Lefkosia Catering. Like so many beginnings, it was initially difficult but this dynamic duo's philosophy of respecting their customers' wishes and providing excellent service and delicious food won over customers. Back then, Pelopidas and Kostas prepared foods like the dips in Kostas' garage and did all the cooking at the reception centres and halls- people appreciated hot food on the premises!
Despite their success, Kosta moved onto running successful reception centres while Pelopidas continued in catering and established Pelopidas Catering (1988). Reflecting on his decision to continue catering, Pelopidas points out, 'I enjoyed the freedom go moving around different venues whether it was the Marana Hall, Hurstville, or the Kos Association Hall in Petersham. Being free, I could cater numerous functions at the same time, whereas running a function centre limited you with one of two functions. One time, we catered twelve functions during one weekend!'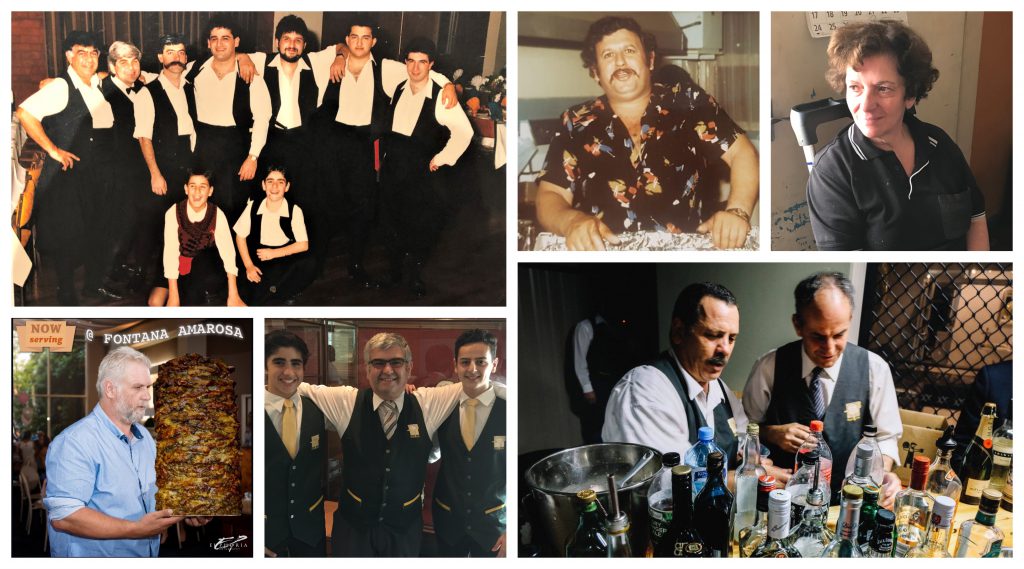 Through another κουμπάρο, Savvas Plakides, who worked for hims, the Pericleous family's sons- Perry, Kokos, Moysis and Mario- all found casual work at Pelopidas Catering. Even the parents, Haralambos and Haralmbia began working there! Coming from Argaka (Paphos), Cyrpurs, the Pericleous family migrated to Australia in 1977. 
With Pelopidas establishing a base on Canterbury Road, Canterbury, for all the preparations to be made, and Perry finishing his hospitality management TAFE course, an opportunity arose for the Pericleous family to become partners in the business (1992) and they then subsequently bought it (1995)- with Pelopidas everpresent to help and advise the family. Expanding the business, the Pericleous family ran the function centre, Fontana Amorosa, at Liverpool's Agios Rafael Greek Orthodox Church (1998) and the function centre at Blacktown's Agia Paraskevi Greek Orthodox Church (2001).
All four brothers emphasise every function is very different whether it is catering for touring Greek singers Michalis Violaris, Rita Sakellariou and Gita Lidia or an outddor glala day for Sydney Olympic Soccer Club; yet, it does not matter what type of function it is, the late Haralambos Pericleous philosophy was always 'please your visitors before you please yourself' and the family strives to be the perfect hosts in making sure of this- offering high quality service and food which is always great value..
Asked about the secret of keeps the family business together, all four Pericleous sons agree, 'It is all about what is best for the family. We may have our differences, but work through them because we have been together all our lives, and this is our strength. Even our children work in the business, so this is a third-generation family business! And we have such strong ties with Pelopidas' family, as we may be in contact with Anthoula three or four times a week. And Pelopidas and Anthoula's daughter, Irini (Plangides) has baptised one child in each of our families. We are κουμπάροι four times!'  
And what keeps people coming back over the years, 'We have customers whom we catered for their engagement, wedding and baptisms; the years pass and their children are now going through the same cycle and they come to us. Why? As we are dealing with families' special moments, we cater for them in the same way as if they are our family. We are also part of their celebration. When we offer zivania to our customers at the beginning of each function, it represents a toast to our customers as if they are our extended family'.
* Read this article in Greek in The Greek Herald's Friday edition