A few months ago, in February 2021, Fronditha Care announced the appointment of Faye Spiteri (Tsolakis) as the new CEO, during a strategically and financially challenging time for the organisation.
Only three weeks after her appointment, Spiteri -in collaboration with the Board of Directors and Executive team- managed to layout a longer-term strategy and realigned operational plans to ensure the organisation's sustainability.
By the end of March, Fronditha Care President Jill Taylor (Nikitakis) expressed her optimism for the future and said that they "conservatively anticipate that Fronditha Care will be back in a profitable position by December 2022."
The Greek Herald caught up with newly appointed CEO, Faye Spiteri, who shared her vision for the organisation, her will to maintain Fronditha as an exemplary culturally centered aged care provider and the importance of embracing change for good.
Recalibration of financial issues, a priority
The first female President of Fronditha Care and Vice President of the Fronditha Care Board, during her nine-year tenure before becoming the CEO, Spiteri says that her vision at this point is to "recalibrate the financial issues that the organisation has had."
"We have made progress, to bring the organisation back to financial sustainability and to ensure strong financial governance while we continue to provide high quality of care," Mrs Spiteri tells The Greek Herald, stretching that change is inevitable especially in times when critical decisions need to be made.
"You have to be agile and flexible to face changes. Transparency and integrity to decisions that you make are fundamental," she says.
"To make a difference you need to make a start"
For the last three decades through various roles, Spiteri has been on a mission to drive social change by advocating for human rights and gender equality. In 2019, she was recognised for her significant contribution to the Victorian community and inducted to the Victorian Honour Roll for Women as a Change Agent.
Now, from a different and more multidimensional role, she doesn't hesitate to face challenges head on, in order to see Fronditha Care thrive once more and to ensure the provision of optimal care outcomes for the community's elders.
"Change is sometimes hard to accept but it's a constant in life and we need to rise to our responsibilities," she said recently, boldly.
Asked where her passion to make a difference stems from, Spiteri looks back to her migrant parents.
"I've been very fortunate in my personal life to have a loving family, always around me a mother and an aunt who really encouraged me to flourish.
"Very strong women who, like most women who migrated to Australia, were full of passion and drive not only for their own self and careers, but especially for their children and that's always driven me to achieve. To achieve good outcomes, not only for myself but for others," she says.
"They were a huge influence for me in understanding that we have a social responsibility to contribute to the building of a better society.
"We can all make a difference but to do so, we need to make a start," says Fronditha Care CEO, stating that it is equally important to her to inspire and nurture the next generation of community leaders.
"It is important to me to play a small role in helping young people flourish and that's the opportunity I got from mentors of mine as well," she says.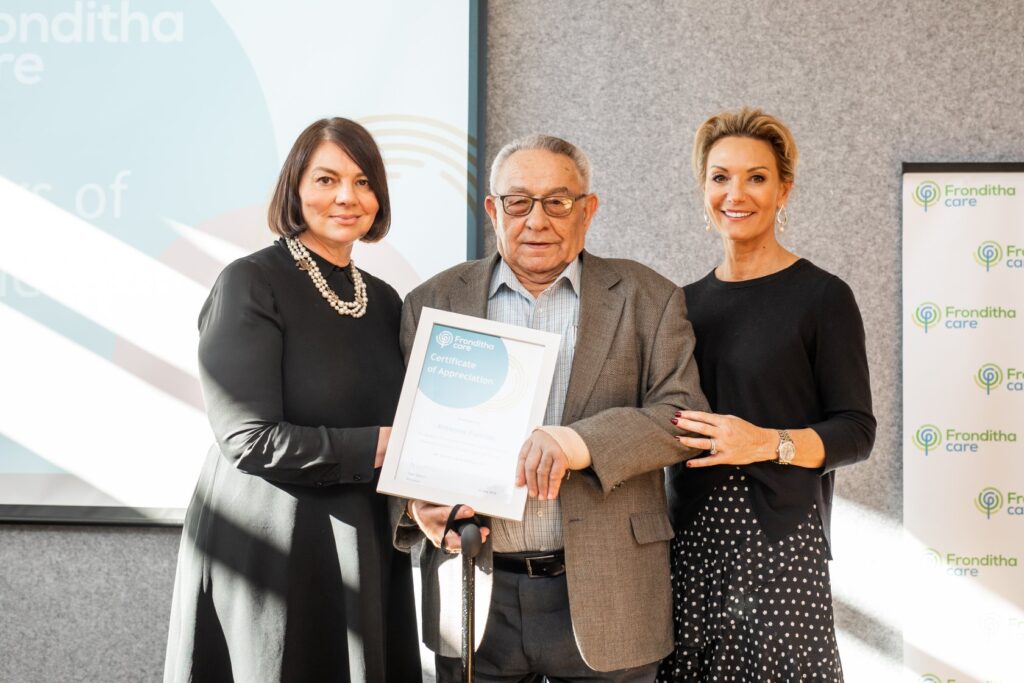 The aged care sector under pressure
Talking about Australia's aged care sector and the challenges the industry is facing, Spiteri says "that it [the sector] faced crisis points not only because of covid but also with the Royal Commission happening concurrently."
"Fronditha care has always been an organisation that puts its residents and their families first and even now, despite our financial challenges, they've taken priority in all our decision making," she says.
"What may have come as a surprise to people potentially, after the findings of the Royal Commission, is the lack of strategic investment in aged care and the lack of care about the elderly, from some providers.
"With the Royal Commission, there is 140 recommendations, but there is no road map from the government as yet. We, at Fronditha Care are already taking action on some of the most significant recommendations and findings and we are looking into how we can make improvements."
The organisation has a 20-year action plan, 10-year strategy and rolling implementation plans.
"It's a lot of work but I'm glad to say that despite the challenges we are facing, we have no complaints from staff or families and we are constantly reviewing our practices," Spiteri says.
Asked how she would describe Fronditha Care in a sentence, the newly appointed CEO replies without hesitating.
"A huge network of people who feed from the successes and learn from the challenges."
READ MORE: Consul General of Greece in Melbourne, Emmanouel Kakavelakis, visits Fronditha Care