Australia is the fourth (4th) highest power to invest in Greek housing market, Spitogatos CEO Dimitris Melachrinos reveals to The Greek Herald in an exclusive interview.
The rise of Greek Australians in the Greek housing market
Apartments and detached houses in Athens, Kalamata, Thessaloniki, Patras, Santorini and Rhodes are being searched for by Greeks in Australia, as revealed by "Spitogatos" Managing Director Dimitris Melachrinos.
It is apparent that the Australian community have realised the opportunities available in the Greek market, with the average money that people are willing to pay being around €220,000 per apartment, according to searches. Overall, the Greek real estate market is up 25% from prospective foreign investors compared to 2018.
But which countries are the "driving force" of investment in the Greek housing market? According to Spitogatos real estate analysis (www.spitogatos.gr), CEO Dimitris Melachrinos says, "Australia is in fourth (fourth), followed by Germany, the United Kingdom and the United States," explains Mr. Melachrinos.
He reveals that global powers, such as China, are following the interest of the community as stakeholders from the country of "Tiger and Tiger" of the Dragon are in 5th place. The above ranking is based on the countries that most search for homes for sale in Greece.
In which islands do Australians seek opportunities?
Potential Greek Australian buyers are looking for opportunities to invest in the Greek housing market in several areas, as Mr Melachrinos reveals to The Greek Herald. A small surprise may be Kalamata, though several members of the community maintain links with the city of Peloponnese. "Based on our data, the 10 most popular sites for Australian users (Australian Greeks and Australians) are in order of popularity:"
Glyfada
Athens Historical Center
Kalamata
Kolonaki-Lycabettus
Palaio Faliro
Center of Thessaloniki
Patras
Santorini
Rhodes
Australians are looking for apartments with an average price of 220,000 euros
Greek-Australian searches are mainly for apartments, with few cases of community members looking for luxury homes in Greece, according to research conducted by Dimitris Melachrinos.
"The most popular subcategories of housing for Greeks in Australia are apartments (about 50% of all searches) followed by homes (34%). 9% of villas and maisonettes (7%) occupy much lower rates. The average house search price (for all subcategories) is about 220,000 Euros, which of course varies (the average search price of a villa is 600,000 Euros, an apartment of 170,000 Euros, a house of 200,000 Euros and a maisonette of 180,000 Euros)"
The evidence from this research shows that there is a shift in approach, as the trend is now led towards buying for investment and less towards property for own use. However, as Mr Melachrinos reports in 2019, there has been a significant increase in Australian searches for Greek property. "Australia's annual increase in Spitogatos users adds up to + 21.7% in our Greek version in 2019 (compared to 2018) and + 18.7% in our English version," said the CEO.
What other foreigners are looking for in the Greek housing market
Germany, the United Kingdom, the United States, Australia, China, France, Sweden, Bulgaria and Canada are the countries with the most users of property searches in Greece. The Americans, who are emerging as the most mobile potential buyers, are looking for real estate mainly in Santorini, Glyfada and Mykonos.
Similarly, the Germans are more interested in the real estate market in northern Greece, focusing on the centre of Thessaloniki, Kalamaria and Kavala. This is a very different approach to the past, previously moving more towards the holiday home market of Crete and mainland Greece.
The British are keeping a high level of buying interest, despite the "turmoil" that has been caused by the impending Brexit. According to figures given by Mr. Melachrinos, they are focusing their search on Rhodes, Glyfada and Kolonaki.
What is Spitogatos?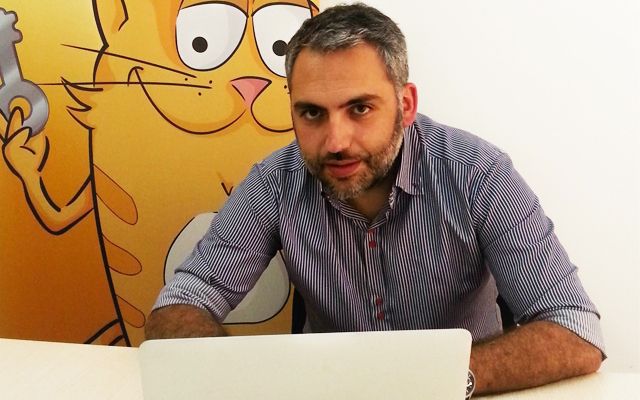 Dimitris Melachrinos is Managing Director of the No. 1 real estate website in Greece, with over 2.5 million monthly visitors viewing over 100 million pages per month. "The company was founded in 2006 and with the initial amateur involvement of its founders, Spitogatos.gr was the first Greek tech start-up to raise funds from the venture capital fund in 2009 and since 2014 it belongs to the Real Web Group, which controls, among others, Immobiliare.it, the No.1 Real Estate Website in Italy."