23-year-old Kosta Plegas takes a seat opposite me sporting a bright yellow puffer emblazoned with three letters: A.E.K.
For our sports editor, Takis Triadafillou, Kosta has just committed a capital offence – entering The Greek Herald's offices wearing the paraphernalia of the enemy.
As Taki rushes to fetch Kosta a red and white something, the 23-year-old climatises and removes his jacket to reveal a navy blue jumper decorated by an owl and the letters "SUGS."
He tells me it's the official jumper of Sydney University's Greek Society (SUGS) – the oldest Greek student body in Australia. The Greek student body that he is the President of.
For Kosta, being Greek is more than just drinking your frappe sketo and mastering the flick of a komboloi. It is a lived connection that brings people together no matter where in the world they find themselves.
TGH: Why do you think it's important to stay connected to the Greek culture?
Our lived connection to the culture is critical because it connects us to our past.
For me personally, and so many others like me, we connect with our culture every time we hear stories from our grandparents. The stories of how they crossed mountains to step foot into a classroom and how they prayed to one Saint in moments of joy and another in times of sadness.
That's all a part of our history and when we hear those stories it helps us learn how we became the people we are today. It also opens us up to belong to an entire community that we can be involved with at so many different levels – every time we dance or sing in Greek or light a candle at church, we're following in the steps of our ancestors.
All of that is also essential to the retention of the obvious – our language. The Greek language is one that managed to survive 400 years of occupation. I think it can make it through the 21st century too.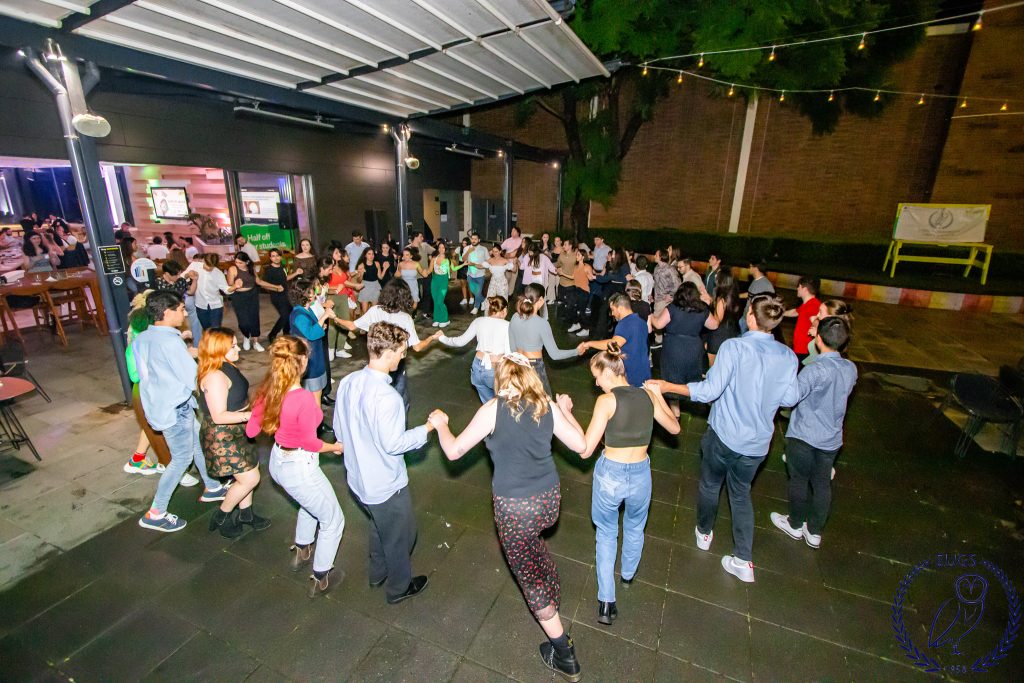 TGH: How have you retained your connection to your Greek heritage?
For primary and high school, I went to St Euphemia College in Sydney where I was formally taught the Greek language and the fundamentals of our Orthodox faith. I learnt that we are a people with a deeply complex and rich history and it sparked a curiosity that inspired my tertiary studies.
I'm currently studying a Bachelors of Education and a Diploma of Languages (Modern Greek) – which has given me the opportunity to combine two of my passions, Greek and teaching.
I'm currently teaching Greek to primary school students after school and there's nothing I love more than seeing the kids light up every time we talk about Tsitsipas, Antetokounmpo or even the Greek National Team in 2004. Whenever we see our flag, we have that instant connection, that feeling of pride – that's exactly the power of connecting to your culture.
TGH: What's been the greatest benefit of joining a Greek student body like SUGS?
Through SUGS I have been able to meet like-minded people from my university, as well as from the other universities. Greek societies from UTS (UTS Hellenic), UNSW (Hellsoc UNSW) and Macquarie University (MUGA) along with SUGS all host a variety of events that I consider significant to the Greek Australian landscape.
These events include the classic parties and drinks nights but also important commemorations and talks at the University. A key example of this is CUGA's (Combined University Greek Association) commemoration of the Athens Polytechnic Uprising, which is an event where students fell victim to the dictatorship in Greece at the time. We felt that it was important to lead this commemoration as students.
My work with SUGS has provided me with the amazing opportunity to meet friends for life, as well as be involved in and organise events for the Greek Australian youth. This is something which I am very proud of and I implore all Greek Australians to get involved in their respective society, university or not.
TGH: What is your message to second, third or fourth-generation Greeks who are disinterested in their culture?
My message to the Greek Australians who feel disconnected and disinterested with their Greek heritage is simple: the Greek culture is so vast and varied that there is always something for you to engage with.
Whether your interests lie in ancient or modern times, politics or art, movies or music there is something for you.
The Greek culture and language is for all and your past is waiting for you to explore.