For some Greeks, learning the language of their heritage can be a difficult task. Whether, as a child, their parents never encouraged them to learn Greek, or some adults may simply struggle to learn a second language.
Recognising this as a massive issue facing Greek society, OMILO teachers Konstantinos Oikonomou and Terpsi Gavalas wrote a short story titled 'Lydia: A summer in Greece!', aimed at helping build on people's Greek vocabulary skills "gradually" and in a "natural way".
"Before we started writing the story, we actually thought of the vocabulary and grammar points that a beginner student should be familiar with so that they deal effectively with various everyday life situations when being in Greece," Konstantinos said to The Greek Herald.
"Then we put all this into context and created our story. We all know that context is a crucial component of successful language acquisition. This is what our reader will benefit from as they will have the chance to revise or learn new things in a pleasant and natural way."
The story features a Greek-American woman, Lydia, who lives in New York and works as a journalist for a Greek newspaper. During a trip to Greece, Lydia meets a man, Orestis, on the plane. He volunteers to help her with an article she is writing about Athens' neighbourhoods. After spending some time together in the Greek capital, Orestis asks Lydia to join him on a business trip to the island of Syros, in the Cyclades. The beautiful island of the Aegean Sea becomes the setting for a series of unexpected events.
"To be honest, we didn't have to think much of the setting of the story: after having spent so many summers teaching Greek on the beautiful island of Syros, we knew before even writing the first phrase that part of the story would definitely take place there. Syros has always been a great source of inspiration to all of us," Konstantinos said.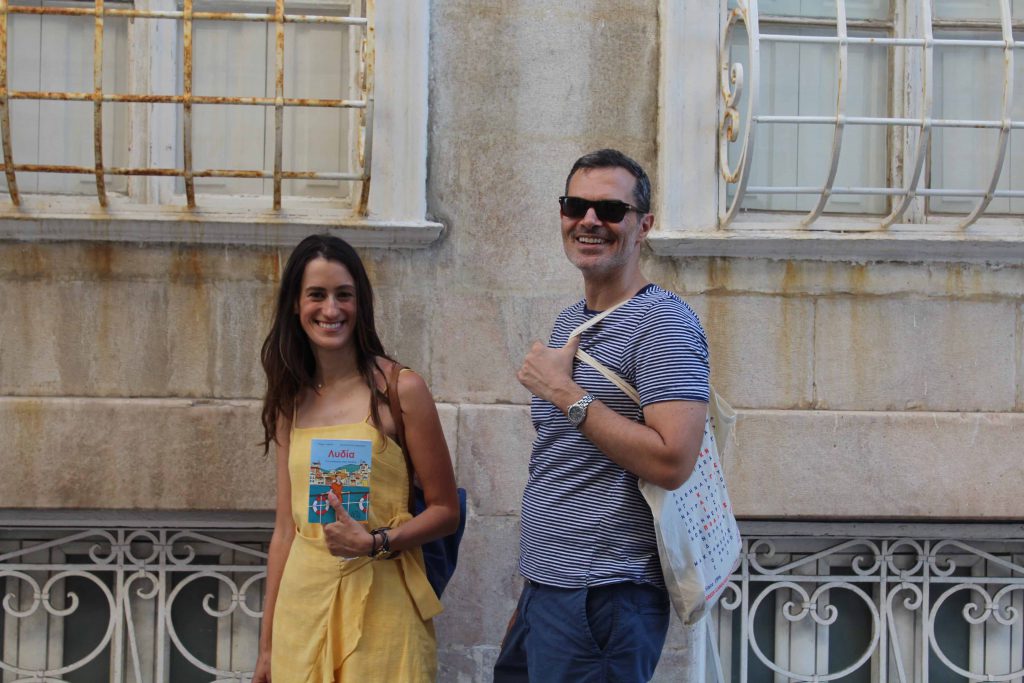 The two teachers have been working for many years for OMILO – a school offering classes of Greek language and culture in Athens, Nafplion (Peloponnese) and the islands of Syros and Lefkada. They hope the short story will greatly improve people's Greek reading and listening skills.
Konstantinos and Terpsi have released Lydia's story as an e-book and easy-reader, also giving readers a free audiobook to accompany the story, recorded by native speakers.
The pair have also recently announced the release of the Companion Workbook to the easy reader this week, coming with "lots of exercises for all those who wish to get the most out of it, going beyond a simple reading of the story!"