It was early December 1977, when a group of Greek Uni students from across Australia, all members of the newly formed National Union of Greek-Australian Students (NUGAS) got the opportunity to return to Greece, reunite with their families just in time for Christmas and explore the homeland their parents had left a few decades earlier in search of a better life Down Under.
Chris Despotakis, then a 17-year-old student at the College of Advanced Education in Adelaide who was also studying Modern Greek, was one of them.
"The trip was an initiative of NUGAS and was supported by the Hellenic Government and the Greek consular Offices in Australia with the goal to encourage repatriation and to promote the Greek language and culture to young Greeks.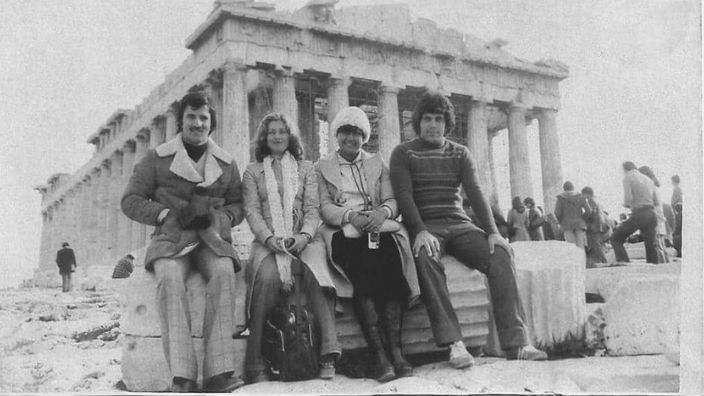 "We -students- only had to pay a small fee for the already heavily subsidised air tickets but accommodation and meals were taken care of. For some, it was the first time to visit Greece after their parents immigrated to Australia in the 60s," Chris Despotakis, 61, tells The Greek Herald as he reminisces about the trip.
"I'm very proud to have been part of it although I have to admit it was challenging at times due to the travel times, the lengthy stopovers and the lack of technology," he says.
Chris and the students from Adelaide travelled to Melbourne by bus where they met with the groups from New South Wales, Victoria and Western Australia. Then they all flew together to Manila where they stayed for 3-days, then Mumbai, Middle East and finally almost a week later Athens.
The six weeks trip became four but no one complained despite the challenges. To the contrary.
"It was winter and cold but we were all excited. We travelled around Greece from Edessa and Kastoria to the Peloponnese. We visited museums, archaeological sites like Delphi and got photographed in front of the Parthenon in the era of Polaroid and Instamatics.
"There were no credit cards and we had to line up at the bank to cash in our travel cheques. This was a half a day affair," says Chris with a smile.
"We got to know each other and we became friends. Some of us chose not to go to our families during Christmas. One Sunday night a group craved pizza and we ended up in Rome. This was really an adventure considering the lack of technology."
A student trip that influenced a life
The impulsive adventures during the student trip that took place over four decades ago created memories and sparked Chris' will to keep his native language and culture alive thousands of miles away from Greece.
"I will never forget the outstanding Greek hospitality. We were the children of Australia's first generations of Greek migrants who were returning home," says Chris, also the owner and Managing Director of 'Radio Ena', South Australia's largest Greek radio station.
"My life and career choices were influenced by this trip. I have been involved with the community because I strongly believe that we have a duty to our migrant parents to preserve and pass on our language and culture to future generations especially now that values are going through a crisis.
"It's a shame for a civilisation like ours to end with this generation. This is what I tell my children. So, keep learning Greek and get involved with the community," Chris says.
The first NUGAS trip to Greece concluded in mid-January, 1978. But like this group photo in front of the Parthenon the memories will live on.
READ MORE: The story of a friendship that formed alongside the Greek brides of Begoña