By Mary Sinanidis.
Melbourne Town Hall was ablaze with the most influential and promising figures of Melbourne's Greek community as the 2023 Hellenic Australian Chamber of Commerce and Industry (HACCI) Excellence Awards unfolded on Friday, November 17.
When Melbourne's Greeks gather to honour their best, it's not a local affair – it's a nationwide showcase. HACCI representatives from Western Australia and South Australia attended as a show of support. Dr Elena Limnios, HACCI WA President, highlighted the significance when speaking to The Greek Herald.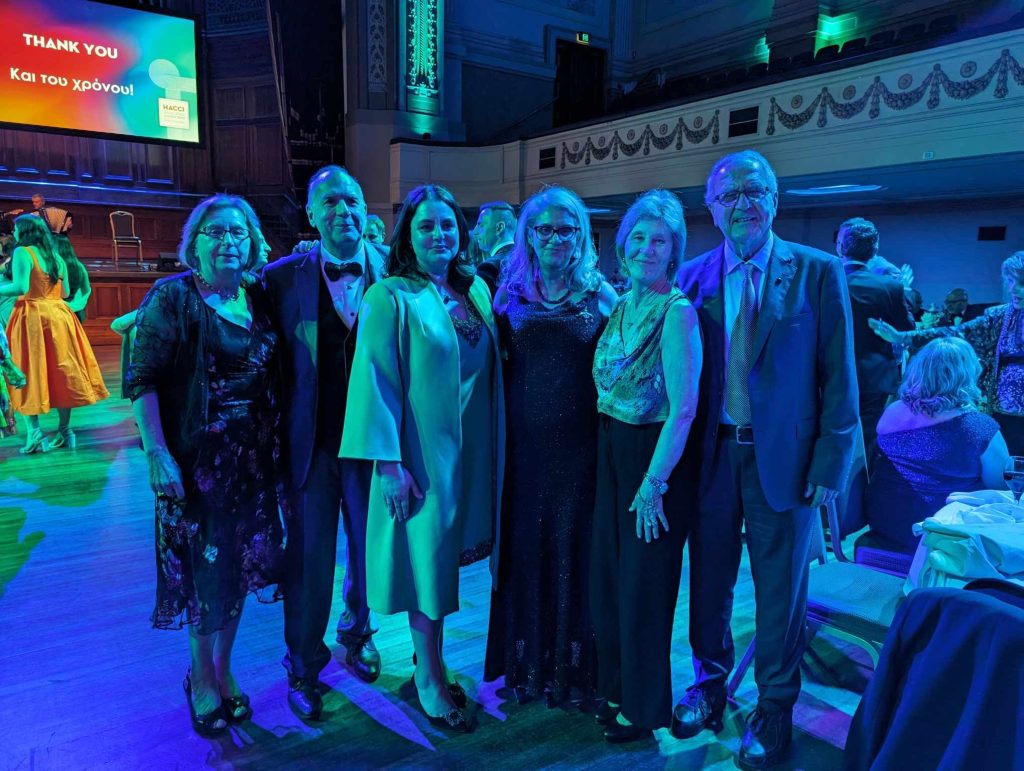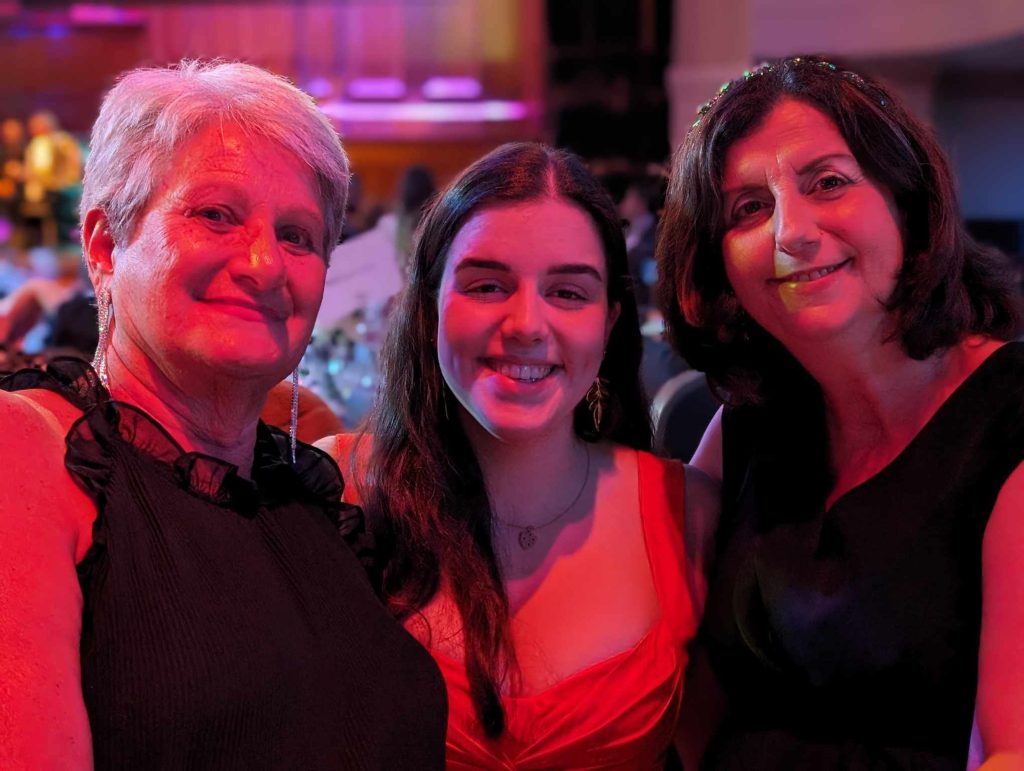 "Our presence here signifies the strengthening and solidification of the National HACCI Federation, a pivotal step towards giving Greek Australians a united voice for the first time," she said, looking forward to what 2024 would bring.
In many ways, HACCI is the diaspora's cavalry call of the powerful from around the nation. Donned in tuxedos and ballgowns, they join forces to fight for ongoing projects, such as "liaising with the Greek government on critical issues like the new voting legislation, exploring remote workforce collaboration between Australia and Greece, and focusing on bilateral trade with an emphasis on intellectual property" and an ongoing list outlined by Dr Limnios.
Fotini Kypraios, HACCI Chair, spoke of the "power of a united front" to get things done. And who better to do this than the community's most successful professionals, passionate Greeks who want to give back to honour their parents and leave a legacy for their kids.
Ms Kypraios in September met with political representatives during her holiday to Greece to campaign for a Double Taxation Agreement, barrack for bilateral trade between family time and beach hopping.
"We are also continuing our campaign for the re-establishment of a direct flight between Melbourne and Athens, engaging with stakeholders and talking to politicians at higher levels," she said.
Greek Community of Melbourne (GCM) President Bill Papastergiadis may not be on the HACCI board, but he is very much on board. He, too, has been working as an advocate for the community. As the night unfolded, it became clear that the Greek community, amidst dancing and building successful careers, was achieving excellence collectively.
It's not just Greeks joining forces from around Australia, but intergenerational cooperation. The awards highlighted this with recipients ranging from millennial Dean Kotsianis, the recipient of the Chris Saristavros Young Achiever Award, to baby boomers Dina and Kyriakos Amanatides who received the Spiro Stamoulis Lifetime Achievement Award for their consistent contributions to the community.
Ms Kypraios said she was "proud to be part of a multicultural community of exceptional achievers," a sentiment echoed by Lee Tarlamis MP.
"The individual and collective achievements of the award winners were inspiring and a highlight of the significant Hellenic contribution to our successful and vibrant multiculturalism," he told The Greek Herald.
But most of the recipients weren't sure why such honour should be bestowed upon them. Pelagia Markogiannakis, Woman of Influence Award recipient, told The Greek Herald, "I don't think I've done anything unusual. I've just lived my life with passion."
Pelagia added her parents had done the same before her.
"It's really important that we do what we want to do so that our kids see us as role models and say, 'I can do that too'," she said.
Former HACCI Professional Excellence Award Recipient for 2020, Dr Con Giannellis wasn't exactly sure why he had received the honour during the height of the COVID-19 pandemic.
"We were looking after the sickest of the sick at the time, but I didn't do anything different," he said. "I guess it was just a recognition of my hard work and dedication to my profession."
This year's Professional Excellence Award went to Christos Tsiolkas, who addressed the crowd via a video. It was a spinetingling moment for a Greek community that has made leaps in its acceptance of diversity thanks to role models like this award-winning author.
It's obvious the community has also come a long way in taste with the night opening with a poignant tribute to Vangelis Papathanasiou performed by pianist Adam Rudegeair on the Melbourne Town Hall's Grand Organ. Later Zoy Frangos, a Greek Aboriginal musical theatre and opera star, flexed his vocal range before Anagennisi enticed everyone to the dance floor.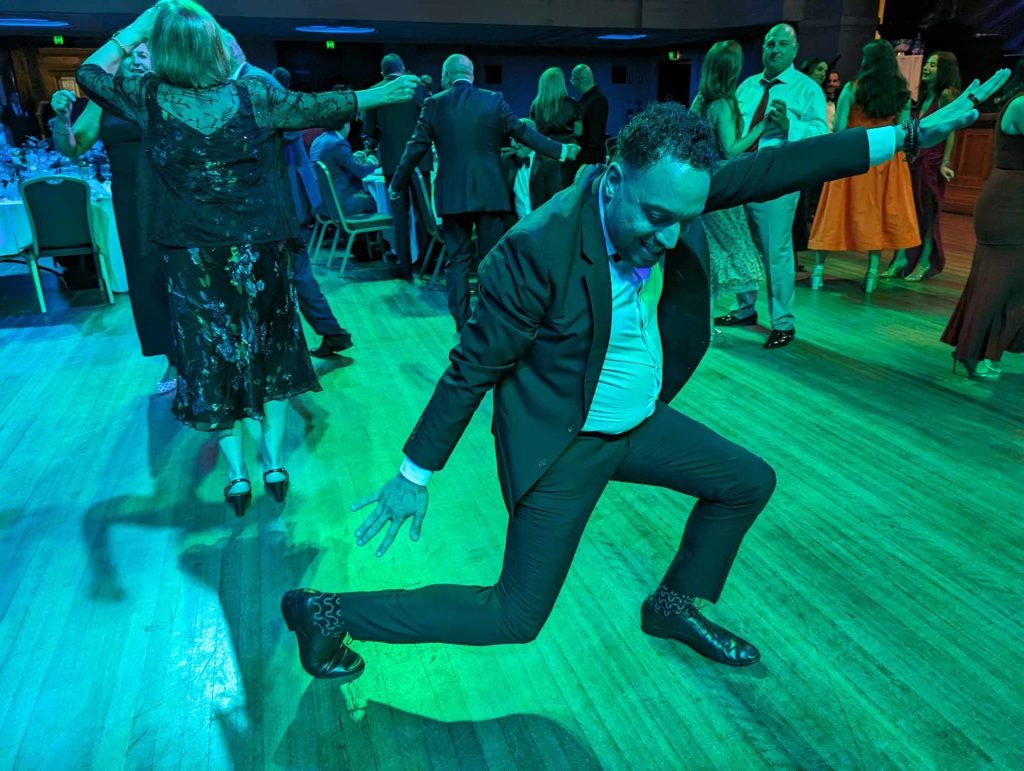 Speed artist Brad Blaze whipped up two paintings auctioned off to raise funds for Victoria University to support Professor Vasso Apostolopoulos' ground-breaking research on pancreatic cancer and the rollout of the breast cancer vaccination. Though HACCI is by its nature a chamber of commerce, it is also about giving back.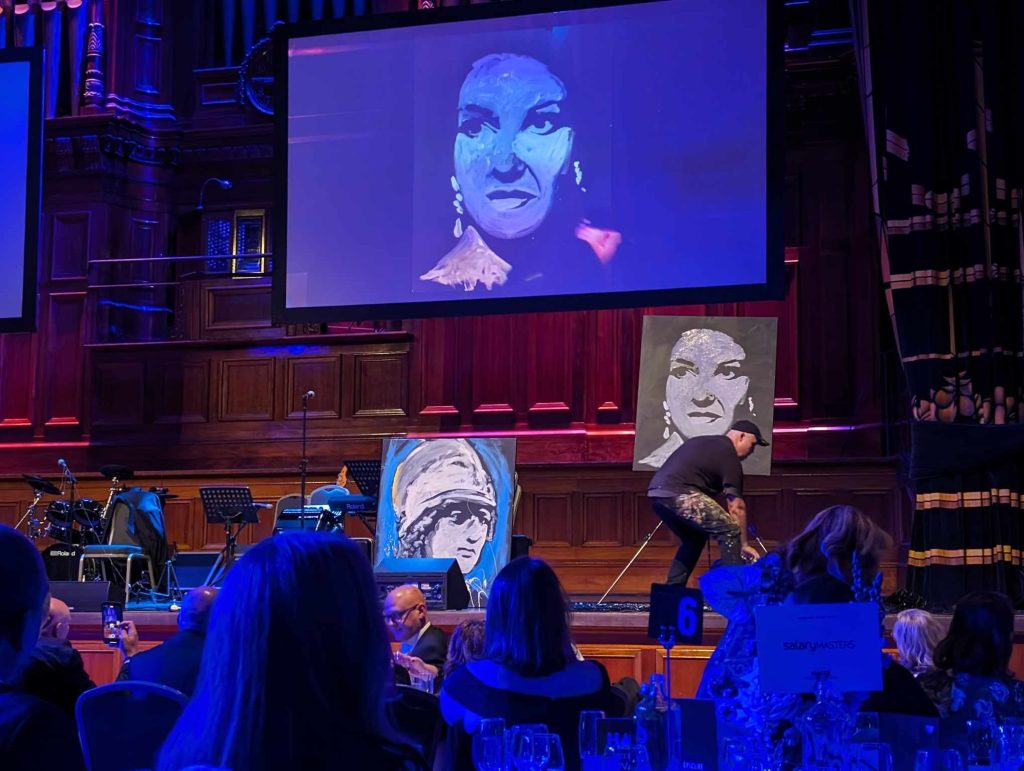 Tina Douvos-Stathopoulos, PRONIA CEO, pointed to the philanthropic nature of the evening and told The Greek Herald that the Greek Australian welfare organisation has been supporting the awards for seven years.
"It is important for us to acknowledge those people who contributed to the community in very positive ways to make a difference to people's lives," she said.
The 2023 HACCI Excellence Award Winners:
Spiro Stamoulis Lifetime Achievement Award: Dina and Kyriakos Amanatides.
Bank of Sydney Business Excellence Award: Chris' Foods.
Professional Excellence Award, presented by BDO Australia: Christos Tsiolkas.
Innovation Award, presented by Directed Group: Adrian Sapountzis Spencer.
Woman of Influence Award, presented by SalaryMasters: Pelagia Markogiannakis.
Community Service Award, presented by PRONIA: Dina Petrakis.
Sport Award, presented by Heidelberg United FC: Chris Nikou.
Chris Saristavros Young Achiever Award: Dean Kotsianis.