The Greek Community of Melbourne (GCM), together with the Philhellene restaurant, have organised an annual International Women's Day fundraiser in support of their chosen charity – the Royal Women Hospital's CASA House (Centre Against Sexual Assault).
CASA House is attached to the Royal Women's Hospital in Carlton, Victoria. It is a government funded organisation which provides services on a 24-hour basis. Their services are available to those living, working or studying in the local government areas of Moreland, Hume, Melbourne, Yarra and Moonee Ponds and to patients of the Royal Women's Hospital, in the Melbourne CBD, and also provides services in Parkville, Broadmeadows, Craigieburn and Sunbury.
READ MORE: John Rerakis: The Cretan restaurateur who breaks Greek food stereotypes.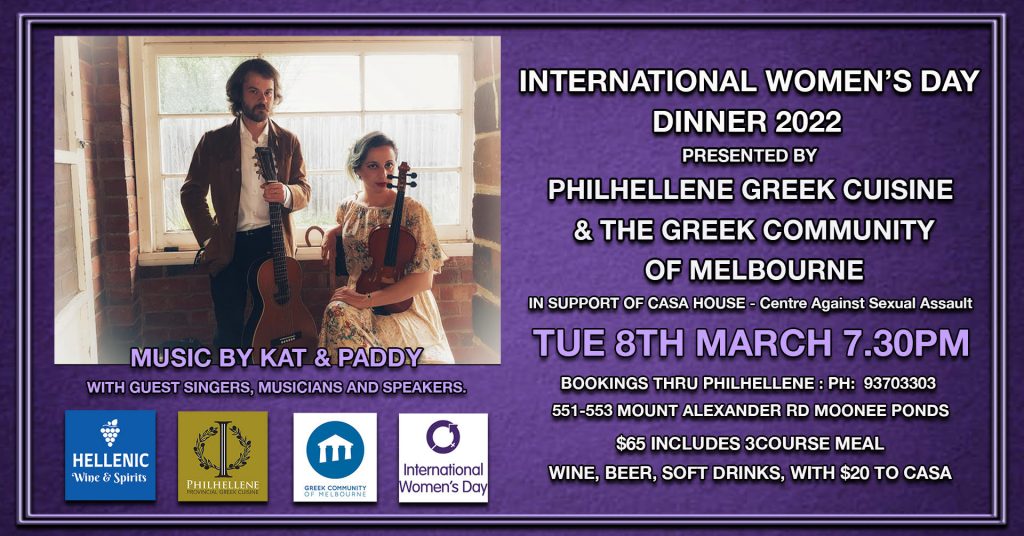 This year's event, initiated by Philhellene restaurant's owners John and Susie Rerakis, is a music night. Attendees will be treated to performance from local musicians such as Kat on the violin and Paddy on the lute, as well as TAXITHI'S Helen and Andrew Patterson.
They will be covering all things Mediterranean, complementing the deliciously divine culinary delights of Philhellene's Greek cuisine. 
Speakers on the night will include Jenna Tuke, the CASAHouse Coordinator; Maria Vamvakinou MP, the Member for Hume and Calwell; Rena Frangiouthaki, long life journalist and broadcaster 3xy; Bill Papastergiadis, President of the GCM with Co-Vice President, Anthea Sidiropoulos; and Maria Dimopoulos, the Chair of Harmony Alliance, Reconciliation Victoria. 
CasaHouse advocate and former Victorian Health Minister, Jenny Mikakos, will also be in attendance.
A highlight on the night will be the artwork on display of female-centric, Hellenic inspired pieces created by local Greek Australian artist, Efrossini Chaniotis. The artworks will be available for purchase, with part proceeds of sales to be donated to the CASAHouse cause. 
The GCM's co-Vice President, Ms Sidiropoulos, said it's important to recognise International Women's Day.
"A significant day to remember how far we've come, and how far we still need to go towards gender equality," Ms Sidiropoulos said.
Anyone wishing to make a donation to Casa House can do so via the Royal Women's Hospital here.