In 2019, we used more plastic than in all the years since 2000. On average, we each use 53 kilograms of plastic a year and generate a collective total of more than 300 million tonnes of plastic waste.
By 2030, this is predicted to double, with the brunt of the impacts expected to hit our oceans.
These are just some of the figures from WWF's global plastic report, Solving Plastic Through Accountability, released last year.
'To improve alternative plastic literacy we need the arts'
Is there hope? Yes, there is, reply Greek Australian artist Niki Sperou and biotechnologist Peng Su, who are joining forces at Flinders University's Centre for Marine Bioproducts to create new types of biodegradable plastic.
"We are exploring how seaweed could be used to replace plastic in new products for industry and medicine," Ms Sperou said.
Artist Niki Sperou won a 2020 Australian Network for Art and Technology Synapse Residency to pursue her 'Green Plastic, Blue Ocean' project with scientist Su.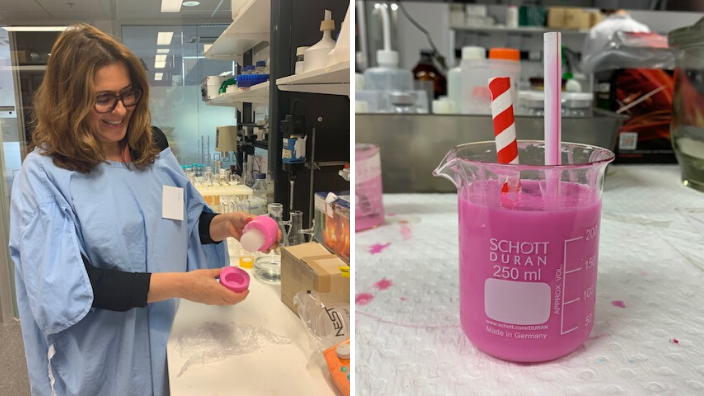 "Peng Su has scientific knowledge and I have been the artist in residence at the school of Medicine and Health Sciences at Flinders for a long time. We thought we could bring together our diverse knowledge and combine it in a way that can benefit all of mankind."
"The science is clear but to improve alternative plastic literacy, we need the arts. By working in a cross disciplinary way, we can increase our network and the knowledge of alternative plastics to different audiences."
The Greek influence
Asking her whether her background has influenced her work, Ms Sperou says that apart from the Greek language being useful in the lab she also uses philosophy and mythology to explain science.
"I look at ancient greek narratives, mythology and ancient greek philosophers in a way to interpret science of today. For instance the myth of Promytheus tells us that humans can be a bit shortsighted with regards to technology and the impact it has. Same with plastic. People created it but they didn't see how bad it can be for humankind,"
"Greek students, please keep up your Greek language skills," she concludes.