An ardent explorer of his ancestral homeland Cyprus, Constantinos Emmanuelle has devoted years to delving into its cultural heritage. Following the passing of his father, he embarked on a quest to preserve the living memories of his parents' generation – elderly Cypriots who held invaluable recollections of a bygone era brimming with tradition and customs.
Constantinos has undertaken a personal crusade to investigate the Cyprus of yesteryear, specifically before 1950. He has met and interviewed over 200 elderly Cypriots, most of them born in the 1920s and early 1930s for his recent project, 'Tales of Cyprus.' Through a captivating blend of original drawings, interviews, stories, and photo reproductions, he endeavours to unveil a way of life steeped in rich traditions and cultural identity.
The Cyprus that existed before 1950 was characterised by harmonious coexistence between Muslims and Christians, robust family bonds, and vibrant community engagement. Children played freely outdoors, people led active lives, and sustenance came from what they produced. Contentment and gratitude prevailed, even with limited resources. Constantinos realised that his parents' generation held the last remnants of this authentic cultural landscape and lifestyle, which he was determined to capture and preserve.
His Tales of Cyprus cultural heritage project has earned an acknowledgement award from the President of Cyprus. Additionally, his two hardcover books for 'Tales of Cyprus' saw brisk sales within months of their release, prompting him to work on a third book currently.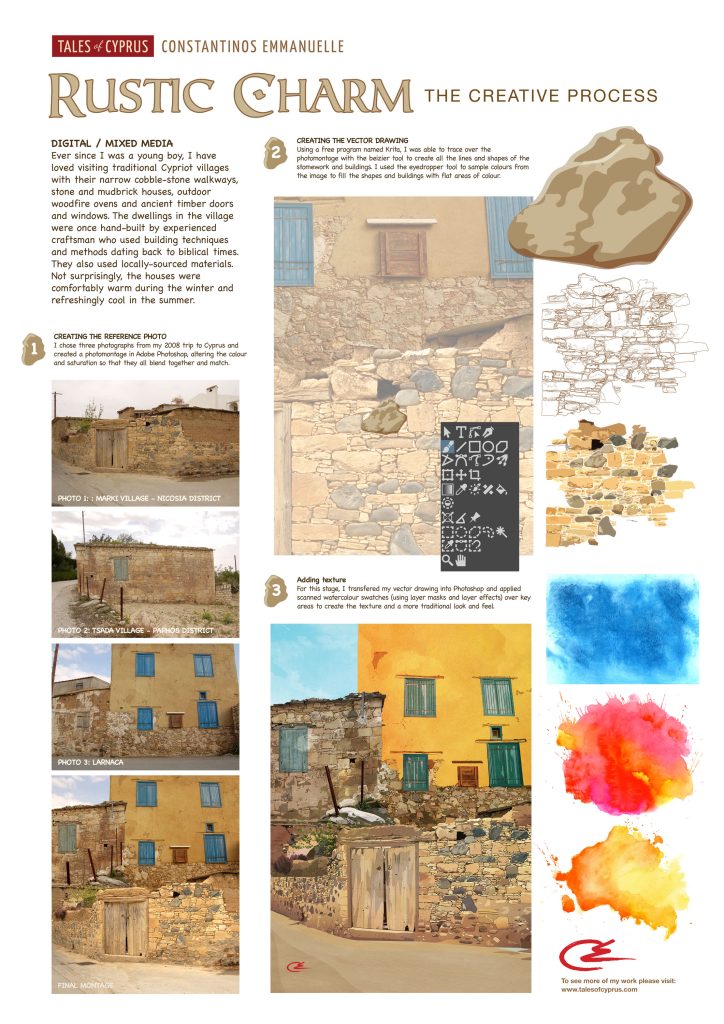 In his latest artwork for Tales of Cyprus, titled 'Rustic Charm,' Constantinos pays homage to the magnificent rustic old buildings that once housed the simple dwellings of his parents, grandparents, and ancestors. Since he was a young, Constantinos had been captivated by these beautiful old buildings, featuring ancient timber doors and windows. Houses were skillfully constructed by experienced craftsmen using locally sourced materials and building techniques that dated back to biblical times. As a result, these houses provided comfortable warmth during the winter and a refreshing coolness in the summer.
To create his unique digital/mixed media illustrations, Constantinos used his own photographs as references. One of the houses depicted in the creative process for 'Rustic Charm' (pictured) held special significance, as it was his paternal grandparents' house located in the village of Tsada, Paphos. It was the very place where his father was born in 1921. Having spent considerable time in Tsada as a young teenage boy, the memories remained vivid in his mind – the aroma of his Yiayia frying potatoes and eggs, while his Papou sat in the doorway, savouring his zivania.
Beyond his passion for cultural heritage, Constantinos is a professional artist, designer, and teacher at the Melbourne Polytechnic Creative Arts department. By blending his impressive 27 years of teaching experience at tertiary level with his private art practice, he imparts "real-world" skills and techniques to his students.
To delve deeper into the world of Constantinos Emmanuelle and his creative projects, you can visit his website and Facebook page, where he shares the captivating tales of Cyprus' rich heritage. http://www.talesofcyprus.com or http://www.facebook.com/talesofcyprus
Constantinos Emmanuelle is amongst many Greek Australian artists who have taken part in the GAAD (Greek Australian Artist Directory). An initiative by the Greek Australian Cultural League (GACL), the GAAD celebrates Greek Australian visual and performing artists by showcasing their works and contributions to the Australian arts landscape. By preserving and promoting the artistic legacy of Greek Australian artists, the directory ensures that their talents are duly acknowledged and cherished, cementing their place in Australia's artistic narrative.
Interested artists can register their profiles by visiting www.gacl.com.au and clicking on the dedicated GAAD section. For any inquiries related to the GAAD, individuals can reach out to GACL President Cathy Alexopoulos at 0428 968 715 or GAAD Co-ordinator Vasy Petros at 0412 242 557.
*Written by Vasy Petros. This is a Greek Australian Cultural League Initiative supported by The Greek Herald.