In every Greek household, bringing your mother to tears means you've either brought great shame to the family name or you've achieved something noteworthy. 
The latter is a feeling known all too well by Chrysovalantou Giamas whose Design and Technology major work 'Green is the New Black' is currently on display in the SHAPE 2021 Exhibition at the Powerhouse Museum in Sydney.
In an interview with The Greek Herald, the former St Euphemia College student revealed her eco-friendly dress crafted from dehydrated strawberries was born out of a desire to make an eye-catching statement.

"I wanted to create something that was obviously sustainable and something that was different. I didn't want it to be like everything else with normal dress fabric, I wanted something untraditional.

"The first thing that came to mind was to make a dress made of fruit," she said.
Having first experimented with bananas, onions, lemons, grapes, cucumbers and kiwifruit, the 18-year-old finally landed on strawberries which gave the "best finish and aesthetic quality".
The sustainable dress is under-layered by biodegradable shopping bags as well as a recycled red tablecloth sourced from Vinnies.
When asked how it felt to be one of 33 students in NSW to have their major works exhibited, Giamas recounted the exact moment she was notified her major work would feature in the SHAPE 2021 Exhibition.
"When they emailed me, I was shocked. I thought my dress was different but I wasn't expecting it to be featured at the Powerhouse," she said.

The SHAPE Exhibition is presented annually in association with NSW Education Standards Authority and showcases a selection of outstanding and innovative major projects from HSC Design and Technology, Industrial Technology and Textiles and Designs students.

"I thought 'wow', that's kinda cool," she added modestly.

That calm collectedness quickly dissipated when Chrysovalantou called her mother to relay the good news, with Giamas telling The Greek Herald her mother started to cry.

LISTEN as Chrysovalantou Giamas recounts her family's reaction to the news that 'Green is the New Black' would be exhibited at the Powerhouse Museum.
Whilst her achievement also won the happy tears of her grandparents who "told all their friends", Giamas is more concerned with her work creating a wider move towards sustainable fashion.

"It's really important to know the implications that fast fashion has. It causes a lot of damage to the environment and all living biology," she said.

According to a 2019 report by the World Resource Institute, fast fashion, or the mass-production of clothing at a low cost has created a culture of "buying, wearing and quickly disregarding clothes".

Globally, this means that 2,625 kilograms of clothing are either incinerated or landfilled every second. That is 82.8 billion kilograms per year, as reported by the Ellen MacArthur Foundation. 
With less than 1% of the material used to produce clothing being recycled into new clothing, Giamas urges consumers to look to her project as living proof that "you really can create aesthetic and wearable items using sustainable and eco-friendly materials."

"It can be produced to look and feel the same without sacrificing quality," she said.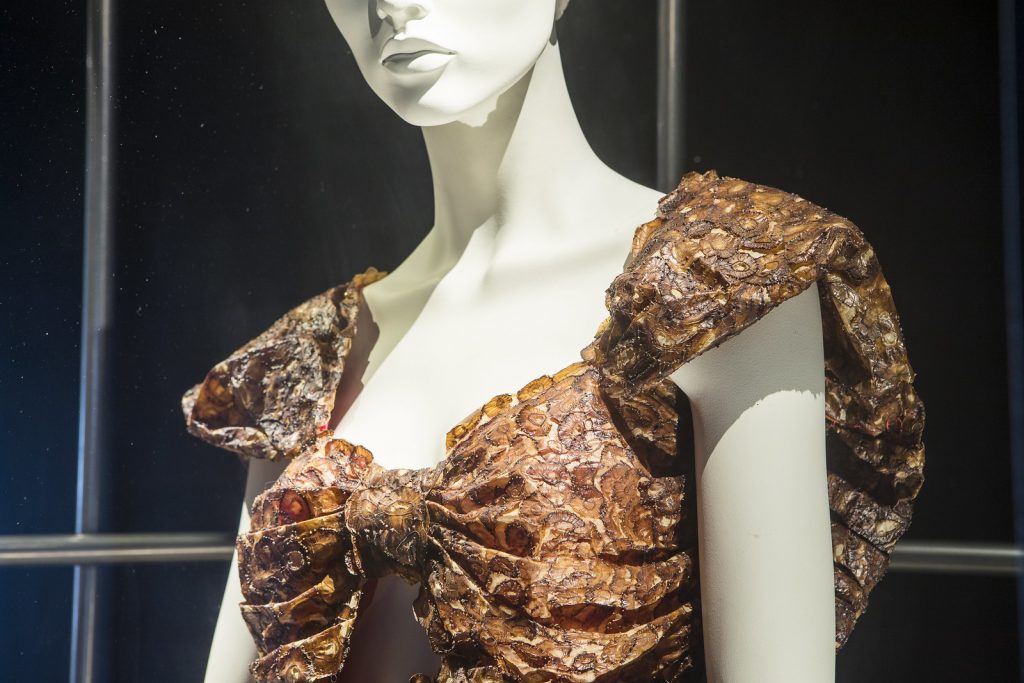 Environmental concerns aside, Giamas reminded The Greek Herald that fast fashion is a two-fold issue.

"A lot of fast fashion brands also source cheap labour overseas and they treat them unethically," she said.

The now architecture student was first made aware of such unethical treatment in 2013 with the Rana Plaza Tragedy in Bangladesh. It was here that 1,132 were killed and 2,600 injured after five garment factories forced their workers to continue working despite structural cracks and official warnings to evacuate the building.
For the aspiring architect, she wants fast fashion consumers to take a greater interest in sustainable brands and to "understand just how much one person's fashion choices can impact the community".
Chrysovalantou's 'Green is the New Black' will be on display at the Powerhouse Museum until Sunday, 14 August 2022. A virtual tour of the exhibition can also be taken for free here.