By Andriana Simos and Argyro Vourdoumpa.
With only four days left until Christmas Day, the Greek community in Sydney and Adelaide got into the festive spirit over the weekend with a number of Christmas kalanda events.
Some events were held virtually over Facebook and Youtube, while others involved visiting people's homes to sing and bring Christmas cheer to their lives.
Here's a list of what happened over the weekend:
Sydney:
In Sydney, the main kalanta event was held virtually by the Greek Orthodox Archdiocese of Australia.
Starting at 6pm, the Australian Byzantine Choir sang Christmas hymns and carols in front of His Eminence Archbishop Makarios and others priests, including His Grace Bishop Emilianos and Archepiscopal Vicar of Canberra and Tasmania, Father Prochoros.
The program was split into two sections, with the first focusing on six liturgical hymns and the singing of Christmas carols, followed by His Eminence giving a small speech.
Elsewhere in Sydney, Pontian youth volunteers from Pontoxeniteas Sydney visited the homes of members to sing Pontian kalanda.
Ismini, Ioanna, Thomas and Kosta, who played the Lyra, brought smiles to the faces of people with their melodic singing and sweet instrumental playing.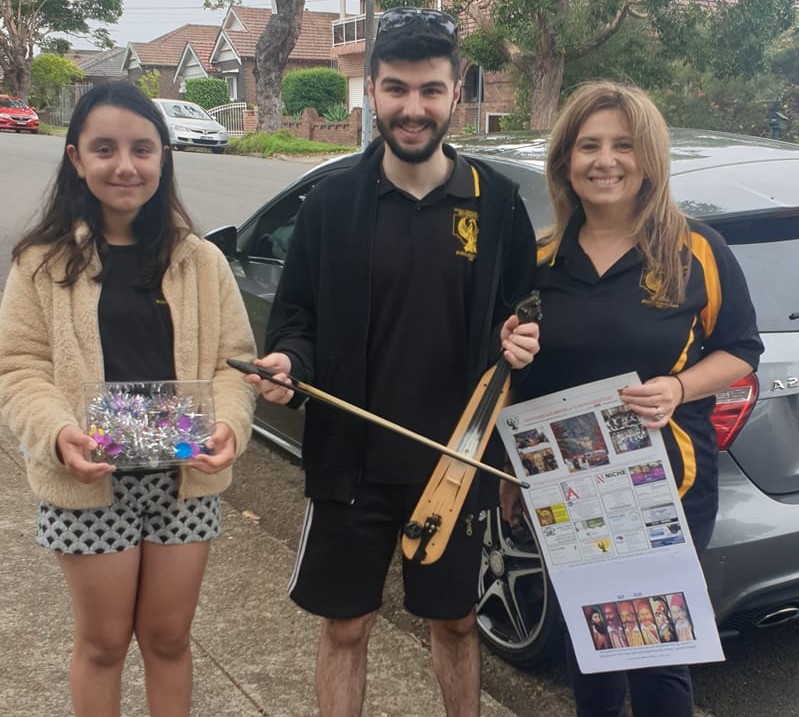 This was followed by St Nectarios Greek Orthodox Church in Burwood, where Christmas carols filled the church as Sunday school students celebrated the end of the year.
The students received a Christmas card from His Eminence and Santa Clause also made a special appearance to present gifts to the children.
Nativity Concert, Saint George College, Adelaide:
"It's such a blessing to be here," His Grace Bishop Silouan of Sinope said, addressing in English, the children and youth of South Australia's Parishes who participated in the Christmas Carols (Kalanda) state wide event held on Sunday evening at the St George College Sport and Performing Arts Centre in Mile End, Adelaide.
His Grace went on to welcome the attendees in Greek and talked about the meaning of Christmas through the words of Christian Monk and Priest John of Damascus.
The concert that lasted over an hour, featured performances from parishes across Adelaide and Greek schools, as well as hymns from students of the local branch of the Byzantine Music School of Australia.
"I am honoured to convey the wishes and blessings of the Head of our Church, the Archbishop Makarios of Australia, who always thinks and cares for us and is pleased with the work of the local church," said His Grace Bishop Silouan of Sinope before he wished everyone a blessed Christmas.