AHEPA Chapter Artemis No 5 Inc. is holding a lecture on Sunday, April 18 at 3pm at the Ashbury Panarcadian Club to celebrate the heroines of the 1821 Greek Revolution.
Titled 'The Contribution of Women to the Hellenic Revolution of 1821,' the lecture will be given by keynote speaker, Dina Tourva, and will focus on the Greek heroines of 1821 and what these freedom fighters achieved.
"Everyone attending would come to celebrate the Heroines of 1821. As Greeks we draw inspiration from the Heroines of 1821 as they helped shape who we are today. The Heroines of 1821 fought for our freedom against larger and stronger occupational forces," President of Chapter Artemis No 5, Mary Nagle, says.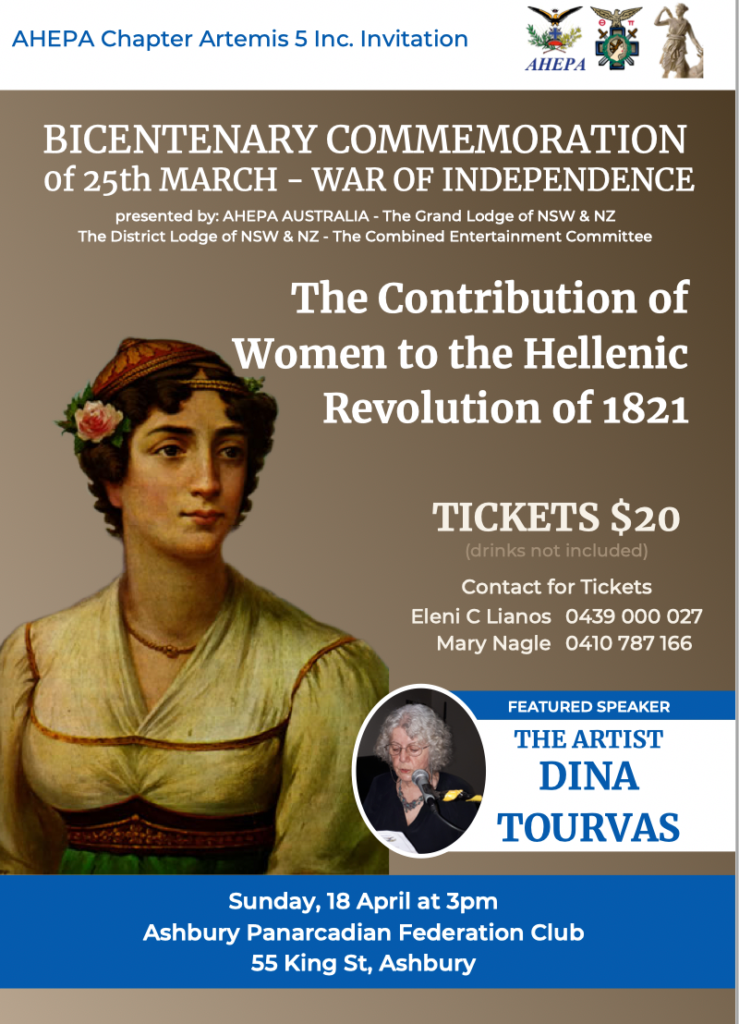 This lecture is the first of a series of presentations by AHEPA Australia featuring prominent women and discussing key women's issues until November 2021.
Mrs Tourva, who is the keynote speaker for this event, is a well known local artist, professor, translator, photographer, writer and activist.
Event details: Ashbury Panarcadian Federation Club, 55 King St, Ashbury (April 18, 3pm).
If you would like to purchase a ticket to the event, they are $20 and you can RSVP to Eleni C Lianos on 0439 000 027 or Mary Nagle on 0410 787 166 by April 15.