Yianni Skoulakis has many talents. He's a proud Cretan, laouto player and a Leading Aircraftman for the Royal Australian Airforce (RAAF).
It's for these reasons The Greek Herald asked Yianni to perform Cretan music live on our Facebook page on Saturday, August 21 and he definitely didn't disappoint.
With such a glowing and positive response from our readers, we just had to find out more about this Leading Aircraftman and in his open and humble way, Yianni was more than happy to share where his passion for the laouto and the RAAF comes from.
His grandfather and the laouto:
Originally from Hobart in Tasmania, Yianni was immersed in the Cretan culture from a very young age and always wanted to learn how to play the laouto like his grandfather.
"My pappou Yianni, who died before I was born, he bought a laouto in Crete in 1951 [and brought it to Australia with him]. I never knew how to play it, but we had it because it was the only thing we had of him," Yianni tells The Greek Herald exclusively.
"This laouto was beautiful. We still have it. It's nearly 100 years old. It's got whalebone inscriptions on it. It's a masterpiece.
"But I grew up all my life hearing Kritika and I'd always see it in the case there at our house and I was always thinking, 'I would like to learn it'."
Yianni learnt how to play the guitar first at 11 years old and then two years later, when he was 13, he visited Crete with his family and had ten laouto lessons from Harilaos Vlastakis.
"I learnt ten songs with him, just real basic stuff and he was shocked at how quickly I was picking it up… and I fell in love with it. After the tenth lesson, my mum and dad bought me the laouto that I was playing on," Yianni explains.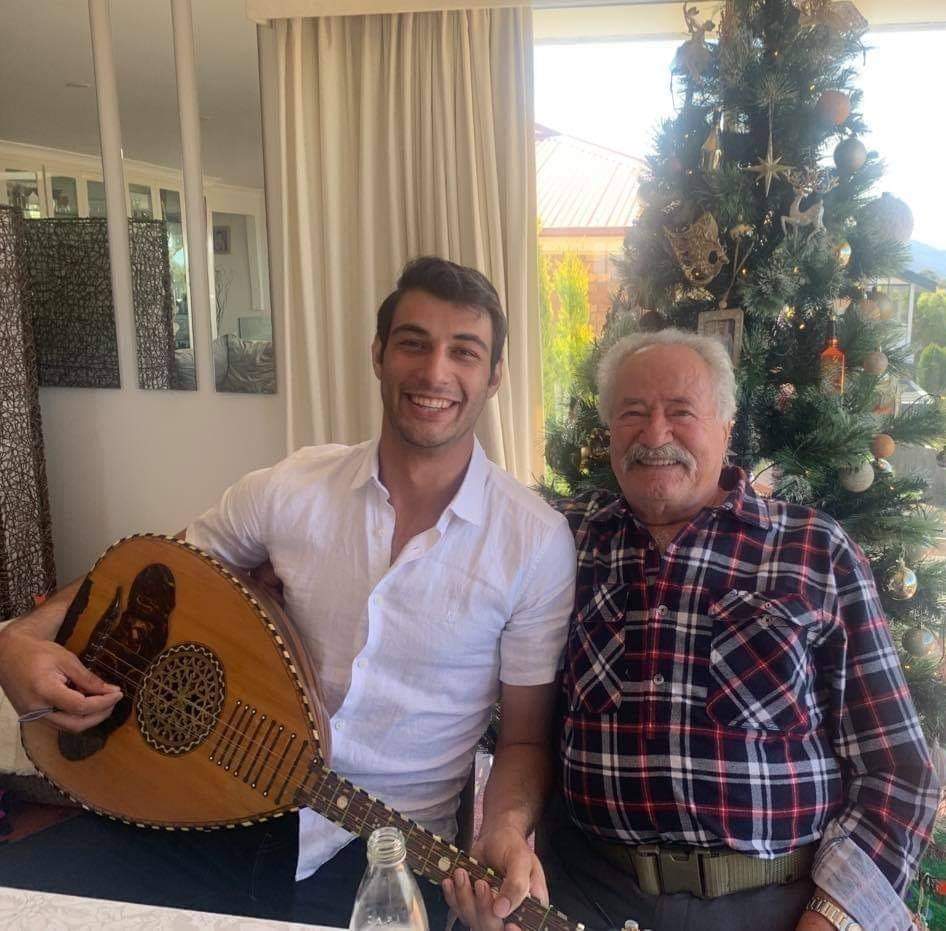 "Then we came back down to Tassie and I started playing my pappou Yianni's one as well. Everything else was pretty much self-taught."
Since then, Yianni has never looked back. He plays the laouto at home at least two hours every day and can also be seen performing at events hosted by the Cretan Association of Sydney and NSW.
"I'm very passionate. I get very emotional when I play and I think of it like a tribute to my grandfather who I never got to meet," Yianni says passionately.
"I like entertaining people, especially the oldies, because I play the very traditional stuff from the 30s, 40s, 50s… and I love seeing them get emotional and think of their childhood."
Joining the RAAF:
When Yianni isn't entertaining people with his laouto playing, he's also busy working as an avionics technician with the No. 37 Squadron. He says another family memory ultimately led him to join the RAAF in 2018.
"It started when I was eight years old. My dad bought a 1949 Cadillac and I remember he had a book on the history of Cadillacs and it talked about that car he had… and said the wings for the fins at the rear of the car were inspired off a World War II aircraft, which was the Lockheed P-38 Lightning," Yianni explains.
"I was obsessed with that plane and then I got really into World War II and all the other aircraft and innovations and all that, and that led up to me wanting the military life. That was probably around Year 10."
Yianni says he did initially get 'a bit of pushback from my family because they always think worst case scenario,' but that didn't stop him. He ended up doing a gap year in the navy, before transferring over to the RAAF.
"I'd say it's the closest to a family I can get while being away from the family. That's why I like it. The routine too because I'm a very routine kind-of person," Yianni says.
"To me, there's no better feeling serving. It's like giving back. The Australians helped during WWII and now that we migrated to Australia, well my grandparents… it's like a thank you, you could say."