By Martina Simos.
Local Adelaide barber, George Giatras, who turned 90 years young recently, is still part of the hair salon he started up 36 years ago.
In 1986 George began his business – John and George's Hair Salon For Men – inProspect, a suburb on the outskirts of Adelaide in South Australia.
Although these days it is mostly run by his son John, there are still many clients who like to pop in for a chat and have their hair cut by George.
In an interview with The Greek Herald, George shares why he occasionally cuts hair and why it helps him, especially after losing his beloved wife Pigi, three years ago.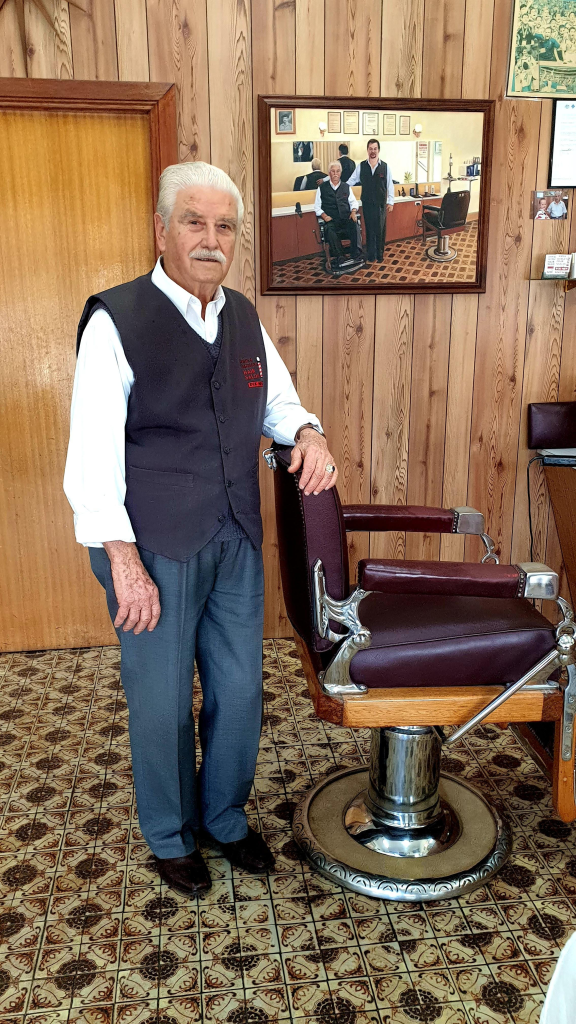 Finding his vocation:
George was born on the Ionian island of Zakynthos, in the village of Maries. As a young man he started as an apprentice mechanic but soon found it was not for him and instead discovered his vocation while serving in the Greek army. Eventually, George moved to Athens to work in a barber's shop and found the working conditions of being a barber more to his liking.
"I started to cut hair in the army and decided that was the job I wanted to do," he tells The Greek Herald.
"This is how and why I decided to become a barber."
Like many migrants, George made the decision to migrate to Australia. He knew, even in his early 20s, that the prospect of making a living and providing for a family would not be easy on his beloved island.
In 1961, while still on Zakynthos, he became engaged to Pigi, who he was introduced to by his family. Soon after, Pigi migrated to Australia to join her two brothers in Adelaide.
George was not far behind and in May 1962, he travelled on the ship Fair Sea for 24 days. Once he arrived in Adelaide, he and Pigi married.
"I arrived by ship to Melbourne and came to Adelaide by train. I travelled by myself," he recalls.
"I came to Australia to make some money and return back to Greece. Greece at that time was not good for me to survive on the land my family owned and to bring up a family.
"I came to Adelaide because my fiancé, who later became my wife, had a brother in Adelaide, so I decided to marry and settle in Adelaide."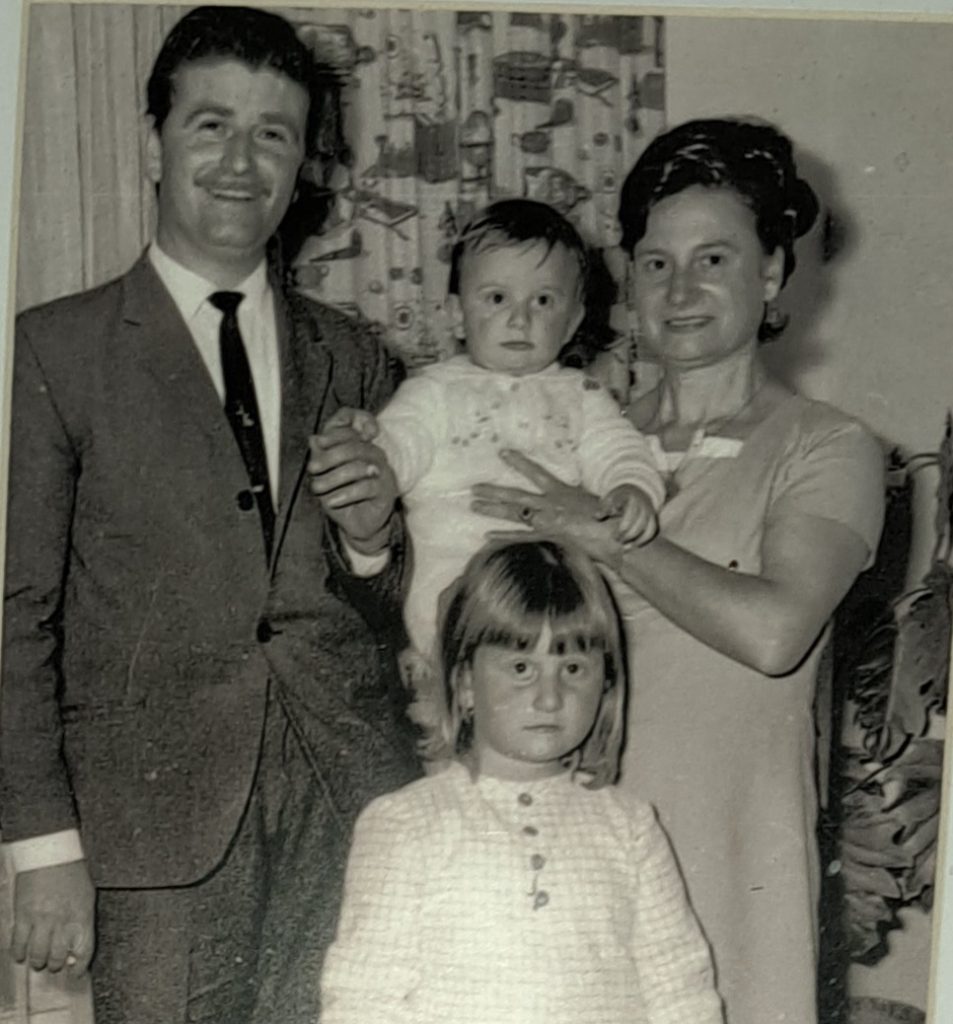 Life in Australia:
Initially, George found no one was hiring workers, but his can-do attitude and willingness to face challenges changed all that. He began working as a barber in a room behind a Greek kafenio (café).
"I remember in 1962 there was not the traffic there is today – not many people had cars in those days," George says.
"The average wage back then was 12 pounds a week but the price of goods was affordable.
"People were very friendly and willing to help. Australia was a country that gave us a future with affordability and the chance for migrants to prosper. With hard work and budgeting we were able to buy a house, live well and prosper."
The business owner:
In the 1960s, Hindley Street was a popular shopping strip in the heart of Adelaide which attracted many migrants, and George began working in a barber shop run by a fellow Greek.
"This street then was the hub for migrants new to Australia and very different to what it has become today," George says.
"The shop was then owned by another Greek man and soon after working there, I became a partner in the business. This partnership lasted seven years. I then opened my own business. This was around 1965."
The first barber shop was named Kourion – the Greek name for a barber shop – and it was located in Thebarton.
"For me to be able to open my first shop, I had some financial assistance from my brother-in-law (my wife's brother) as we were living together in the same house with his family until I purchased my first house," George explains.
In 1986, George opened a new salon, John and George's Hair Salon For Men, with his son John. It attracted a clientele that included former South Australian Premiers, sporting identities and many well-known lawyers.
"Over time, I have had numerous well-known identities which include two past Premiers of South Australia. They were the Honourable Don Dunstan and the Honourable John Bannon," George says.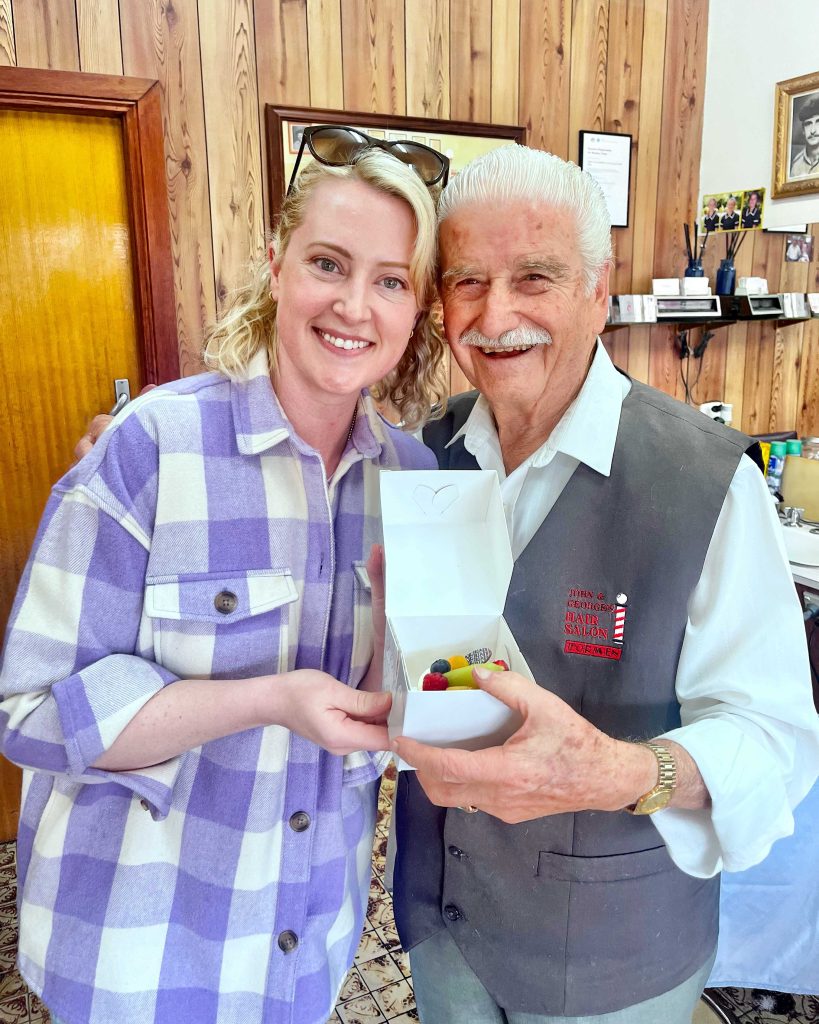 "I have had customers who have played football for the SANFL (local football league) and AFL. I have had directors and organisers for the Tour Down Under (TDU), the founder of the Adelaide Fringe Festival and high-ranking police officers, medical specialists, judges and musicians."
George says today he likes to get out of the house to spend time in the barber shop, chatting to old clients, occasionally cutting hair and keeping his son company.
"I still do the occasional haircut as I still love my trade," he says. "It has become more social for me. I am at the shop everyday with my son."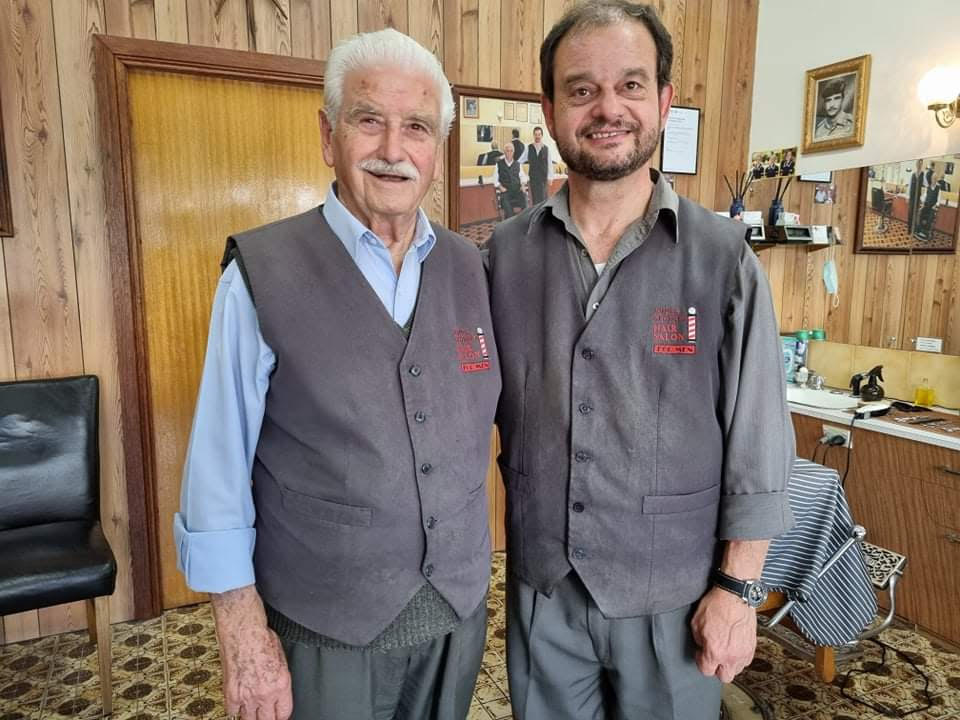 Tips for longevity:
When he has spare time, George tends to his garden and watches Greek television shows.
"I have no plans to retire and will work as long as I can," he says.
"Unfortunately, I lost my wife three years ago and I don't like staying home by myself. I have been used to being around people all my life."
George says migrating to Australia was a good decision and he has no regrets. This is where he and Pigi raised their children John and Mary and enjoyed seeing their three grand-daughters, Desiree, Paige and Samantha, grow up.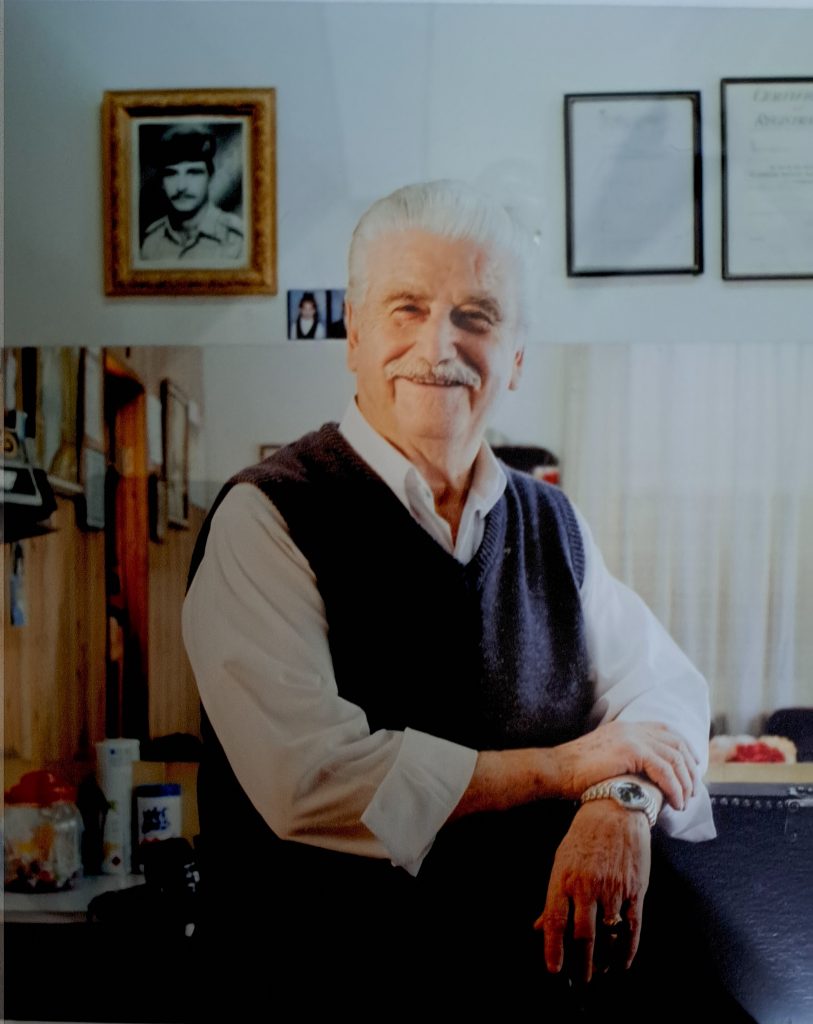 "Australia has been good to me and my family," George says.
At the ripe age of 90, George believes some simple health tips have helped him along the way.
"I eat lots of fish, legumes, greens and salads," he says. "I enjoy my pasta and of course, my Greek food. I don't eat much meat.
"I believe that good healthy living, eating and no smoking is working for me. I also enjoy one glass of wine with my dinner and one coffee a day. I try looking after my health the best I can."