By Marianna Alepidis.
Tina Stefanou is one of 24 artists who have been announced as part of the 18th Adelaide Biennial of Australian Art: Inner Sanctum taking place in 2024.
About an hour away from the city of Melbourne, the award-winning artist lives in her own little "Greek village." She is surrounded by the serenity of her yiayia's farm, where she resides with the rest of her family, who have had their own hand in influencing Stefanou's path.
"As a child, I was nourished. I had aunties and uncles that were making little films with me, my dad sang and played guitar at a Greek tavern, my mum is very expressive, even though she didn't get the opportunity to realise that in the arts," she told The Greek Herald.
"The way in which my family sings songs and the natural performative gestures that flow from being together, has really shaped me.
"The migrant interpretation and experience of the Australian landscape mixed with village peasant concepts such as 'the evil eye' form these very strange and hybrid magical forms of expression. Orientations that float around the psyche have probably been more pivotal in my development as an artist than any kind of singular human or artistic practice."
About 10 minutes from the farm, the artist made a connection with local woman and equine specialist Sacajawea at Jocklebeary Farm, who has been rescuing horses for over 30 years and working with them through equine therapy.
"It began with a simple walk, at times helping her feed them, which then turned into singing to them, and then the horses would respond to my voice," Stefanou said.
Needless to say, Stefanou has a strong connection to the natural world, weaving its wonders into the tapestry of her works. Rescue horses have been a part of her world for almost a decade now, making appearances across three of her projects.
Horse Power, 2019, a video and sound piece, shows horses in the landscape dressed in sonic costumes, while they trot and shake their jingling attire.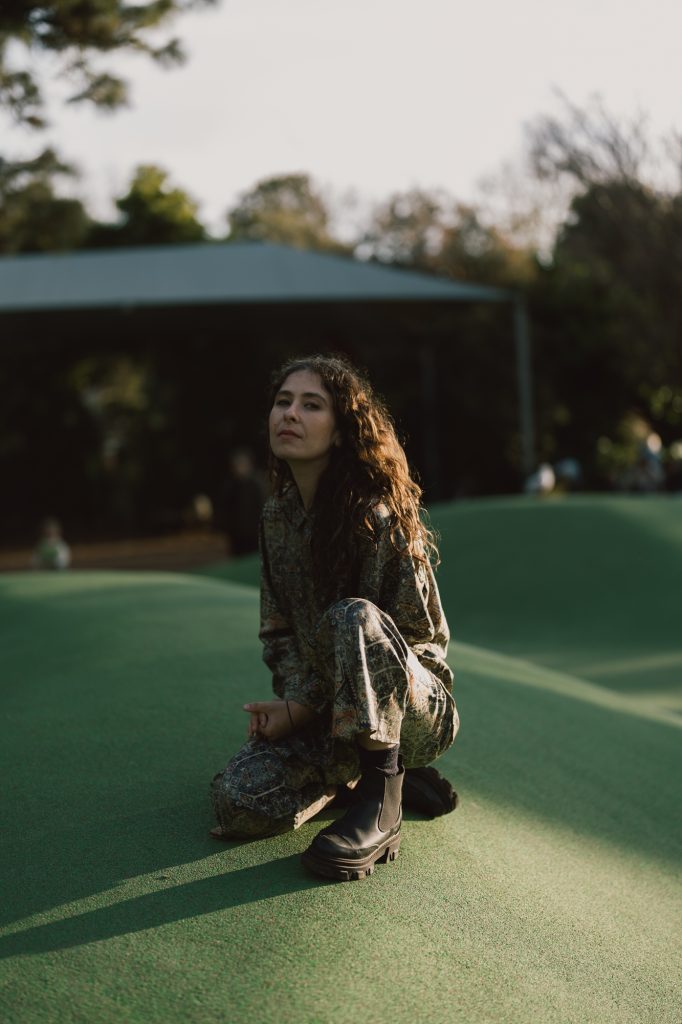 In another film, Stefanou features a horse who was diagnosed with cancer. She spent the last month of the horse's life, documenting him in the herd and watching him eat. In the height of the COVID-19 lockdowns, the artist didn't have the luxury of showing the film to the public, and instead her viewership consisted of the rescue horses.
The imagery of the horse was intersected with vocals of Stefanou's grandmother Irene Poutakidis singing Greek Orthodox prayers and the late 83-year-old astronomer John O'Connor, a neighbour to the horses, also diagnosed with cancer, telling stories about the way that the universe formed and its eventual decay.
"We built a large outdoor multispecies cinema and the horses where its first audience. The work is called Wake for Horses. The work honours multispecies grief, more-than-human time scales and the amplification of animals as persons," Stefanou said.
"The way they responded was incredible. They went and kissed the screen and there were about 25 horses watching their recently passed horse member."
Having spent so much time with the four-legged friends, Stefanou was invited to come and work with young pony riders and horses together. She developed vocal workshops to help the girls riding them feel more comfortable in projecting their voices, thus helping the horses know where they stand; "interspecies communication" as she describes it.
Stefanou's third work with the horses, Hym(e)nals, 2022, is a cheeky play on words; hymnals, which is sacred song, and the 'e' placed cleverly in the title is a reference to the hymen (a piece of tissue covering or surrounding part of the vaginal opening in female mammals).
The 30-minute film features six teenage girls some of whom are neurodivergent, draped in luminescent fabrics, riding elderly horses in the dark whilst vocalising in different forms.
"The work whilst very mammalian focused, speaks to different planetary and bodily thresholds being crossed. Time, species, age, symbols, perceptual and environmental conditions," she explained.
"I'm working with teenage girls, so when you play with that reference, some people may misinterpret the intention. But actually, I am talking about empowering these young voices as they grow into this world, a world full of strange inheritances, and what's more empowering than being able to ride and commune with a beautiful creature who is co-creating with you, who is listening to you, who you're listening to. Shaping worlds together.
"The work here moves beyond aesthetic performative representation and into what I call the unperformed, where art meets alternate forms of pedagogy.
"There's all those cliches about the female body and riding horses. Once you bring the idea of the sacred, and then the female body part into that, because the female body has been co-opted through the patriarchy, and is historically connected to religiosity. The animal also has been domesticated by the patriarchy, so for me there's these beautiful and really tantalising connections.
"It's really strong to speak about it from the position of where are these young women riding into? What scenarios have we set up through these traditions for them now to ride into the future which is riddled with precarious thresholds?"
Two different bodies, both objectified by society. While Stefanou breaks through the parameters enforced by the patriarchy, she gives us all a moment to reflect on how other species have been commodified and often later discarded through the lens of human utility.
"The reason these horses are particularly important for me is because they're elderly, rescued horses. They're not the kind of sexy, young stallions that often get depicted. There's a few fashion ads going around and they're depicting the horses as very sexualised and very shiny and muscular," she said.
"There's something in that that I find deeply disturbing. So the fact that the horse is attributed to power, coloniality, ableism and this kind of like 'aesthetic sexiness,' I find that extremely capitalistic. I'm very critical of how contemporary artists use horses, very satirically. I find work that's much more personally engaged with the creatures far more interesting, and that there's actually something at stake beyond the kind of symbolic realm."
Stefanou is coming close to the third anniversary of being named the recipient of the $50,000 Schenberg Arts Fellowship.
Her criticism of the structures of capitalism mean she's emboldened to be open and share where the funds have gone.
"I'm so happy to talk about money, I think it should be something that's transparent, and we shouldn't give it more power than it already has. It was an extraordinary moment in my life to get that phone call. Since then, really pragmatically we put a roof over our caravan," Stefanou said.
"It is precarious living when you're a full time artist that comes from a working class background, who isn't going to spend most of their money on rent in the city. We also invested in these little [prefabricated] structures so we could have some studios, because two artists and musicians in one caravan is just not going to cut it."
The artist also wants to empower others with their creative endeavours and used some of the money to invest in another caravan so that artists who are "struggling with rent, or studio or places to live or in between that they could come and stay here for free."
Another portion has filtered into Stefanou's continuing art projects to help pay for collaborators, materials and flights for research.
Her current work-in-progress will be exhibited at the Art Gallery of Western Australia, as part of a program facilitated by Western Australian arts organisation, Spaced.
It too has roots in the earth, multilayered as per her previous feats.
"Since last year, I've gone many times to Carnamah, a town of 300 people. This big work involves me exploring the grain of the voice in the community, but also exploring the grain industry," Stefanou shared.
"I've been working with farmers, labourers, women, children and retirees through vocal workshops, and we've created this big performance involving wool and tractors and all sorts of things."
The artist also jumped aboard a cargo ship to the Philippines to follow where that grain will be cut.
"I'll be doing all sorts of things on that ship, like a pirate radio, performances, karaoke, and that will be like a second half of the film," she revealed.
"Agri business is the most absurd form of making than any artwork in how materials travel in the world and [grain] is a very geopolitical material, especially right now. Australia has a big part to play in the production of global grain. It's very interesting to trace the voice of grain from this tiny town, full of all sorts of social economical situations whilst also tracking it as artists, implicating themselves in industries where there is no art."
Stefanou continues to go against the grain, time and time again, her pieces deeply reflective of the environments we occupy.
You can find out more about her work at www.tinastefanou.com.