"Mathematics runs in the blood of the Greeks. I tell my students that Pythagoras was my uncle and quite a few of them believe it," laughs 73-year-old Saki George Ganella OAM, who was recognised in the Queen's Birthday Honours List this year.
It's clear that after 50 years as a maths teacher at Melbourne High School, Mr Ganella still loves what he does and has no plans to slow down any time soon. And why should he? His journey to get to where he is today was one of immense hardship, courage and as he likes to call it, "motivation."
Arrival in Australia:
Mr Ganella was born in 1947 in Kozani-Grevena, northern Greece, "right smack in the middle of a Greek Civil War." His father, a bank manager in Kozani, was killed during the war and so at the age of three in 1950, Mr Ganella's mother decided to flee Greece for Melbourne.
"My mother wanted to seek a better life for us. We were lucky enough to live with my aunty and her family in Melbourne until 1958, when my mum met and remarried a lovely man named Peter Pesnikas," Mr Ganella tells The Greek Herald.
"Peter was fortunate enough to have a fish shop in Chapel St. The fish shop was only five doors down from Toorak Road in Melbourne, which is 200 metres from Melbourne High School. So in a sense, the long journey from Greece to Chapel Street almost forced me to go to Melbourne High School. It was meant to be."
When the student becomes a teacher:
And meant to be it was. As a young boy, Mr Ganella recalls sitting in his stepfather's fish shop watching Melbourne High School students walk by. Impressed by their smart uniforms and confidence, he decided he would attend the school and make his family proud.
"The boys in uniform with caps looked strange to this Greek boy at the fish shop," Mr Ganella laughs.
"But because my mother brought me up to be very motivated and aspirational, I tried my hardest and was accepted into Melbourne High School for my senior year. Once there, I studied the highest level mathematics subjects I could."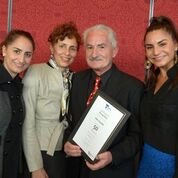 READ MORE: Greek Australians recognised in Queen's Birthday Honours 2020.
The rest is history. Mr Ganella completed his senior studies, taught maths in the small Victorian rural town of Kerang for two years, before being "lucky enough" to be transferred back to his beloved Melbourne High School – where he has remained for 50 years since 1971.
"I love the students. In my 50 years at Melbourne High School, the demographics have changed. When I was there as a student, there were a lot of Greeks and Jewish boys and now they're eastern, Asian boys and no matter how the demographic changes, the commitment and passion is wonderful," Mr Ganella says.
"Very quickly they become Melbourne High School boys and that's what has kept me going all these years."
His future plans:
With such an illustrious career, which actually also includes a stint as a Commanding Officer in the 415 Squadron Australian Air Force Cadets, it's clear that Mr Ganella deserves a well-earned break from teaching. Something he's planning on taking full advantage of next year.
"I've applied for leave next year and for some strange reason I'm aiming to retire at 75, which I think is a good innings. I've been advised to retire while I can still walk out of the school," Mr Ganella says.
But not without giving one final word of advice to the students who have held such a special place in his heart over the years.
"Follow your passion. If you're really passionate about something, the chances are that you will do well at it… But if you don't follow your passion and you do something for monetary gains and you don't like it, to my mind, that's a terrible life."
Wise words from a very wise man.
The Greek version of this article will be in print on July 11, 2020.