"You are born Greek, you do not become one," a very old saying goes.
Australia's Greek community, is lucky to have many Greeks who have dedicated their lives in preserving and promoting the culture, language and everything Greek.
Kiki Efthimiou OAM, 87, from Sydney is one of them.
A businessman for over 60 years and until 2013 owner of Australia's largest import company of Greek products, founding member of the first Greek-Australian Chamber of Commerce in 1966 and President of the Chamber for more than two decades as well as Chair of the Greek Orthodox Community Home for the Aged in Earlwood for a number of years, Mr Efthimiou has contributed to Australia's Greek diaspora from various positions of influence and he was recognised for it, with The Medal of the Order of Australia.
"When I turned 80, I decided to retire," he tells The Greek Herald, but he's now back to motivate and inspire the Greek community to take collective and organised action to protect the name 'Greek Yoghurt' in Australia.
"There are dozens of yoghurts out there labelled 'Greek Yoghurt'. However, if one reads the fine print, they'll find out that these yoghurts are made and packaged in Australia. This is not right. They should be labelled Greek Style Yoghurt and not Greek Yoghurt.
"We need our voices to be heard. We should send a letter to Consumer Affairs. A collective and organised effort needs be made on behalf of both the Greek-Australian Chamber of Commerce and the Consulate's Office for Economic and Commercial Affairs
in order to protect the name "Greek yogurt" in Australia," Mr Efthimiou says recalling the FAGE versus Chobani legal battle in the UK.
In 2014, a decision of a British court ruled the label "Greek yogurt" used by Chobani as misleading and ordered permanent precautionary measures against the company.
"I have tried multiple times in the past to raise awareness on this issue, unfortunately without results. I am willing to contribute with my knowledge to a potential collective move for the Greek Yoghurt to be included in the list of the Protected designation of origin (PDO) and Protected geographical indication (PGI) products," Mr Efthimiou said.
Trade Commissioner: 'Greek Yoghurt not in the PGO/PDI products'
To receive more information on this matter and any initiatives taken The Greek Herald reached out to the Greek Consulate's Office for Economic and Commercial Affairs in Sydney.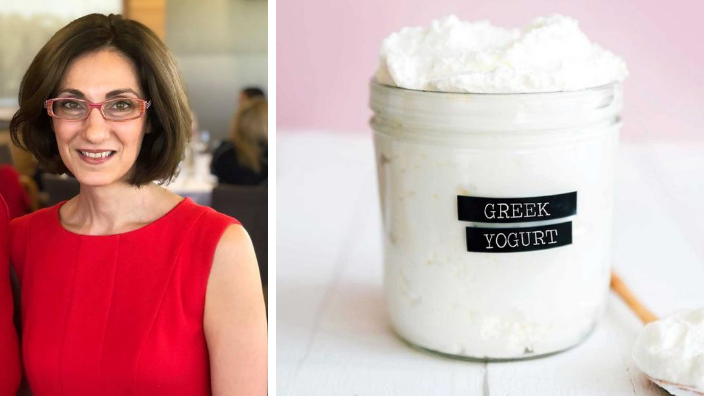 "Greek yogurt is not governed by the status of Protected Designation of Origin (PDO) or Protected Geographical Indication (PGI) in the legislation of the European Union. Given this fact, it has not been included in the list of products that our country has proposed to be protected in Australia under the Free Trade Agreement that the EU is currently negotiating with Australia. Examples of internationally famous Greek products that are included in the negotiated agreement are "Feta" and "Kalamata Olives," Trade Commissioner, Mrs. Katia Gkikiza, says.
According to Mrs Gkikiza, "any Greek interventions at the level of institutions regarding the use of the name 'Greek yogurt' in the Australian market focus on highlighting the authenticity of Greek yogurt and relevant initiatives have been taken in order to raise awareness and protect consumers against products not produced in Greece".
The Trade Commissioner also explained that "at this stage the import of yogurt from Greece to Australia is prohibited, because Greece is not recognized by Australia as a region free of Lumpy Skin Disease and goat and sheep pox disease ".
Conclusively, according to the Office of Economic and Commercial Affairs,
Greek exports of yoghurt to Australia and New Zealand throughout 2010 from 2019 were extremely limited.