By Billy Cotsis.
A Bulldogs footy and kids with a Greek background, deep in the picturesque Rio State. Now that is not something I had not planned when contemplating a visit to Brasil, a nation with almost 220 million people, yet few are of Greek origin and even fewer would have heard of the mighty Canterbury Bulldogs. Yet here I was, in Barra Mansa, 2.5 hours out of Rio de Janeiro passing a rugby league ball to two enthusiastic kids. The kids were enjoying this new sport. Behind us a group of Brasilians started playing drums and a hundred metres down the road a group of kids were playing football, Pele ginga style. Taking it all in, the rain started to beat down, placing the impromptu game on hold. As the Brasilians kept drumming, I leaned over to writer and teacher Ana Marcia who was looking on and spoke to her in Greek, I love this country.
How could one not love Brasil? Beaches, nature, amazing people, humid, picturesque. As an Aussie, the surfing element also appeals. The surf is good and adds to the football and fun on many beaches. There were times when Ana and I drove in Brasil and heard Aussie surf bands on the radio, such as Hoodoo Gurus, Spy Vs Spy, Midnight Oil, complemented by the brilliant INXS. There were other times when I happened to flick on the TV and a Greek movie had just finished playing! It seems my two cultures were on the fringes of Brasil. And fringes they certainly were. Having eaten at an Outback Steakhouse in Argentina, one-time home of Onassis on my way to Rio, I was desperate for Greek or Aussie in every form. Starting with the fake and uneatable feta I bought from a Copacabana supermarket to my desperation to find an authentic Greek meal.
We had a meal at one of just two authentic Greek restaurants in Rio. Each time making our way during a downpour. At Oia Cozinha Medeterranea, Ana and I found a lively eatery decked out in blue and white, with a waiting list to get in. The food, not exactly a replica of Athens or Lesvos, was at least accompanied by ouzo from Mytilene! In my excitement at eating Greek, I asked the table next to us why they came to eat at a Greek place?
"We have been to Greece and like the food; it was an easy choice."
It was nice to hear that people had visited Greece. Though Brasilians account for a small percentage, just below 20,000 visitors per year when there is no coronavirus. There is a fascination with Greece and 'Grego' people, as my visit would unpack.
I spoke to the owner of the other Greek restaurant we visited. Vokos, is another Greek eatery with a suave interior, and it was a chance to eat a gyros and have some tzatziki with ouzo, naturally. Met by a young Maître D and friendly staff, we missed meeting one of the Greek owners until a chance conversation a few days later.
Viktor Vokos (though it is technically Vocos from when he was registered in Brasil as a boy) has quite a unique story. From being 'kidnapped' to rediscovering his Greek heritage, its "worth a film in itself," he explained. Viktor was born in Athens to a Greek man, who is a descendant of Admiral Vokos, and a Brasilian mother. He ended up in Rio by the age of six, though not without drama. His father had been coming to Brasil for business in the 1970s as the owner/director of the shipping exhibition called "Poseidonia," and met his future wife who was a service provider for Rio Mar, the equivalent of Poseidonia. They settled in Athens and Viktor was born. Sadly, the marriage wasn't to last. He told me, "I was in London with my mum, and my father managed to take me away without her permission. He took me back to Athens." The intention was to keep the young Viktor in Athens and away from his mum.
His distraught mother enlisted the help of detectives in London and then the Brasilian Ambassador to Greece who duly provided as much support as possible. His father had the belief that the Greek courts would side with him and with documents in Greek, he even persuaded the court to send the documents to Brasil where it was expected no one would read them. Fortuitously, there was someone there who opened the mail. His mum was always going to struggle with the process. A woman who was a foreigner with limited Greek dealing with the Greek courts. Fortunately, the legal team of the embassy helped convince the Greek magistrate that Viktor had been taken illegally to Athens. A child should not be kept from a loving mum. Mother and son were reunited!
Viktor was able to return to Brasil and gradually became more Brasilian than Greek, though he admits that at school he was initially teased about his Greek heritage. It meant he turned somewhat away from his Hellenic side. Viktor did, however, reunite with his father, going to visit him two years after the 'kidnapping' and yearly thereafter to keep his connection with Greece. With a background in events, he joined his half brother to help run Poseidonia in recent times. Back in Rio, he was approached to be involved with a new Greek eatery; he immediately jumped at the chance to be a partner, named after his famous Independence War hero ancestor.
Another true highlight is a visit to the Greek Church and the Sociedade Helênica Do Rio, at 46 Rua Darke de Matos. A church goer Θανάση (Sakis) Makris told me there are at least two Greek churches in Rio. He attends every week with his family. We met his charming wife Alexia and son George at the church and subsequently for a kafedaki on another day. She has Greek heritage on one side of the family, while Θανάση is originally from Corinth, having worked at the Corinth canal for most of his life, he now calls Brasil home. "I moved here in 2018 for good, and I had been visiting Rio since 1989, every year since 2003." He spoke glowingly of Brasil and the church he attends.
The Father at the church speaks Greek fluently, among many languages he converses in. The church is Saint Andrew Orthodox Church (Ι.Ν.Αγίου Ανδρέου του Πρωτοκλήτου) which belongs to the archdiocese of the Ecumenical Patriarchate of Constantinople. It a beautiful church, located two flights of stairs above the church hall. It was a smaller gathering than usual, perhaps 20 of us coming to hear the sermon of Fr. Henrique Cairus and the beautiful singing in Greek and Portuguese. The hymns and singing carried beautifully by younger voices. I rarely attend church in Sydney, yet on this day I felt enlightened on the inside and proud to see this group of people engaging with Fr Henrique. After the service, everyone is invited to coffee and cake. Here I was able to meet a range of others. From Giannis who is third generation, to younger members of the congregation who were either mixed heritage Greek or Brasilians who converted to the Greek Orthodox religion.
Sakis told me that there used to be significantly more Greek people and worshippers in Rio, but age has caught up with many. Others have gone to Greece or Sao Paulo.
Ausli Sena is of Persian ancestry who speaks Greek. One of the most delightful people you will meet. An engineer, PhD candidate and musician (among many other talents including physics), who coaxed me out of musical retirement. We played/jammed on the stage in the church hall which has a large print, 'Acropolis,' written on the stage wall, to the 'delight' of our Greek audience. My drumming is by no means impressive, however, Ausli is a fantastic saxophonist, who also provides music lessons at the hall. He also told me that towards the end of March, a festival will be held at the hall to celebrate all things Greek. The more we spoke, the more I was convinced he really is Greek. His knowledge of Greece and the culture is better than most. It helped that he knew Lesvos, of course, and we posed for a picture next to a Lesvos poster on the wall.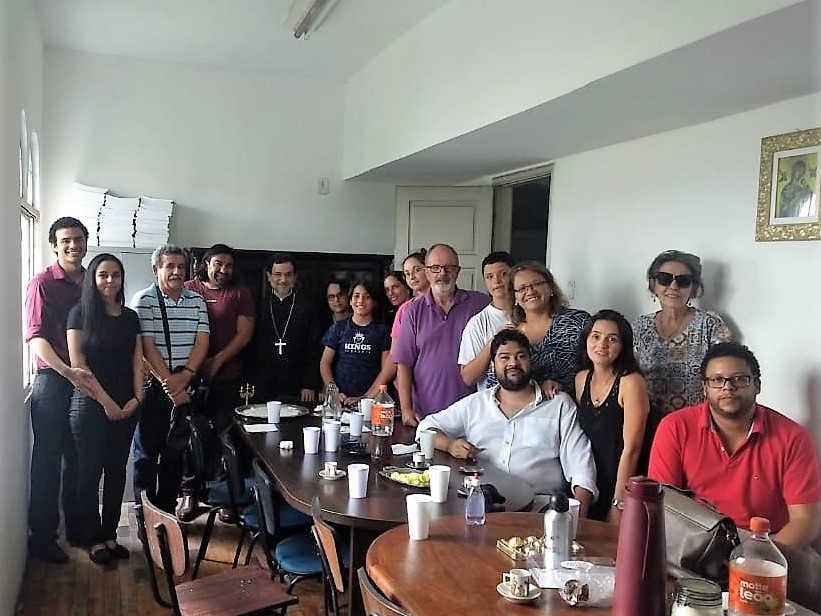 I also met Κωνσταντίνος Μας who is a young man from Thessaloniki, he has not been in Brasil for more than two or three years. He is also an engineer and is currently trying to establish Greek language classes, a must for the local community. It is through these endeavours that the Greek community can strengthen and preserve its identity.
Over the years I have met many a Brasilian with Greek heritage. I first met Sophia from Sao Paulo in Sydney one summer when I was on a break from London, early 2010. In 2014 I stayed in a hotel in Rhodes, where the owners had lived in Brasil and the son had been born in Rio. They talked up the Greek neighbourhood in Sao Paulo. This city by the way, is hme to former Mayor Fernando Haddad who almost won the Presidency in 2018. He is of Lebanese Antiochian Greek Orthodox ancestry.
It is estimated that there are 60,000 Brasilians of Greek heritage. Some have contributed significantly to Brasil, including Bruna Griphao who is a young television actress, Cleo Rocos an actress and businesswoman, Leonardo Koutris the footballer, João Pandiá Calogeras, Brazilian Minister of War, during WWI. Calogeras was born in Rio in 1870, was an author and also served as a minister earlier in the century; he was at the Versailles post war conference where its probable he met Eleftherios Venizelos. He is also credited with modernising the military.
On another rainy day in Brasil, Ana spotted a sign on a building. It was for the AGK Construction company, owned by Athanase Gerom Koukolis. Amazed, Ana called and spoke to the Greek man. Alas, he was on holiday in Cabo Frio.
What is intriguing about Brasilians is that they never refer to themselves as say Lebanese-Brasilian or by another ethnicity. "We are all Brasilians here, no matter if we are black, white, or have ancestry from Europe." This was told to me a young man in a hotel and has been repeated to me often, even if they speak another language. This applies to the Greek community as well.
Another Brasileira, Juliane Pereira, who is from Sao Paulo and runs Bonita Brazilian in Auckland, laughed at my homemade t shirt which proudly says, "speak to me in Grego." She explained that where she comes from, they would use the equivalent saying of its all Greek to me. In many ways, the Brasilians are conscious of Greek elements, and this was just another example of that.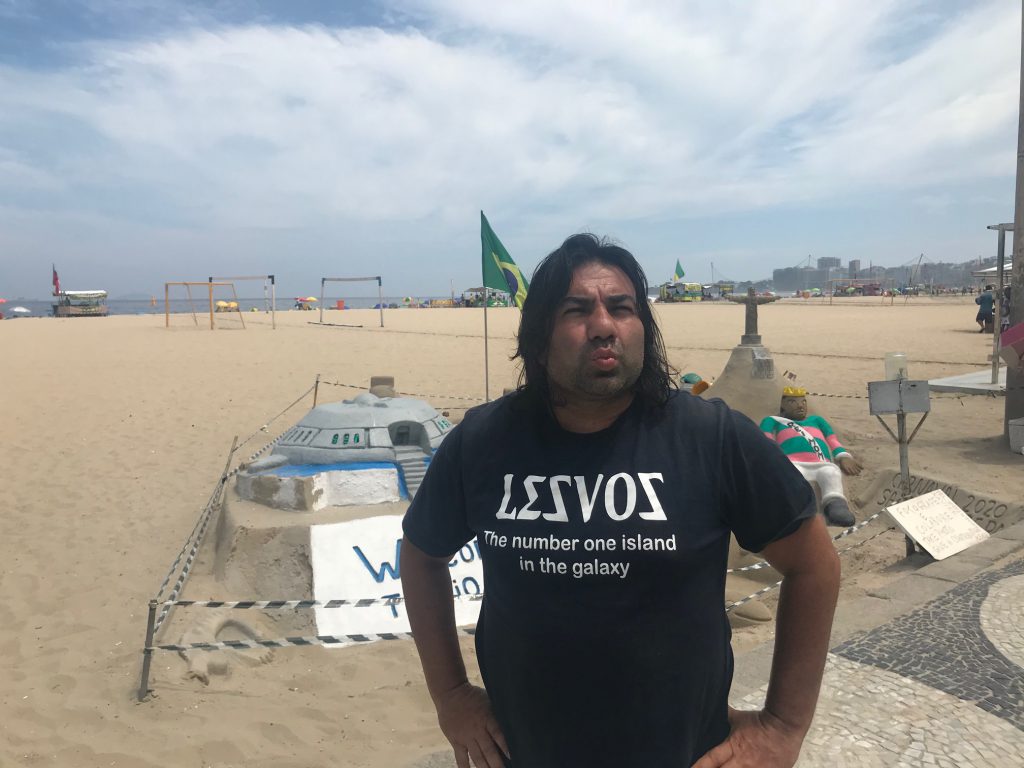 From a lighthearted moment, to one that is powerful and dramatic. Many Brasilians know the name of Polyvios Kossivas, who became an instant hero at the 2004 Athens Olympic Games marathon. I was at the 1896 stadium that day with friends and remember learning that a Brasilieros runner, Vanderlei de Lima, was poised to win the Gold. It would be a fantastic win for Brasil, their first in the marathon. Yet a crazy defrocked Irish priest came out of nowhere at the 22 mile mark and tackled Lima. The quick thinking Kossivas jumped the barrier and pulled the lunatic off the runner, who lost valuable seconds. Seconds that meant he finished with the Bronze medal. Yet the deeds of a Greek spectator allowed the Brasilian to gain a medal. Disappointingly, the IOC did not award the gold to the rightful athlete. He was instead given a special Olympics award and was feted in Brasil. Lima lit the cauldron in 2016 at Rio in place of the great Pele who was too ill to attend. Kossivas by the way, was also feted in Brasil and was able to attend to meet his new friend and accept a debt of gratitude by the Brasilian Olympic Committee and public.
According to author and professor Savas Apóstolo Pítsica of Santa Caterina, "since 1883, Greeks from Kastelorizon Island emigrated to Brazil, settling down in Santa Catarina Island, and in Paranaguá, State of Paraná, creating an important relationship in the Community of Florianópolis."
It is probable that small numbers of Greek people had been coming to Brasil for decades earlier, though in 1883 the arrival of Captain Savas Nicolau Savas "on his regress from Montevideo, visits the Island of Santa Catarina and leaves some Greeks in Desterro." Savvas would return years later with more Greeks including his family. The Captain would become an important businessman across Argentina, where he became the Consul, and Brasil. His business interests extended to the USA. He was also known for intervening to protect people and once saved the life of the Governor of Santa Caterina. His ships were well known in the region.
Desterro which became Florianópolis, was a haven of Greek people thanks to Savas, with dozens of businesses and hundreds of Greeks in the city as the twentieth century progressed. Many brought along with them ouzo from Greece.
As Ana and I finished an ouzo and practised our Greek, I couldn't believe my luck. I had always wanted to visit Brasil and here I was, just before the pandemic outbreak, meshing my Greek and Aussie with Brasilian. This country has certainly captured my attention. The trip could only be topped by one thing: the Greek heritage kids learning about the mighty Bulldogs and of course my beloved Lesvos.
*Billy Cotsis is the author of Once upon a time in Crystal Palace: heart, life and football under Brexit