On a cold, rainy night in Cromer, Sydney Olympic FC secured their spot in the FFA Cup Round of 32, nailing a convincing 2-0 victory against Manly United FC on Wednesday.
Both sides grabbed late wins in the NSW NPL on the weekend, with Olympic edging over the Sydney FC Youth NPL side and Manly claiming a 2-1 win against APIA Leichhardt. The teams are also separated by only two points in the competition.
Olympic lined up almost identically against Manly, replacing only Nicola Kuleski with Brendan Cholakian in the midfield.
Both teams looked strong out the gate applying strong defensive pressure, yet neither side sent any dangerous threats towards goal.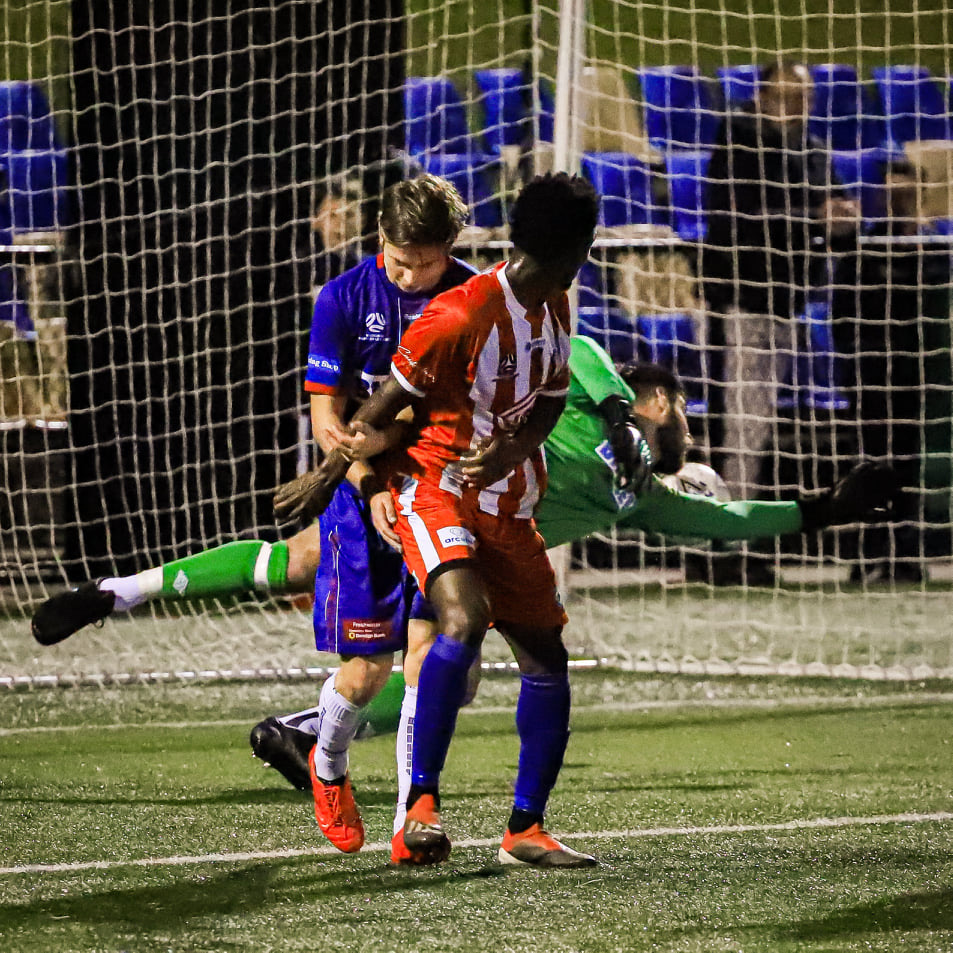 The slow start to the game was turned around in the 18th minute after Tom Whiteside delivered a near-perfect ball, from his own box, to Mohammed Adam who was through on goal. The in-form striker shot it from the edge of the box, yet only after he was grabbed by Manly captain and defender Jimmy Oates. Oates received a red card for his error and Manly were brought down to 10 men.
Olympic made expert good use of the red card and free kick from outside the opposition's box, delivering a set piece spectacle straight from the training ground onto Cromer Park.
Former Manly man Brendan Cholakian delivered a through ball to Fabio Ferreira, who was waiting unmarked beside the opposition's defensive wall, who sent it straight past the keeper and into the back of the net.
Olympic's second goal wasn't too far away, with Monge taking the ball down the line with a pass from Ferreira. Monge laid it off to Adam who shot it towards goal, hitting a defender and deflecting into the net.
Entering the second half with an extra man over their opponents, Olympic remained in control for the remaining minutes of the match. Olympic still had to deal with the individual talents of Dejan Pandurevic and Jack Fulton, who set up and sent some dangerous shots towards Olympic keeper Nicholas Sorras, yet the shot-stopper was determined to keep his good run of form.
A deflection potentially stopped Manly from claiming a much-needed goal, which had already wrong-footed Sorras, yet the ball rolled past the post. Manly's best chances in the match came from corners, where Olympic struggled to clear the ball early, earning eight to Olympic's three.
Olympic showed their commitment to victory, and hefty aggression, after finishing with six yellow cards. Both sides finished the match with four shots on target.
Ferreira was one of Olympic's top performers on the night, sending multiple shots at the Manly keeper and ultimately claiming one goal. Whiteside also performed well to keep the Manly attackers from getting off any easy shots against Sorras.
Sydney Olympic will now move onto the FFA Cup Round of 32. The Belmore side has only reached the Round of 16 twice since 2014.