Australia and New Zealand, in a joint bid labelled "As One 2023", have won the historic bid to host the 2023 Women's World Cup.
The trans-Tasman nations beat out that of Colombia by 22 votes to 13 at the FIFA Council meeting in Zurich early this morning.
The tournament will be the first co-confederation-hosted FIFA World Cup (Australia, being part of the Asian football confederation and New Zealand a member of the Oceanic branch), as well as the first FIFA Women's World Cup to be held in the Asia-Pacific region.
Scenes of players and FFA officials cheering with passion showered social media after the announcement was made in the early hours of this morning.
FIFA Council president Gianni Infantino proposed that the FIFA tournament will be the "best World Cup ever, in Australia and New Zealand."
"It will be even more global and have much positive impact on the development of women's football," Mr Infantino said.
Football Federation Australia chairman Chris Nikou said the successful bid was an enormous opportunity to grow football in the region.
"FIFA today has made not one, but two countries very happy," Mr Nikou said.
"Our pledge to the FIFA family is that no stone will be left unturned to produce the best World Cup and grow the women's game globally and in the Asia-Pacific region."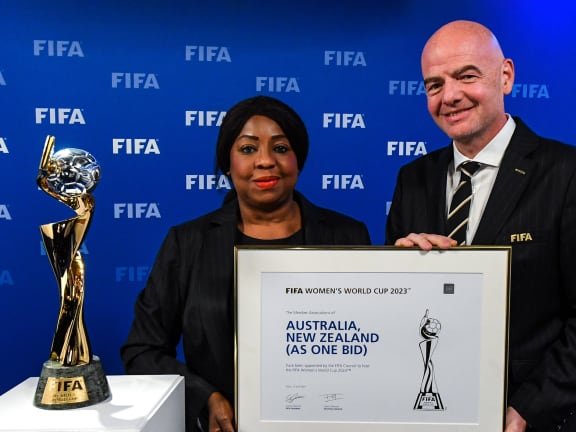 The proposed Australian venues include the Sydney Football Stadium, ANZ Stadium in Sydney, Suncorp Stadium in Brisbane, Hindmarsh Stadium in Adelaide, HBF Park in Perth, AAMI Park in Melbourne, McDonald Jones Stadium in Newcastle and York Park in Launceston.
The New Zealand venues are Eden Park in Auckland, Wellington Regional Stadium, Forsyth Barr Stadium in Dunedin, Waikato Stadium and Christchurch Stadium.
ANZ Stadium is the proposed venue for the final while Eden Park in Auckland will likely host the opening ceremony and opening match.
Speaking after the vote, Infantino slammed speculation that the Women's World Cup was held in a lower regard to the men's tournament.
"It is not a development tournament, obviously it is not a development tournament," he said. "It's not just a Women's World Cup, it's a World Cup, we need to realise that. Women are fifty per cent of the population."
Collectively, the Australian and New Zealand federal governments will contribute nearly $110 million towards operational costs.