Funds of more than $30,000 were raised in 2021 by the Cretan Federation of Australia and New Zealand (CFANZ) and the Pancretan Association of Melbourne to go towards victims of a deadly earthquake that hit Crete in September that year. At an Annual General Meeting (AGM) for the Federation this year, it was also revealed that the Greek Orthodox Archdiocese of Australia had pledged $70,000 to the fundraising campaign but this offer was later withdrawn.
In an open letter sent to the Board of the CFANZ, the former President of the Pancretan Association of Melbourne, Emanuel Starakis, has voiced his concerns about the allocation of these earthquake relief funds after it was announced they were given to the Greek Orthodox Archdiocese of Crete.
Mr Starakis has yet to receive a response to the letter below.
Open Letter:
Dear Cretan Presidents,
In September, it will be two years since the devastating earthquake hit Crete and I have repeatedly without success tried to receive a reply from the Cretan Federation as to how the funds have been distributed. My requests have been met with insult and inuendo rather than an apology for the delay. Our organisations, members and friends did not hesitate to dig deep during a worldwide Pandemic and economic shutdown, so we owe it to them to be both transparent and to reassure them that their hard-earned money was strategically distributed to those in need. I am especially invested since it was under my Presidency that the Pancretan Association along with its members and friends raised and/or donated 50% of the total funds. Recently, several people who had donated asked me if the raised funds had been distributed and regrettably due to the Federations lack of reply, I was unable to provide an update. This put both the Pancretan Organisation as well as myself in a very precarious situation that I will not allow again.
I believe that when we entrust our hard-earned money to assist any type of fundraising event, especially when raised during COVID, we need to be both vigilant and assured that what's raised is sent, managed strategically and that the people receive some sort of timely update. I cannot understand why the Cretan Federation President has yet to provide any answers on how the funds have been distributed. At a time where many of our fellow Cretans are living in tin cans, we all need to be asking how we can help. That's one of the fundamental reasons that we exist as proud philanthropic Hellenic organisations.
Because of my past tenure as President of the Pancretan Association, especially during the tragic earthquake, I have received requests for interviews and as such, I would like to reassure the public that the funds raised were distributed to the needy and that the affected population knows that WE ALL contributed. I do not want my interview to reflect the fact that 2 years later, I cannot get a response from the Federation. I will however be candid and honest if asked. For those who have not seen the aftermath of the devastation, I have attached a picture that I took in September 2022 at the village of Arkalohori. As you can all see, our brothers and sisters were and I believe still are living in metal containers, their children still play in condemned houses not to mention battling the searing summer heart, freezing winters, and floods that Crete endures. If we choose or refuse not to address the elephant in the room, then we should all bow our heads in shame as that is not the Hellenic and especially the Cretan way.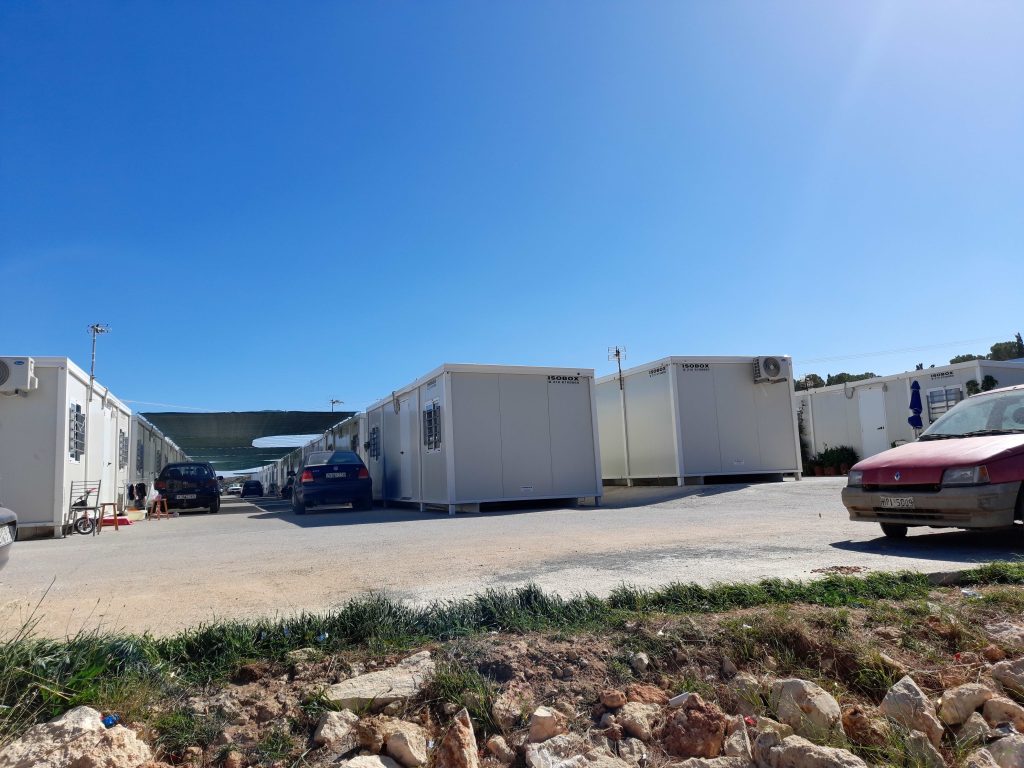 Once again, I reiterate that I am not attacking anyone, I am not insinuating any misappropriation of funds nor do I have a hidden agenda, however, I find the lack of information and nonchalant attitude very frustrating not to mention insulting, hence my attempt to summon your support as current sitting Presidents in retrieving this information. I tabled this issue at the last Cretan Federation convention, in January of this year, as one of concern and we were all promised by the Federation President that within a few weeks we would have answers. Unfortunately, the silence has been deafening, and I will not rest until I am assured, with proof, that the funds raised have been distributed and have reached those it was intended for.
Funds Raised/Donated:
Pancretan Association of Melbourne GoFundMe $11,493.00
Pancretan Association of Melbourne Donation (2 x $2,000) $4,000
Cretan Federation GoFundMe $11,450.00
Cretan Associations $6,700.00
Total raised $33,643.00
My questions are simple, and I demand that the President and Treasurer answers each one rather than deflect. I assure you all that I will not rest until I am assured that the funds raised by our community have reached their destination and as such once again, I humbly request your support in receiving full transparency of the funds' whereabouts.
Questions to the Cretan Federation President and Treasurer:
Please confirm if, how, when and where the funds have been distributed.
As was agreed and advised, did the meeting between the Governor of Crete, the Archbishop of Crete and the Mayor of Arkalohori occur to discuss where and how the funds would be distributed? If not, who did or will make the decision and why didn't the meeting occur?
Do the Cretans of Arkalohori or whoever was the recipient of these funds (if distributed) know who raised the money and if so, how were they notified?
Why did the anonymous donor retract their $70,000 pledge and when did the Federation become aware that the $70,000 pledge was going to be retracted?
Why didn't the Federation reassess the fund distribution methodology (as it was based on the $70,000 donation) by contacting its members, especially the Pancretan Association who was the largest donor when the $70,000 pledge was retracted, ensuring re-evaluation of how the funds were going to be sent?
How much did the Cretan Federation of Australia donate from its own account? We exist as community organisations and as Federations to support and fund critical issues such as this devastating earthquake. Even a tokenistic gesture from the coffers of the Federation would have been helpful, well received as well as appreciated and as such, if the Federation didn't contribute, why?
Finally, please first confirm the donations in the above table and then advise why only $30,000 was transferred and where is the remaining $3,643.00. If my calculations aren't correct, please advise.
Kind regards,
Emanuel Starakis
Past President (2019-2023), Pancretan Association of Melbourne