The Australian Electoral Commission (AEC) have published today the 'Yes' and 'No' referendum pamphlets for the Indigenous Voice to Federal Parliament.
The pamphlets, which will be mailed to households around Australia in the coming months, will be made up of 2,000 word essays to inform voters why they should vote 'Yes' or 'No' in the upcoming referendum.
The proposed timeline for the referendum is said to be around October and December this year. The most recent poll conducted by The Australian shows 41 per cent of voters intend to vote Yes with 48 per cent saying No.
The 'Yes' campaign:
The 'Yes' campaign lays out eight reasons voters should back the referendum, saying it is about constitutional recognition, and making practical progress in Indigenous health, education, employment and housing to improve people's lives.
According to ABC News, the Yes camp is endorsed by the likes of prominent Indigenous names such as former football professionals Johnathan Thurston and Eddie Betts, former tennis champion Evonne Goolagong Cawley and filmmaker Rachel Perkins.
The 'Yes' pamphlet quotes former AFL player, Eddie Betts: "I know the Voice won't fix everything overnight but I feel like it's the opening of a pathway to make sure we are induced and respected in decision-making on issues that impact us."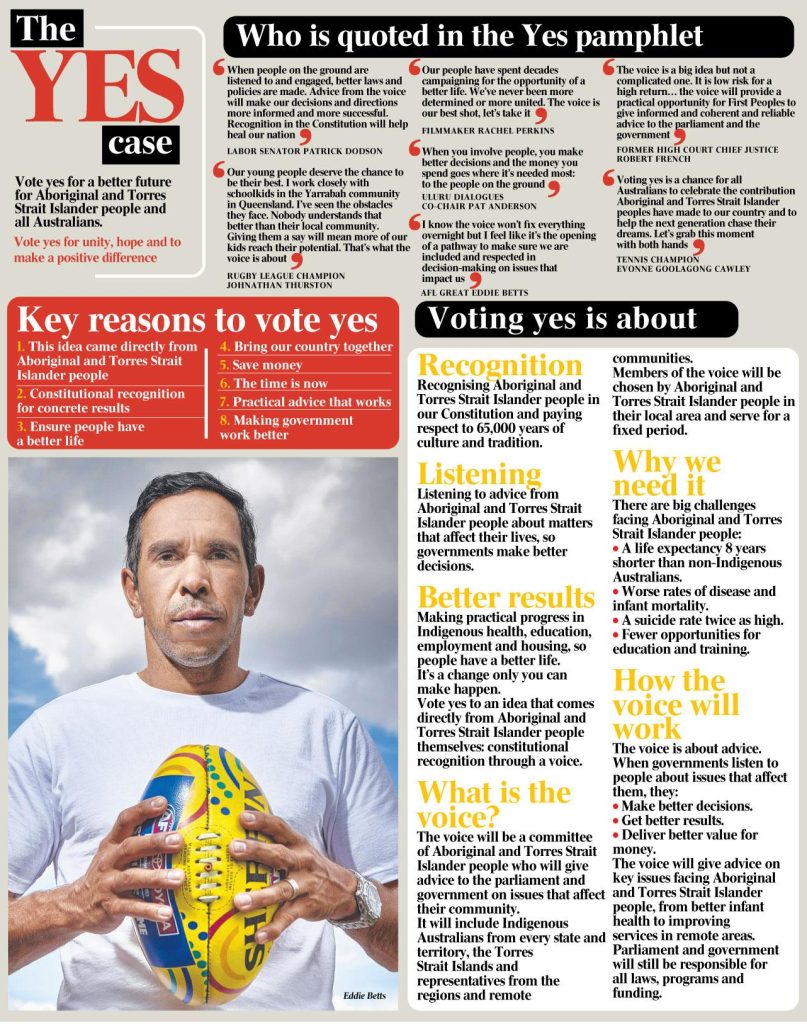 The 'No' campaign:
The opposing 'No' camp says the referendum will be a "legal risk" with "unknown consequences," and raised concerns about potential social divisions and whether the Voice will be effective on behalf of Indigenous Australians.
The pamphlet is endorsed by leading legal experts. Former High Court judge Ian Callinan, former Federal Court judge David Jackson, former NSW Supreme Court judge Terence Cole and former WA Supreme Court judge Nicholas Hasluck are some of the names opposing the Indigenous Voice to Parliament.
The 'No' pamphlet quotes Central Arrernte Senior Custodian Ian Conway: "We're all Australians. And that's the way it should end up. It shouldn't be divided by this so-called voice which is going to split this country right down the centre."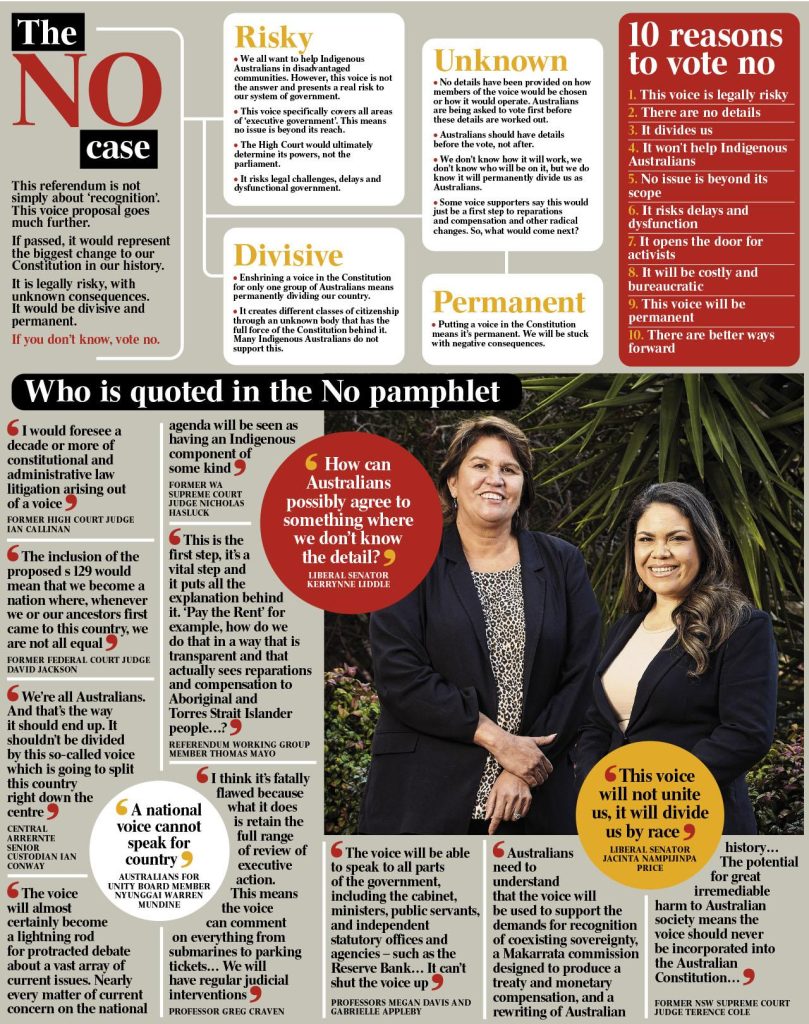 Source: The Australian