The late President of the Greek Orthodox Community of South Australia (GOCSA), Bill Gonis OAM, is being remembered by family and the local community as a loving, generous and selfless man after his sudden passing on Tuesday, May 3.
Speaking with The Advertiser, Mr Gonis' daughter, Betty Gonis, said her father "changed history with the work he did, with how he helped people."
Mr Gonis was the President of GOCSA since 2015, he served on the SA Taxi Council for many years and also volunteered at the Julie Farr Centre at Highgate every Christmas since 2004. Mr Gonis was awarded an Order of Australian Medal in 2006 for his work with the taxi and transport industry.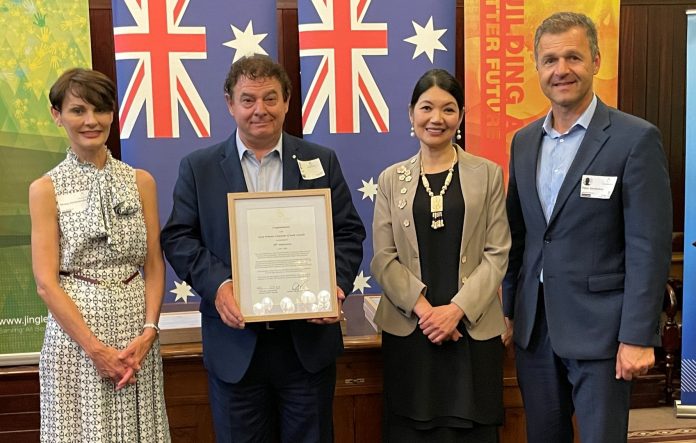 READ MORE: South Australia's Greek Community mourns the sudden passing of President Bill Gonis.
When he wasn't doing all this, he was also a passionate family man who "lived for his family."
"It was the most important thing, like I said, that's what he lived for, a very family orientated man with family values," Betty told the local newspaper.
Greek community leaders send their condolences:
A number of Greek community leaders also offered their deepest condolences to Mr Gonis' family.
The President of the South Australian Multicultural and Ethnic Affairs Commission and Mitcham councillor, Adriana Christopoulos, remembered Mr Gonis as a "genuine" and "humble" community leader.
"Bill was passionate about celebrating not only past Hellenic accomplishments but mentoring, supporting and celebrating the next generation of Hellene South Australians," Ms Christopoulos said.
The Consul General of Greece in Adelaide, George Psiachas, remembered Mr Gonis as a man who worked actively with SA's multicultural communities.
"[Bill's] contribution to the promotion of a multicultural Australia, for which he has been honoured with distinction by local and state authorities, was also commendable," Mr Psiachas said.
"He was particularly sensitive to issues of volunteerism and social solidarity, the adaptation of Greek immigrants, family support, care for the elderly, as well as the preservation of the Greek language and Greek customs and traditions in Australia."
The President of the Greek Community of Melbourne, Bill Papastergiadis, also expressed his "deep sorrow and grief" over Mr Gonis' unexpected death.
"During his eight-year term as President of the Community, Mr Gonis co-operated constructively with our Community and contributed to the improvement and maintenance of relations between our two organisations," Mr Papastergiadis wrote in a letter to GOCSA.
"He also contributed greatly to the development of the Community and through his actions, both in the Greek and wider community, he contributed to the promotion of our language and culture."
The Greek Orthodox Community of NSW have also sent their condolences on the passing of Mr Gonis. In a statement, the Community said the gap left behind by Mr Gonis in the SA Greek community "is large and unbearable."
If you who would like to pay your respects to Mr Gonis, his funeral will take place on Thursday, May 12 at 10am at the Cathedral of Archangels Michael & Gabriel, 286 Franklin Street, Adelaide.