The winners of the 2023 Premier's Multicultural Media and Communications Awards have been named, recognising the important contributions they make to supporting NSW's diverse communities.
NSW Premier Chris Minns and Minister for Multiculturalism Steve Kamper announced the winners at a special ceremony on Thursday, August 24.
"These awards acknowledge that diversity and I commend everyone who entered because providing information in community language is what keeps our society strong." Mr Minns Said.
"NSW is proud of its record as one of the most successful multicultural states in the world."
More than 130 entries were submitted for the awards, with winners and finalists decided across 12 categories.
Among the winners was Kytherian, Haralambos Anargyrou Kritharis, better known as Harry Crethar, who won the Lifetime Achievement Award. Harry celebrated his 40 year milestone, earlier this year, as a member of Radio KAA.
Suhayla Zahira Sharif was the winner of The Alan Knight Student Award and India Link's Pawan Luthra and Rajni Anand Luthra won Publication of the Year.
The Greek Herald was a finalist in the 'Publication of the Year' category for the third consecutive year, whilst The Greek Herald digital editor, Andriana Simos, was also shortlisted as a finalist for 'Young Journalist of the Year' for the second consecutive year.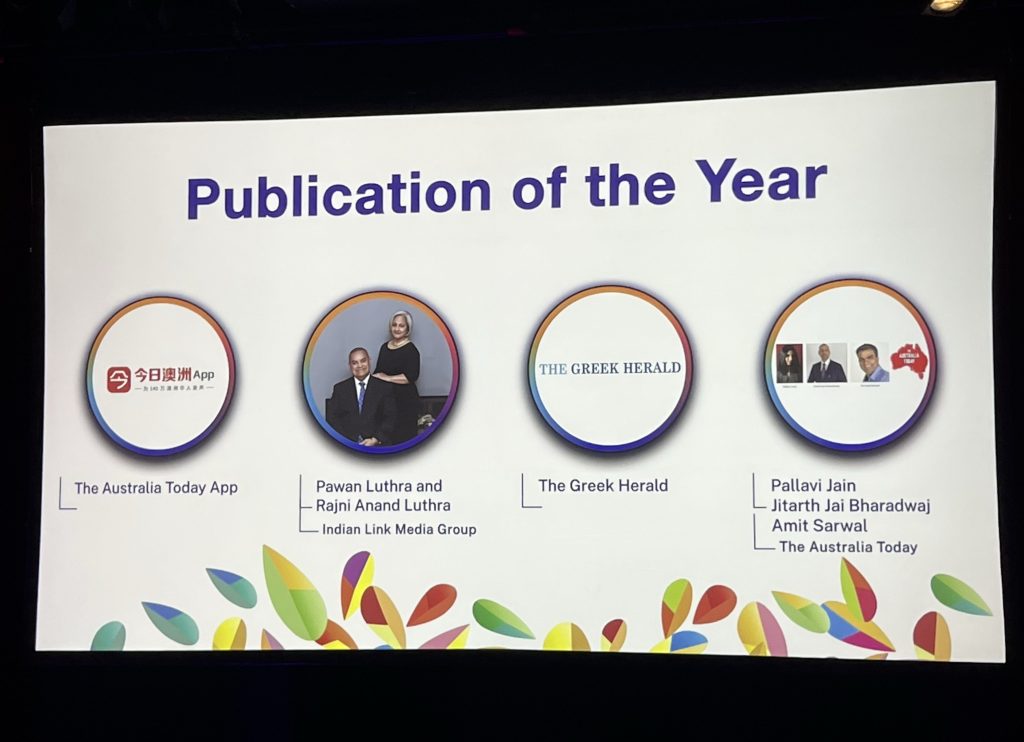 Media Awards:
Best Audio-Visual Report: Sharon Offenberger and Ghousoon Bisharat, Plus61J Media
Best Audio Report: Stephanie Corsetti, Claire Slattery, Marcus Megalokonomos and Hannah Kwon, SBS
Best Text Report: Dr Salih Yucel, AMUST
Young Journalist of the Year: Olivia Yuan, SBS Mandarin
Publication of the Year: Pawan Luthra and Rajni Anand Luthra, Indian Link Media Group
Alan Knight Student Award: Suhayla Zahira Sharif
Public Interest Award: Addison Road Community Organisation
Lifetime Achievement Award: Haralambos Anargyrou Kritharis, known as Harry Crethar
Marketing Awards:
Agency Campaign of the Year: Think HQ and Cultureverse for the Australian Human Rights Commission
Business Campaign of the Year: Savings Finder Campaign, Department of Customer Service
Community Campaign of the Year: Moving Forward Together, Stop Racism Now
Best Use of Digital or Social Media: Western Sydney Wanderers