Greek Prime Minister Kyriakos Mitsotakis has addressed the country's expansive wildfires in a news conference in Athens on Thursday.
Prime Minister Mitsotakis described the wildfires as "the greatest ecological catastrophe of the last few decades".
"We managed to save lives, but we lost forests and property," Mitsotakis said.
"We are in the middle of August and it's clear we will have difficult days ahead of us" until the main season during which fires break out is over, he said.
The Prime Minister acknowledged climate change amidst mounting criticism for the timing and extent of firefighting efforts. 
"The climate crisis — I'd like to use this term, and not climate change — the climate crisis is here, and it shows us everything needs to change" he said, adding he was ready to make the "bold changes" needed.
"This is a common crisis for all of us," he said.
Mitsotakis says authorities have battled around 100 active blazes each day.
The largest fire has burnt more than 50,900 hectares in northern Evia since August 3, according to the European Union's Copernicus Emergency Management Service.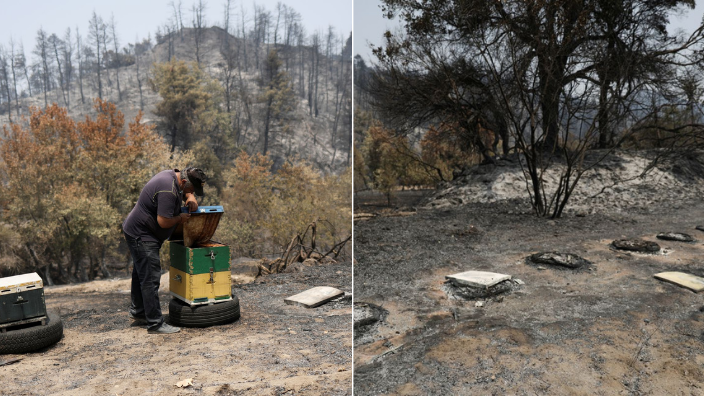 The fires in Evia have swallowed up pine trees and consumed scores of beehives crucial to the trade of Greece's famed pine honey.
About 40 per cent of Greek pine honey is collected in Evia's now ravaged north, says a local beekeepers' cooperative head Stathis Albanis.
"First we tried to save our houses. Unfortunately we could not save our hives," Vakas said.
Greece is the European Union's (EU) fourth-biggest exporter of honey and the EU's eighth biggest producer, according to the latest Eurostat figures.
Beekeeper Antonis Vakas is lamenting the loss of his trade.
"The destruction is immeasurable," Vakas said.
"Beekeeping has been destroyed. We are destroyed. There is no green anywhere. Bees cannot exist without green."
The fire department say 106 blazes broke out across Greece in the 24 hours to Thursday evening.
The recent fires follow the most intense and protracted heat wave experienced in the country since 1987.
Source: AP, Reuters